Optitask Lasers Overview
Optitask Ltd, has been active in the hi-tech civilian and military market for nearly 20 years, with a focus on the research, development, design, and manufacturing of rugged, compact, mil-compliant Erbium Glass laser transmitters. The R&D team, consisting of highly skilled physicists and engineers, who have developed an extensive range of state-of-the-art Solid-State Eye Safe Laser Transmitters, using the latest technologies, instruments, and computer hardware/software packages, manufactures in state-of-the-art facilities. Optitask works closely with their customers to ensure a smooth integration of their laser transmitters into the end-customer's systems. With over 10,000 units in the field, Optitask continues to be a key partner and resource for a variety of customers in the medical, industrial, and defense fields.
Series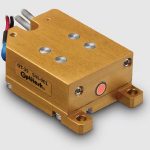 The OT series of Erbium Glass lasers, are ultra-compact, high energy q-switched, solid-state lasers that are well suited for rugged, field applications such as active night vision and rangefinding. These air-cooled lasers are available in both lamp pumped and diode pumped configurations, with passive and active Q-switching options. With over 10,000 units in the field, the OT series is a proven technology operating in some of the more challenging laser enviroments.
Optitask Ltd, has been active in the hi-tech civilian and military markets for nearly 20 years, with over 10,000 units in the field. Their OT series is an ideal solution for applications requiring ultra-compact, rugged, pulsed outputs at 1.5um, such as laser range finding, surveillance, and other SWIR imaging. Optitask's wealth of experience, state-of-the-art designs and flexibility, enables them to provide an optimal solution for fielded applications and challenging environments. In addition to bringing outstanding products to the market, Optitask is committed to offering a world-class level of quality, customer care and service.

To visit Optitask's website, Click Here.
OUR PRODUCTS