neoVAN
DPSS Amplifier, CW to ps Pulsed, 1064 nm, 5 W to 100 W, up to 5 mJ
Key Features:
Wavelength: 1064nm
Output Power: 5 – 100W
Pulse Energy: Up to 5mJ
Mode of Operation: CW to ps pulses
Beam Quality: TEM00 / M2 < 1.3
Amplification Factor: Up to 40dB
Easy and compact energy or power boosting – amplify your current system for new capabilities
Highly flexible and scalable amplifier units – modular platform enables many application possibilities
Proven long-term stability and industrial reliability – robust, stable, long lifetime for peace of mind
There are many configurations and options available. If you do not see exactly what you need below, please contact us!
Need Quantities?  Use Get Quote to get volume pricing!
POPULAR CONFIGURATIONS:
| Picture | Part Number | Part Description | Datasheet | Price | Lead Time | |
| --- | --- | --- | --- | --- | --- | --- |
| | neoVAN | Solid-State Optical Amplifier, 1064nm, 5-100 W, 5mJ, CW to ps pulses, up to 40dB Amplification Factor | | | 10-14 weeks | Get Quote |
The neoVAN series is an OEM, solid state optical amplifier system used to boost the pulse energy or average output powers of laser sources for a variety of applications.  The flexible system design allows a selection of different power and energy levels based on highly reliable,  long lifetime gain modules.  The ultra-compact and nearly monolithic modules allow easy integration and cost-effective upgrading of laser application machines, scientific lasers or low power oscillators.  Whether it be high peak power, short pulse picosecond lasers for micromachining applications or single frequency radiation for gravitational wave detection, the neoVAN amplifier modules will provide a boost to your application. While the fiber-coupled, high gain module allows direct amplification of mode-locked oscillators, gain switched or narrow linewidth diodes, the standard free-space modules scale microchip lasers either into high average power or high energy levels.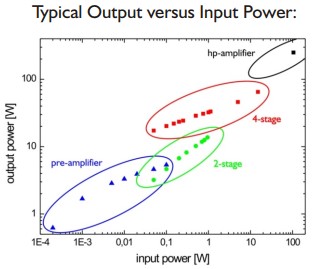 | | |
| --- | --- |
| Type | |
| Wavelength (nm) | |
| Output power (W) | |
| Input power | |
| Polarization | |