Night Vision Lasers
What are Night Vision Lasers?
Night vision active imaging is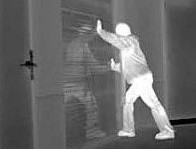 a process that combines traditional infrared imaging, with time-of-flight (TOF) lidar to produce 3-dimensional images without the need for visible lighting.  Active night vision imaging is typically used in high-end surveillance for both military and commercial security systems.   In this application, night vision lasers are usually pulsed 1.5-micron sources with an internal photodiode.  The integral photodiode allows for the InGaAs camera to be triggered each time a pulse is fired, ensuring accurate TOF measurements.  Additionally, 1.5 microns is the ideal wavelength for night vision lasers because it is considered eye-safe, and therefore does not pose an optical hazard to any individuals who happen to pass through the beam path.  On this page, you will find a list of all of the night vision lasers we offer both diode-pumped solid state (DPSS) and flash lamp-pumped lasers, with either passive or active q-switching.
| | | | | | | | | | |
| --- | --- | --- | --- | --- | --- | --- | --- | --- | --- |
| | HL705 | Single Emitter | 0.050 | Single-Mode Lasers | Free Space | | | | |
| | HL730 | Single Emitter | 0.050 | Single-Mode Lasers | Free Space | | | | |
| | HL830 | Single Emitter | 0.050 | Single-Mode Lasers | Free Space | | | | |
| | HL852 | Single Emitter | 0.050 | Single-Mode Lasers | Free Space | | | | |
| | JDL-1020 | Array (Bar) | 120.0, 200.0 | Multimode | Free Space | | | | |
| | JDL-1060 | Single Emitter, Array (Bar) | 10.0, 40.0, 60.0, 80.0, 120.0, 200.0, 250.0, 350.0 | Multimode | Free Space | | | | |
| | JDL-760 | Array (Bar) | 40.0 | Multimode | Free Space | | | | |
| | JDL-792 | Array (Bar) | 60.0, 80.0 | Multimode | Free Space | | | | |
| | JDL-808 | Single Emitter, Array (Bar) | 6.0, 8.0, 10.0, 20.0, 40.0, 50.0, 60.0, 80.0, 92.0, 200.0, 300.0 | Multimode | Free Space | | | | |
| | JDL-880 | Array (Bar) | 500.0 | Multimode | Free Space | | | | |
| | JDL-905 | Array (Bar) | 200.0 | Multimode | Free Space | | | | |
| | JDL-915 | Array (Bar) | 40.0, 60.0, 80.0, 200.0 | Multimode | Free Space | | | | |
| | JDL-940 | Array (Bar) | 60.0, 80.0, 120.0, 200.0, 300.0 | Multimode | Free Space | | | | |
| | JDL-976 | Array (Bar) | 60.0, 80.0, 120.0 | Multimode | Free Space | | | | |
| | JOLD-FC-1470 | Array (Bar) | 20.0 | Multimode | MM Fiber | | | | |
| | JOLD-FC-808 | Array (Bar) | 3.5, 4.2, 30.0, 45.0, 70.0, 75.0, 100.0, 120.0, 140.0, 210.0, 250.0, 400.0 | Multimode | MM Fiber | | | | |
| | JOLD-FC-880 | Array (Bar) | 30.0, 45.0, 75.0, 100.0 | Multimode | MM Fiber | | | | |
| | JOLD-FC-915 | Array (Bar) | 30.0, 45.0, 75.0, 100.0, 120.0, 140.0, 210.0, 250.0, 400.0 | Multimode | MM Fiber | | | | |
| | JOLD-FC-940 | Array (Bar) | 30.0, 45.0, 70.0, 75.0, 100.0, 120.0, 140.0, 210.0, 250.0, 400.0 | Multimode | MM Fiber | | | | |
| | JOLD-FC-976 | Array (Bar) | 30.0, 45.0, 75.0, 100.0, 120.0, 140.0, 210.0, 250.0, 400.0 | Multimode | MM Fiber | | | | |
| | JOLD-Open-808-CW | Array (Bar) | 40.0, 50.0, 60.0, 80.0 | Multimode | Free Space | | | | |
| | JOLD-Open-808-CW-FAC | Array (Bar) | 35.0, 55.0, 90.0 | Multimode | Free Space | | | | |
| | JOLD-Open-808-CW-FAC/SAC | Array (Bar) | 32.0, 50.0 | Multimode | Free Space | | | | |
| | JOLD-Open-808-QCW | Array (Bar) | 100.0, 250.0, 300.0 | Multimode | Free Space | | | | |
| | JOLD-Open-808-QCW-FAC | Array (Bar) | 90.0, 225.0, 270.0 | Multimode | Free Space | | | | |
| | JOLD-Open-880-CW | Array (Bar) | 40.0, 60.0, 80.0 | Multimode | Free Space | | | | |
| | JOLD-Open-880-CW-FAC | Array (Bar) | 35.0, 55.0, 90.0 | Multimode | Free Space | | | | |
| | JOLD-Open-880-CW-FAC/SAC | Array (Bar) | 32.0, 50.0, 68.0 | Multimode | Free Space | | | | |
| | JOLD-Open-915-CW | Array (Bar) | 40.0, 60.0, 80.0, 275.0 | Multimode | Free Space | | | | |
| | JOLD-Open-915-CW-FAC | Array (Bar) | 32.0, 35.0, 55.0 | Multimode | Free Space | | | | |
| | JOLD-Open-915-CW-FAC/SAC | Array (Bar) | 32.0, 50.0, 68.0 | Multimode | Free Space | | | | |
| | JOLD-Open-938-CW | Array (Bar) | 40.0, 60.0, 80.0, 100.0, 120.0, 200.0, 275.0 | Multimode | Free Space | | | | |
| | JOLD-Open-938-CW-FAC | Array (Bar) | 90.0, 180.0 | Multimode | Free Space | | | | |
| | JOLD-Open-938-CW-FAC/SAC | Array (Bar) | 32.0, 35.0, 50.0, 68.0 | Multimode | Free Space | | | | |
| | JOLD-Open-938-QCW-FAC | Array (Bar) | 90.0, 100.0 | Multimode | Free Space | | | | |
| | JOLD-Open-976-CW | Array (Bar) | 40.0, 50.0, 60.0, 80.0, 100.0, 120.0, 160.0, 275.0 | Multimode | Free Space | | | | |
| | JOLD-Open-976-CW-FAC | Array (Bar) | 35.0, 55.0, 90.0 | Multimode | Free Space | | | | |
| | JOLD-Open-976-CW-FAC/SAC | Array (Bar) | 32.0, 35.0, 50.0, 68.0 | Multimode | Free Space | | | | |
| | LDX-XXXX-1030 | Single Emitter | 3.0, 5.0 | Multimode | Free Space, MM Fiber | | | | |
| | LDX-XXXX-1064 | Single Emitter | 1.5, 3.0, 5.0 | Multimode | Free Space, MM Fiber | | | | |
| | LDX-XXXX-1120 | Single Emitter | 2.0, 3.5, 5.0 | Multimode | Free Space, MM Fiber | | | | |
| | LDX-XXXX-1210 | Single Emitter | 1.5, 2.0 | Multimode | Free Space, MM Fiber | | | | |
| | LDX-XXXX-1280 | Single Emitter | 3.5, 5.0, 7.0 | Multimode | Free Space, MM Fiber | | | | |
| | LDX-XXXX-1370 | Single Emitter | 3.5, 5.0 | Multimode | Free Space, MM Fiber | | | | |
| | LDX-XXXX-1470 | Single Emitter | 3.5, 5.0 | Multimode | Free Space, MM Fiber | | | | |
| | LDX-XXXX-1550 | Single Emitter | 0.800, 1.0, 1.5, 1.75, 2.5, 3.5, 5.0 | Multimode | Free Space, MM Fiber | | | | |
| | LDX-XXXX-1620 | Single Emitter | 1.0 | Multimode | Free Space, MM Fiber | | | | |
| | LDX-XXXX-1640 | Single Emitter | 1.2 | Multimode | Free Space, MM Fiber | | | | |
| | LDX-XXXX-1675 | Single Emitter | 2.0 | Multimode | Free Space, MM Fiber | | | | |
| | LDX-XXXX-1850 | Single Emitter | 1.0 | Multimode | Free Space, MM Fiber | | | | |
| | LDX-XXXX-735 | Single Emitter | 1.0, 1.75, 2.0, 4.0 | Multimode | Free Space, MM Fiber | | | | |
| | LDX-XXXX-750 | Single Emitter | 1.0, 2.0, 3.0, 5.0 | Multimode | Free Space, MM Fiber | | | | |
| | LDX-XXXX-760 | Single Emitter | 1.0, 2.0, 3.0, 6.0 | Multimode | Free Space, MM Fiber | | | | |
| | LDX-XXXX-780 | Single Emitter | 1.2, 2.5, 3.5, 5.0 | Multimode | Free Space, MM Fiber | | | | |
| | LDX-XXXX-785 | Single Emitter | 3.5, 5.0 | Multimode | Free Space, MM Fiber | | | | |
| | LDX-XXXX-792 | Single Emitter | 1.2, 2.5, 3.5 | Multimode | Free Space, MM Fiber | | | | |
| | LDX-XXXX-797 | Single Emitter | 3.0, 4.0 | Multimode | Free Space, MM Fiber | | | | |
| | LDX-XXXX-808 | Single Emitter | 1.2, 2.0, 3.0, 4.0, 6.0, 10.0 | Multimode | Free Space, MM Fiber | | | | |
| | LDX-XXXX-825 | Single Emitter | 4.0 | Multimode | Free Space, MM Fiber | | | | |
| | LDX-XXXX-830 | Single Emitter | 1.6 | Multimode | Free Space, MM Fiber | | | | |
| | LDX-XXXX-860 | Single Emitter | 1.0, 1.5, 2.0, 3.0, 4.0, 5.0 | Multimode | Free Space, MM Fiber | | | | |
| | LDX-XXXX-885 | Single Emitter | 2.5, 6.0 | Multimode | Free Space, MM Fiber | | | | |
| | LDX-XXXX-900 | Single Emitter | 2.0 | Multimode | Free Space, MM Fiber | | | | |
| | LDX-XXXX-915 | Single Emitter | 4.0, 6.0, 10.0 | Multimode | Free Space, MM Fiber | | | | |
| | LDX-XXXX-940 | Single Emitter | 4.0, 5.0, 6.0, 16.0 | Multimode | Free Space, MM Fiber | | | | |
| | LDX-XXXX-960 | Single Emitter | 10.0 | Multimode | Free Space, MM Fiber | | | | |
| | LDX-XXXX-980 | Single Emitter | 1.5, 4.0, 5.0, 6.0, 10.0 | Multimode | Free Space, MM Fiber | | | | |
| | PowerMir 4.0um | Quantum Cascade Lasers | 0.100, 0.450, 1.0 | Multimode | Free Space | | | | |
| | PowerMir 4.6um | Quantum Cascade Lasers | 0.100, 0.450, 1.0 | Multimode | Free Space | | | | |
| | PowerMir 4.8um | Quantum Cascade Lasers | 0.100, 1.5 | Multimode | Free Space | | | | |
| | PowerMir 9.4um | Quantum Cascade Lasers | 0.100, 0.300 | Multimode | Free Space | | | | |
| | RDS3 | Turn-Key System | Multiple Options Available | Single-Mode Lasers, Multimode | MM Fiber, SM Fiber | | | | |
| | REP1260-1300 | LD Module, Single Emitter, Distributed Feedback DFB Lasers | 0.009, 0.012, 0.020, 0.022 | Single-Mode Lasers | Free Space, SM Fiber, PM Fiber | | | | |
| | REP1380-1400 | LD Module, Single Emitter, Distributed Feedback DFB Lasers | 0.008, 0.012 | Single-Mode Lasers | Free Space, SM Fiber, PM Fiber | | | | |
| | REP1500-1560 | LD Module, Single Emitter, Distributed Feedback DFB Lasers | 0.0015, 0.003, 0.005, 0.008, 0.014, 0.016, 0.020, 0.022 | Single-Mode Lasers | Free Space, SM Fiber, PM Fiber | | | | |
| | REP1550nm-1560nm | LD Module, Single Emitter, Distributed Feedback DFB Lasers | 0.006, 0.014 | Single-Mode Lasers | Free Space, SM Fiber, PM Fiber | | | | |
| | REP1635-1670 | LD Module, Single Emitter, Distributed Feedback DFB Lasers | 0.006, 0.008, 0.020 | Single-Mode Lasers | Free Space, SM Fiber, PM Fiber | | | | |
| | REP1678-1720 | LD Module, Single Emitter, Distributed Feedback DFB Lasers | 0.005 | Single-Mode Lasers | Free Space, SM Fiber, PM Fiber | | | | |
| | REP1720-1770 | LD Module, Single Emitter, Distributed Feedback DFB Lasers | 0.003, 0.006, 0.020 | Single-Mode Lasers | Free Space, SM Fiber, PM Fiber | | | | |
| | REP1850-1880 | LD Module, Single Emitter, Distributed Feedback DFB Lasers | 0.003, 0.0045, 0.005, 0.008, 0.014 | Single-Mode Lasers | Free Space, SM Fiber, PM Fiber | | | | |
| | REP1908-1970 | LD Module, Single Emitter, Distributed Feedback DFB Lasers | 0.002, 0.003, 0.020 | Single-Mode Lasers | Free Space, SM Fiber, PM Fiber | | | | |
| | REP1970-2053 | LD Module, Single Emitter, Distributed Feedback DFB Lasers | 0.0015, 0.002, 0.003, 0.004, 0.005, 0.014 | Single-Mode Lasers | Free Space, SM Fiber, PM Fiber | | | | |
| | RPK405S | Single Emitter | 4.0 | Single-Mode Lasers | SM Fiber | | | | |
| | RPK445M | Multi-Emitter | 10.0, 15.0, 20.0, 50.0 | Multimode | MM Fiber | | | | |
| | RPK445S | Single Emitter | 0.800, 3.0 | Multimode | MM Fiber | | | | |
| | RPK785SS | Single Emitter, Volume Bragg Grating (VBG) Laser Diodes | 0.600 | Multimode | MM Fiber | | | | |
| | RPK793M | Multi-Emitter | 8.0, 12.0, 16.0, 30.0, 50.0, 80.0, 90.0, 140.0, 180.0 | Multimode | MM Fiber | | | | |
| | RPK793S | Single Emitter | 4.0 | Multimode | MM Fiber | | | | |
| | RPK808M | Multi-Emitter | 15.0, 25.0, 30.0, 55.0, 60.0, 150.0 | Multimode | MM Fiber | | | | |
| | RPK808S | Single Emitter | 4.0, 8.0 | Multimode | MM Fiber | | | | |
| | RPK830S | Single Emitter | 1.0 | Multimode | MM Fiber | | | | |
| | RPK878MS | Multi-Emitter, Volume Bragg Grating (VBG) Laser Diodes | 30.0, 65.0, 120.0 | Multimode | MM Fiber | | | | |
| | RPK888MS | Multi-Emitter, Volume Bragg Grating (VBG) Laser Diodes | 65.0, 120.0 | Multimode | MM Fiber | | | | |
| | RPK915M | Multi-Emitter | 30.0, 70.0, 160.0, 180.0, 300.0, 370.0 | Multimode | MM Fiber | | | | |
| | RPK915S | Single Emitter | 12.0 | Multimode | MM Fiber | | | | |
| | RPK940M | Multi-Emitter | 20.0, 30.0, 70.0, 120.0, 150.0, 200.0 | Multimode | MM Fiber | | | | |
| | RPK940S | Single Emitter | 10.0, 11.0 | Multimode | MM Fiber | | | | |
| | RPK960S | Single Emitter | 9.0 | Multimode | MM Fiber | | | | |
| | RPK976M | Multi-Emitter | 15.0, 20.0, 30.0, 70.0, 150.0, 200.0, 330.0, 540.0 | Multimode | MM Fiber | | | | |
| | RPK976SS | Single Emitter, Volume Bragg Grating (VBG) Laser Diodes | 3.0, 9.0 | Multimode | MM Fiber | | | | |
| | RPKA64M | Multi-Emitter | 20.0 | Multimode | MM Fiber | | | | |
| | RWLB-980-012-H | Multi-Emitter | 12.0 | Multimode | MM Fiber | | | | |