Surface Treatment Lasers
What are Surface Treatment Lasers?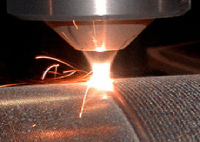 Lasers are utilized in a wide variety of different surface treatment applications in modern manufacturing and materials processing.  This application space encompasses a wide variety of diverse processes, ranging from surface heating applications such as cladding and laser cleaning to thermal ablation applications like engraving and marking.  As a result, the lasers required for such applications are also extremely diverse.  For example, laser cladding involves the use of extremely high powered laser diode stacks, coupled with either a focused jet of powdered material in a buffer gas coincident with the cladding laser spot or by depositing the material on the surface first and then scanning over it with the cladding laser.  By contrast, laser texturing uses q-switched laser pulses to engrave the negative image of a design into a mold to produce an end product with a raised decorative patterned surface.  Perhaps one of the most unique laser surface treatment applications is lithography, which is widely used in the semiconductor industry for etching nanoscale structures into wafers, transferring shapes from a photomask to the wafer using ultraviolet light by UV lasers.  On this page, you will find a list of all of the surface treatment lasers we offer at RPMC.