Thin Film Removal Lasers
What are Thin Film Removal Lasers?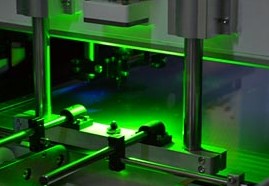 Laser thin film removal is the process of selectively ablating a very thin layer of material from a substrate, and is widely used on silicon, glass, ceramics, plastics, and metals. These lasers are generally short-pulsed with the ability to operate at high repetition rates to allow for sufficient pulse overlap at high processing speeds without damaging the substrate. Additionally, lasers for these applications must have very high beam quality and a high degree of accuracy.  The wavelengths of choice for these lasers are typically in the ultraviolet region in order to minimize depth penetration, but infrared lasers are still used in some cases.   On this page, you will find a list of all of the lasers we offer for thin film removal.
| | | | | | | | |
| --- | --- | --- | --- | --- | --- | --- | --- |
| | Jenlas Fiber ns 25-105 | Pulsed DPSS Lasers, Pulsed Fiber Lasers | 1085 | 20.0, 30.0, 55.0, 100.0 | 700.0, 1000.0, 1100.0 | 125ns | 30kHz to 80kHz, 50kHz to 100kHz, 100kHz to 200kHz |
| | Onda 1064nm | Pulsed DPSS Lasers | 1064 | 15.0 | 800.0 | 2ns - 12ns | Single Shot to 100kHz |
| | Onda 266nm | Pulsed DPSS Lasers | 266 | 0.800 | 80.0 | 2ns - 6ns | Single shot to 1kHz, Single shot to 50kHz |
| | Onda 355nm | Pulsed DPSS Lasers | 355 | 0.300 | 150.0 | 3ns | Single shot to 2kHz |
| | Quantas-Q-SPARK-1064 | Pulsed DPSS Lasers | 1064 | 0.010 | 10000.0 | 800ps, 2ns | 100Hz |
| | Quantas-Q-SPARK-266 | Pulsed DPSS Lasers | 266 | 0.010 | 1500.0 | 2ns | 20Hz |
| | Quantas-Q-SPARK-355 | Pulsed DPSS Lasers | 355 | 0.010 | 2500.0 | 2ns | 20Hz |
| | Quantas-Q-SPARK-532 | Pulsed DPSS Lasers | 532 | 0.010 | 2500.0 | 2ns | 20Hz |
| | Quantas-Q1-1053 | Pulsed DPSS Lasers | 1053 | 0.100, 0.200, 0.350 | 10000.0, 20000.0, 35000.0 | 7ns, 8ns | 10Hz |
| | Quantas-Q1-1064 | Pulsed DPSS Lasers | 1064 | 0.100, 0.150, 0.350, 0.600 | 10000.0, 15000.0, 35000.0, 60000.0 | 7ns, 8ns | 10Hz |
| | Quantas-Q1-211 | Pulsed DPSS Lasers | 211 | 0.005, 0.010, 0.020, 0.025 | 500.0, 1000.0, 2000.0, 2500.0 | 7ns, 8ns | Single Shot to 10Hz |
| | Quantas-Q1-213 | Pulsed DPSS Lasers | 213 | 0.005, 0.010, 0.020, 0.025 | 500.0, 1000.0, 2000.0, 2500.0 | 7ns, 8ns | 10Hz |
| | Quantas-Q1-263 | Pulsed DPSS Lasers | 263 | 0.015, 0.030, 0.050, 0.070 | 1500.0, 3000.0, 5000.0, 7000.0 | 7ns, 8ns | Single Shot to 10Hz |
| | Quantas-Q1-266 | Pulsed DPSS Lasers | 266 | 0.015, 0.030, 0.050, 0.070 | 1500.0, 3000.0, 5000.0, 7000.0 | 7ns, 8ns | Single Shot to 10Hz |
| | Quantas-Q1-351 | Pulsed DPSS Lasers | 355 | 0.030, 0.060, 0.100, 0.130 | 3000.0, 6000.0, 10000.0, 13000.0 | 7ns, 8ns | Single Shot to 10Hz |
| | Quantas-Q1-355 | Pulsed DPSS Lasers | 355 | 0.030, 0.060, 0.100, 0.130 | 3000.0, 6000.0, 10000.0, 13000.0 | 7ns, 8ns | 10Hz |
| | Quantas-Q1-527 | Pulsed DPSS Lasers | 527 | 0.050, 0.100, 0.170, 0.220 | 5000.0, 10000.0, 17000.0, 22000.0 | 7ns, 8ns | 10Hz |
| | Quantas-Q1-532 | Pulsed DPSS Lasers | 532 | 0.050, 0.110, 0.170, 0.220 | 5000.0, 10000.0, 17000.0, 22000.0 | 7ns, 8ns | 10Hz |
| | Quantas-Q2-211 | Pulsed DPSS Lasers | 211 | 0.004, 0.010, 0.020, 0.040, 0.050 | 400.0, 1000.0, 2000.0, 4000.0, 5000.0 | 5ns, 7ns, 8ns | 10Hz |
| | Quantas-Q2-213 | Pulsed DPSS Lasers | 213 | 0.004, 0.010, 0.020, 0.040, 0.050 | 400.0, 1000.0, 2000.0, 4000.0, 5000.0 | 5ns, 7ns, 8ns | 10Hz |
| | Quantas-Q2-263 | Pulsed DPSS Lasers | 263 | 0.012, 0.025, 0.050, 0.100, 0.120 | 1200.0, 2500.0, 5000.0, 10000.0, 12000.0 | 5ns, 7ns, 8ns | 10Hz, 20Hz, 33.3Hz, 50Hz |
| | Quantas-Q2-266 | Pulsed DPSS Lasers | 266 | 0.012, 0.025, 0.050, 0.100, 0.120 | 1200.0, 2500.0, 5000.0, 10000.0, 12000.0 | 5ns, 7ns, 8ns | 20Hz, 33.3Hz, 50Hz, 100Hz, 200Hz |
| | Quantas-Q2-351 | Pulsed DPSS Lasers | 351 | 0.024, 0.045, 0.090, 0.180, 0.240 | 2400.0, 4500.0, 9000.0, 18000.0, 24000.0 | 5ns, 7ns, 8ns | 10Hz, 20Hz, 33.3Hz, 50Hz |
| | Quantas-Q2-355 | Pulsed DPSS Lasers | 355 | 0.024, 0.045, 0.090, 0.180, 0.240 | 2400.0, 4500.0, 9000.0, 18000.0, 24000.0 | 5ns, 7ns, 8ns | 10Hz |
| | Quantas-Q2HE-1053 | Pulsed DPSS Lasers | 1053 | 1.2, 2.0 | 40000.0, 100000.0, 120000.0 | 6ns | 10Hz, 20Hz, 50Hz |
| | Quantas-Q2HE-1064 | Pulsed DPSS Lasers | 1064 | 1.0, 1.6, 2.0, 3.5, 4.0 | 40000.0, 70000.0, 80000.0, 100000.0 | 6ns | 10Hz, 20Hz, 50Hz, 100Hz |
| | Quantas-Q2HE-211 | Pulsed DPSS Lasers | 211 | 0.050, 0.075, 0.080 | 1500.0, 4000.0, 5000.0 | 6ns | 10Hz, 20Hz, 50Hz |
| | Quantas-Q2HE-213 | Pulsed DPSS Lasers | 213 | 0.040, 0.070, 0.075, 0.150 | 1500.0, 3000.0, 3500.0, 4000.0 | 6ns | 10Hz, 20Hz, 50Hz, 100Hz |
| | Quantas-Q2HE-263 | Pulsed DPSS Lasers | 263 | 0.180, 0.250, 0.300 | 5000.0, 15000.0, 18000.0 | 6ns | 10Hz, 20Hz, 50Hz |
| | Quantas-Q2HE-266 | Pulsed DPSS Lasers | 266 | 0.600 | 5000.0, 10000.0 | 7ns | 20Hz, 50Hz, 100Hz |
| | Quantas-Q2HE-351 | Pulsed DPSS Lasers | 351 | 0.350, 0.600 | 12000.0, 30000.0, 35000.0 | 6ns | 10Hz, 20Hz, 50Hz |
| | Quantas-Q2HE-355 | Pulsed DPSS Lasers | 355 | 0.300, 0.500, 0.600, 1.0, 1.2 | 12000.0, 20000.0, 25000.0, 30000.0 | 6ns | 10Hz, 20Hz, 50Hz, 100Hz |
| | SOL-1064 | Pulsed DPSS Lasers | 1064 | 4.0, 6.0, 10.0, 20.0, 30.0, 40.0 | 300.0, 450.0, 900.0, 1500.0, 2000.0 | 5ns - 35ns, 7ns - 35ns, 10ns - 40ns, 10ns - 50ns, 15ns - 60ns | Single Shot to 100kHz |
| | SOL-355 | Pulsed DPSS Lasers | 355 | 4.0 | 650.0 | 15ns - 35ns | Single Shot to 100kHz |
| | SOL-532 | Pulsed DPSS Lasers | 532 | 3.0, 5.0, 10.0 | 200.0, 400.0, 650.0 | 15ns - 70ns, 10ns - 50ns, 10ns - 60ns | Single Shot to 100kHz |
| | Vento-1064 | Pulsed DPSS Lasers | 1064 | 16.0, 25.0, 40.0 | 600.0, 1000.0, 1500.0 | 500ps - 1.5ns | 50kHz to 120kHz, 80kHz to 200kHz |
| | Vento-532 | Pulsed DPSS Lasers | 532 | 8.0, 15.0, 20.0 | 300.0, 550.0, 750.0 | 500ps - 1.2ns | 50kHz to 120kHz, 80kHz to 200kHz |
| | Wedge-HB/XB 1064 | Pulsed DPSS Lasers | 1064 | 4.0 | 2000.0, 4000.0 | 1.5ns | Single shot to 1kHz, Single shot to 2kHz |
| | Wedge-HB/XB 266 | Pulsed DPSS Lasers | 266 | 0.300, 0.500 | 150.0, 500.0 | 1.5ns, 1.8ns | Single shot to 2kHz |
| | Wedge-HB/XB 355 | Pulsed DPSS Lasers | 355 | 0.400, 0.600 | 200.0, 600.0 | 1.2ns, 1.5ns | Single shot to 1kHz, Single shot to 2kHz |
| | Wedge-HB/XB 532 | Pulsed DPSS Lasers | 532 | 2.0 | 1000.0, 2000.0 | 1.5ns | Single shot to 1kHz, Single shot to 2kHz |
| | Wedge-HF/XF 1064 | Pulsed DPSS Lasers | 1064 | 1.5, 4.0 | 70.0, 180.0 | 400ps - 1.5ns, 400ps - 1.6ns, 700ps - 2.5ns | 10kHz to 100kHz, 50kHz to 200kHz |
| | Wedge-HF/XF 266 | Pulsed DPSS Lasers | 266 | 0.050, 0.180 | 5.0, 15.0 | 700ps - 1500ps, 400ps - 700ps | 10kHz to 50kHz |
| | Wedge-HF/XF 355 | Pulsed DPSS Lasers | 355 | 0.800 | 40.0 | 500ps - 1ns | 10kHz to 50kHz |
| | Wedge-HF/XF 532 | Pulsed DPSS Lasers | 532 | 0.500, 1.5, 2.0, 4.0 | 30.0, 40.0, 80.0, 120.0 | 500ps - 2ns, 700ps - 2ns, 400ps - 1.5ns, 400ps - 1ns | 10kHz to 100kHz, 50kHz to 200kHz, Single shot to 10kHz |
| | Wedge-XB 1572 | Pulsed DPSS Lasers | 1572 | 0.800 | 8000.0 | 2.5ns | 1kHz |
| | Wedge-XB 3um | Pulsed DPSS Lasers | 3106 | 0.200 | 100.0 | 3ns | Single shot to 2kHz |