Maldi-TOF Spectroscopy Lasers
Maldi Time-of-Flight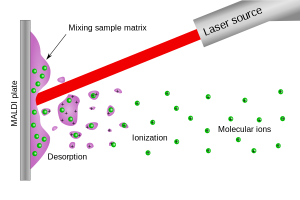 Spectroscopy is a method used in mass spectrometry for measuring the time it takes for ionized particles of different masses to drift to the detector.  For this process to work, there must be a mechanism in place to ionize the particles, one of the methods used is photoionization.  These time of flight spectroscopy lasers traditionally use high pulse energy q-switched ultraviolet lasers, because the photon energy must be greater than the ionization energy of the particle.  Recently though, it has been demonstrated that multi-photon conversation can also happen, making it possible to use mode-locked femtosecond lasers is some cases.  On this page, you will find a list of all of the time of flight spectroscopy lasers we offer, including picosecond and nanosecond pulsed diode-pumped solid-state lasers.
RPMC has years of experience supporting Maldi-TOF applications, helping industry professionals select the right tool for the job.
Contact Us today to let one of our knowledgeable Product Managers assist you!
| | | | | | | | |
| --- | --- | --- | --- | --- | --- | --- | --- |
| | Quantas-Q2-1053 | Pulsed DPSS Lasers | 1053 | 0.080, 0.100, 0.150, 0.200, 0.300, 0.350, 0.400, 0.500, 0.600, 0.800, 1.0, 1.3, 2.0 | 8000.0, 10000.0, 15000.0, 20000.0, 30000.0, 35000.0, 40000.0, 50000.0, 60000.0, 65000.0, 70000.0, 80000.0 | 5ns, 6ns, 7ns, 8ns | 10Hz, 20Hz, 33.3Hz, 50Hz |
| | Quantas-Q2-1064 | Pulsed DPSS Lasers | 1064 | 0.080, 0.100, 0.150, 0.200, 0.300, 0.350, 0.400, 0.500, 0.600, 0.700, 0.800, 1.0, 1.2, 1.3, 2.0 | 2500.0, 5000.0, 8000.0, 10000.0, 15000.0, 20000.0, 30000.0, 35000.0, 40000.0, 60000.0 | 5ns, 6ns, 7ns, 8ns, 10ns | 10Hz, 20Hz, 33.3Hz, 50Hz, 100Hz, 200Hz |
| | Quantas-Q2-211 | Pulsed DPSS Lasers | 211 | 0.035, 0.060, 0.080, 0.120 | 20.0, 500.0, 1000.0, 1800.0, 2500.0, 3000.0, 5000.0 | 5ns, 6ns, 7ns, 8ns | 10Hz, 20Hz, 33.3Hz, 50Hz |
| | Quantas-Q2-213 | Pulsed DPSS Lasers | 213 | 0.060, 0.075, 0.080, 0.120, 0.150 | 20.0, 500.0, 1000.0, 1800.0, 2500.0, 3000.0, 5000.0 | 5ns, 6ns, 7ns, 8ns, 10ns | 10Hz, 20Hz, 33.3Hz, 50Hz, 100Hz, 200Hz |
| | Quantas-Q2-263 | Pulsed DPSS Lasers | 263 | 0.110, 0.200, 0.300, 0.330 | 100.0, 1500.0, 5000.0, 6000.0, 10000.0, 12000.0 | 5ns, 6ns, 7ns, 8ns | 10Hz, 20Hz, 33.3Hz, 50Hz |
| | Quantas-Q2-266 | Pulsed DPSS Lasers | 266 | 0.160, 0.200, 0.250, 0.500, 0.600 | 100.0, 5000.0, 6000.0, 8000.0, 12000.0 | 5ns, 6ns, 7ns, 8ns, 10ns | 20Hz, 33.3Hz, 50Hz, 100Hz, 200Hz |
| | Quantas-Q2-351 | Pulsed DPSS Lasers | 351 | 0.200, 0.500, 0.600, 1.0 | 300.0, 3000.0, 12000.0, 15000.0, 18000.0, 20000.0, 30000.0 | 5ns, 6ns, 7ns, 8ns | 10Hz, 20Hz, 33.3Hz, 50Hz |
| | Quantas-Q2-355 | Pulsed DPSS Lasers | 355 | 0.340, 0.500, 0.600, 1.0, 1.2 | 300.0, 4000.0, 12000.0, 15000.0, 18000.0, 20000.0 | 5ns, 6ns, 7ns, 8ns, 10ns | 20Hz, 33.3Hz, 50Hz, 100Hz, 200Hz |
| | Quantas-Q2-527 | Pulsed DPSS Lasers | 527 | 0.350, 0.800, 1.0, 2.0 | 500.0, 5000.0, 15000.0, 25000.0, 30000.0, 35000.0, 40000.0 | 5ns, 6ns, 7ns, 8ns | 10Hz, 20Hz, 33.3Hz, 50Hz |
| | Quantas-Q2-532 | Pulsed DPSS Lasers | 532 | 0.500, 0.750, 0.800, 1.0, 2.0 | 500.0, 5000.0, 25000.0, 30000.0, 35000.0, 40000.0 | 5ns, 6ns, 7ns, 8ns, 10ns | 10Hz, 20Hz, 33.3Hz, 50Hz, 100Hz, 200Hz |
| | Quantas-Q2HE-211 | Pulsed DPSS Lasers | 211 | 0.050, 0.075, 0.080 | 1500.0, 4000.0, 5000.0 | 6ns | 10Hz, 20Hz, 50Hz |
| | Quantas-Q2HE-213 | Pulsed DPSS Lasers | 213 | 0.040, 0.070, 0.075, 0.150 | 1500.0, 3000.0, 3500.0, 4000.0 | 6ns | 10Hz, 20Hz, 50Hz, 100Hz |
| | Quantas-Q2HE-263 | Pulsed DPSS Lasers | 263 | 0.180, 0.250, 0.300 | 5000.0, 15000.0, 18000.0 | 6ns | 10Hz, 20Hz, 50Hz |
| | Quantas-Q2HE-266 | Pulsed DPSS Lasers | 266 | 0.600 | 5000.0, 10000.0 | 7ns | 20Hz, 50Hz, 100Hz |
| | Quantas-Q2HE-351 | Pulsed DPSS Lasers | 351 | 0.350, 0.600 | 12000.0, 30000.0, 35000.0 | 6ns | 10Hz, 20Hz, 50Hz |
| | Quantas-Q2HE-355 | Pulsed DPSS Lasers | 355 | 0.300, 0.500, 0.600, 1.0, 1.2 | 12000.0, 20000.0, 25000.0, 30000.0 | 6ns | 10Hz, 20Hz, 50Hz, 100Hz |
| | Quantas-Q2HE-527 | Pulsed DPSS Lasers | 527 | 0.600, 1.0 | 20000.0, 50000.0, 60000.0 | 6ns | 10Hz, 20Hz, 50Hz |
| | Quantas-Q2HE-532 | Pulsed DPSS Lasers | 532 | 0.500, 0.800, 1.0, 1.75, 2.0 | 20000.0, 35000.0, 40000.0, 50000.0 | 6ns | 10Hz, 20Hz, 50Hz, 100Hz |
| | SB1-1064 | Pulsed DPSS Lasers, Microchip Lasers | 1064 | 0.008, 0.012, 0.040, 0.110, 0.150, 0.200, 0.225, 0.400 | 2.0, 15.0, 20.0, 30.0, 40.0, 60.0, 80.0 | 400ps, 1.3ns | 100Hz, 200Hz, 1kHz, 5kHz, 10kHz, 15kHz, 55kHz, 100kHz |
| | SB1-236.5 | Pulsed DPSS Lasers, Microchip Lasers | 236.5 | 0.001 | 0.200, 2.0 | 2ns | 500Hz, 5kHz |
| | SB1-266 | Pulsed DPSS Lasers, Microchip Lasers | 266 | 0.002, 0.005 | 0.500, 1.0, 2.0 | 1.3ns | 1kHz, 5kHz, 10kHz |
| | SB1-355 | Pulsed DPSS Lasers, Microchip Lasers | 355 | 0.010 | 1.0 | 1.3ns | 5kHz, 10kHz |
| | SB1-473 | Pulsed DPSS Lasers, Microchip Lasers | 473 | 0.0009, 0.010, 0.015 | 1.0, 3.0, 9.0 | 2ns | 100Hz, 5kHz, 10kHz |
| | SB1-532 | Pulsed DPSS Lasers, Microchip Lasers | 532 | 0.004, 0.006, 0.010, 0.017, 0.020, 0.030, 0.040, 0.075, 0.100 | 0.300, 7.0, 10.0, 15.0, 20.0, 30.0, 40.0 | 400ps, 1.3ns | 10Hz, 100Hz, 200Hz, 1kHz, 5kHz, 10kHz, 15kHz, 55kHz, 100kHz |
| | SB1-946 | Pulsed DPSS Lasers, Microchip Lasers | 946 | 0.004, 0.060, 0.070, 0.105 | 7.0 | 2ns | 100Hz, 5kHz, 10kHz |