Pulsed Lasers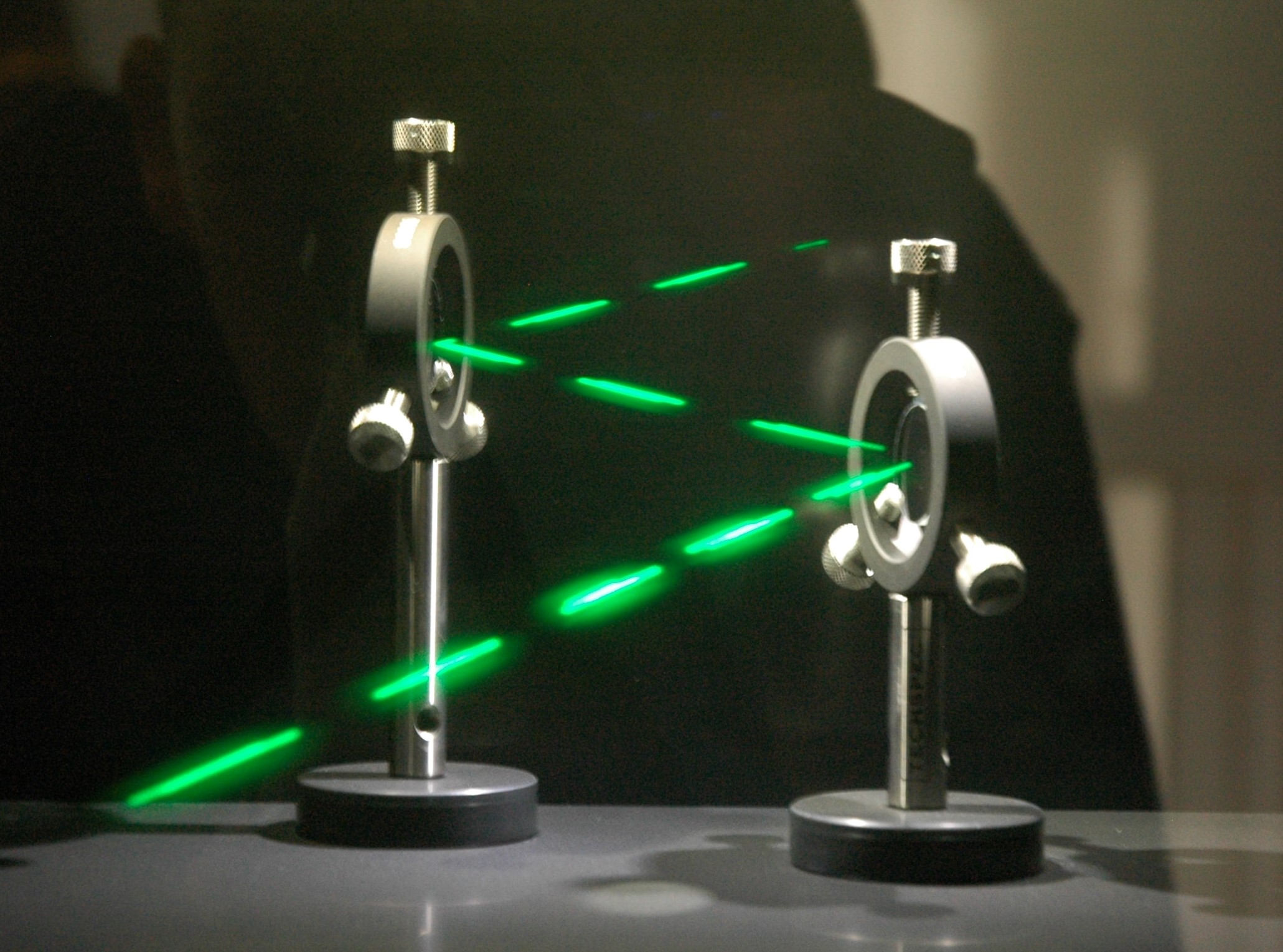 RPMC Lasers offers a wide selection of Pulsed Lasers, including Diode Pumped Solid State (DPSS) Lasers, Flashlamp Lasers, Fiber Lasers, and Microlasers/Microchip Lasers, utilizing pulse generation techniques like Q-switching and mode-locking.  Mil-Spec and custom lasers are also available.
Available in Nanosecond, Picosecond, and Femtosecond laser pulse widths and many wavelengths from UV to IR.
Laser average output powers from mWs to 100W, pulse energies from nanojoules to 100's of joules.
Applications include Material Processing, LIDAR, Micromachining, and many others.
If you have any questions about these pulsed lasers, please contact us.
| | | | | | | | | |
| --- | --- | --- | --- | --- | --- | --- | --- | --- |
| | 1.5um NLW Pulsed Fiber Lasers | Pulsed Fiber Lasers | 1540-1565 | 2.0 | 100.0 | 50ns | 20kHz to 500kHz | |
| | 1.5um Pulsed Fiber Lasers | Pulsed Fiber Lasers | 1540-1560 | 0.150, 1.0, 5.0 | 5.0, 25.0, 80.0 | 400ps, 50ns | 2MHz, 5kHz, 1MHz | |
| | 1um Pulsed Fiber Lasers | Pulsed Fiber Lasers | 1030-1100 | 5.0 | 150.0 | 400ps, 50ns | 10kHz, 100kHz, 1MHz | Active |
| | Aero-1064 | Pulsed DPSS Lasers | 1064 | 1.5, 3.0, 6.0 | 50000.0, 100000.0, 200000.0 | 15ns | 10Hz to 30Hz | Active |
| | Aero-355 | Pulsed DPSS Lasers | 355/532/1064 | 6.0 | 10000.0, 30000.0 | 15ns | Single shot to 200Hz | Active |
| | Aero-532 | Pulsed DPSS Lasers | 532/1064 | 0.400, 6.0 | 100000.0, 200000.0 | 15ns | Single shot to 200Hz | Active |
| | AIRTRAC-6M | Pulsed DPSS Lasers, Mil-Spec Lasers | 355, 532, 1064 | 1.2 | 40000.0 | 6ns | 0-30Hz | Active |
| | AIRTRAC-C | Pulsed DPSS Lasers | 266, 355, 532, 1064 | 5.0, 10.0, 20.0 | 500.0, 1000.0, 2000.0 | 3ns | 10kHz to 1MHz | Active |
| | AIRTRAC-LD | Pulsed DPSS Lasers, Mil-Spec Lasers | 1064 | 1.0 | 50000.0 | 10ns to 25ns | 7-21Hz | Active |
| | ALCOR 1064 | Pulsed DPSS Lasers, Pulsed Fiber Lasers, Ultrafast Lasers | 1064 | 2.0, 5.0 | 0.025, 0.062 | 100fs, 110fs | 80MHz (Optional: 40MHz) | Active |
| | ALCOR 532 | Pulsed DPSS Lasers, Pulsed Fiber Lasers, Ultrafast Lasers | 532 | 0.800, 2.0 | 0.025 | 100fs | 80MHz (Optional: 40MHz) | Active |
| | ALCOR 920 | Pulsed DPSS Lasers, Pulsed Fiber Lasers, Ultrafast Lasers | 920 | 1.0, 2.0, 4.0 | 0.0125, 0.025, 0.050 | 100fs, 110fs, 130fs | 80MHz (Optional: 40MHz) | Active |
| | ALCOR Dual | Pulsed DPSS Lasers, Pulsed Fiber Lasers, Ultrafast Lasers | 920/1064 | 1.0, 2.0 | 0.0125, 0.025 | 100fs, 110fs, 130fs | 80MHz (Optional: 40MHz) | Active |
| | Altair | Pulsed DPSS Lasers, Pulsed Fiber Lasers, Ultrafast Lasers | 1035 | 10.0, 20.0 | 0.125, 0.250, 1.0 | 150fs, 250fs | 30MHz, 80MHz, Single shot to 40MHz | Active |
| | Antares | Pulsed DPSS Lasers, Pulsed Fiber Lasers, Ultrafast Lasers | 1030, 1064 | 10.0, 20.0, 30.0 | 0.125, 0.250, 0.375, 0.500 | 10ps | 80MHz | Active |
| | Diadem GR | Pulsed DPSS Lasers, Ultrafast Lasers | 515, 532 | 10.0, 20.0, 30.0 | 10.0, 20.0, 30.0, 40.0 | 400fs, 10ps | Single shot to 2MHz | Active |
| | Diadem IR | Pulsed DPSS Lasers, Ultrafast Lasers | 1030, 1064 | 10.0, 20.0, 30.0 | 10.0, 20.0, 30.0, 40.0 | 400fs, 10ps | Single shot to 2MHz | Active |
| | Jenlas Fiber ns 25-105 | Pulsed DPSS Lasers, Pulsed Fiber Lasers | 1085 | 20.0, 30.0, 55.0, 100.0 | 700.0, 1000.0, 1100.0 | 125ns | 30kHz to 80kHz, 50kHz to 100kHz, 100kHz to 200kHz | Active |
| | MicroMake 266 | Micromachining System | 266 | 5.0 | | | | |
| | MicroMake 532 | Micromachining System | 532 | 35.0 | | | | |
| | neoMOS | Pulsed DPSS Lasers | 1064 | 5.0, 15.0, 50.0, 75.0, 100.0 | 250.0, 400.0, 500.0 | 600fs, 700fs, 900fs, 10ps, 40ps, 70ps, 100ps | | |
| | Nps-1064 | Pulsed DPSS Lasers, Ultrafast Lasers | 1064 | 0.010, 2.0, 10.0 | 0.250 | 7ps | 40MHz | Passive |
| | Onda 1064nm | Pulsed DPSS Lasers | 1064 | 15.0 | 800.0 | 2ns to 12ns | Single Shot to 100kHz | Active |
| | Onda 266nm | Pulsed DPSS Lasers | 266 | 0.800 | 80.0 | 2ns to 6ns | Single shot to 1kHz, Single shot to 50kHz | Active |
| | Onda 355nm | Pulsed DPSS Lasers | 355 | 0.300 | 150.0 | 3ns | Single shot to 2kHz | Active |
| | Onda 532nm | Pulsed DPSS Lasers | 532 | 5.0, 10.0 | 400.0, 800.0 | 2ns to 14ns | Single Shot to 100kHz | Active |
| | One-1030 | Pulsed DPSS Lasers | 1030 | 1.0, 3.0 | 100.0 | 5ns to 20ns | 30kHz, Single shot to 10kHz | Passive |
| | OT-XX | Pulsed DPSS Lasers, Mil-Spec Lasers | 1540 | 0.001, 0.0012, 0.002, .0022, .0024, .0025, .0045, .0095, 0.020, 0.030, 0.075, 0.100, 0.200 | 900.0, 1000.0, 1200.0, 1500.0, 1900.0, 2000.0, 2100.0, 2200.0, 2400.0, 2500.0, 10000.0 | 9ns, 10ns, 12ns, 15ns, 20ns, 24ns, 35ns, 40ns | 1Hz, 5Hz, 10Hz, 20Hz, 30Hz | Active, Passive |
| | Q-TUNE-IR | Pulsed DPSS Lasers, Tunable Lasers | Tunable | 0.020, 0.065 | 2000.0, 6500.0 | 3ns to 4ns | 10Hz | Active |
| | Q-TUNE | Pulsed DPSS Lasers, Tunable Lasers | Tunable | 0.200 | 5000.0 | 5ns | 100Hz | Active |
| | Quantas-Q-SHIFT-1163 | Pulsed DPSS Lasers | 1163 | 0.500, 0.800, 1.0 | 5000.0, 10000.0, 20000.0, 30000.0, 40000.0, 50000.0 | 2ns to 5ns | 10Hz, 20Hz, 33Hz, 50Hz, 100Hz | Active |
| | Quantas-Q-SHIFT-1177 | Pulsed DPSS Lasers | 1177 | 0.500, 0.800, 1.0 | 5000.0, 10000.0, 20000.0, 30000.0, 40000.0, 50000.0 | 2ns to 5ns | 10Hz, 20Hz, 33Hz, 50Hz, 100Hz | Active |
| | Quantas-Q-SHIFT-1300 | Pulsed DPSS Lasers | 1300 | 0.300, 0.480, 0.600 | 3000.0, 6000.0, 12000.0, 18000.0, 24000.0, 30000.0 | 2ns to 5ns | 10Hz, 20Hz, 33Hz, 50Hz, 100Hz | Active |
| | Quantas-Q-SHIFT-1317 | Pulsed DPSS Lasers | 1317 | 0.300, 0.480, 0.600 | 3000.0, 6000.0, 12000.0, 18000.0, 24000.0, 30000.0 | 2ns to 5ns | 10Hz, 20Hz, 33Hz, 50Hz, 100Hz | Active |
| | Quantas-Q-SHIFT-1551 | Pulsed DPSS Lasers | 1551 | 0.400, 0.640, 0.800 | 4000.0, 8000.0, 16000.0, 24000.0, 32000.0, 40000.0 | 2ns to 5ns | 10Hz, 20Hz, 33Hz, 50Hz, 100Hz | Active |
| | Quantas-Q-SHIFT-1571 | Pulsed DPSS Lasers | 1571 | 0.400, 0.640, 0.800 | 4000.0, 8000.0, 16000.0, 24000.0, 32000.0, 40000.0 | 2ns to 5ns | 10Hz, 20Hz, 33Hz, 50Hz, 100Hz | Active |
| | Quantas-Q-SHIFT-291 | Pulsed DPSS Lasers | 291 | 0.075, 0.120, 0.150 | 750.0, 1500.0, 3000.0, 4500.0, 6000.0, 7500.0 | 2ns to 5ns | 10Hz, 20Hz, 33Hz, 50Hz, 100Hz | Active |
| | Quantas-Q-SHIFT-294 | Pulsed DPSS Lasers | 294 | 0.075, 0.120, 0.150 | 750.0, 1500.0, 3000.0, 4500.0, 6000.0, 7500.0 | 2ns to 5ns | 10Hz, 20Hz, 33Hz, 50Hz, 100Hz | Active |
| | Quantas-Q-SHIFT-325 | Pulsed DPSS Lasers | 325 | 0.045, 0.072, 0.090 | 450.0, 900.0, 1800.0, 2700.0, 3600.0, 4500.0 | 2ns to 5ns | 10Hz, 20Hz, 33Hz, 50Hz, 100Hz | Active |
| | Quantas-Q-SHIFT-329 | Pulsed DPSS Lasers | 329 | 0.045, 0.072, 0.090 | 450.0, 900.0, 1800.0, 2700.0, 3600.0, 4500.0 | 2ns to 5ns | 10Hz, 20Hz, 33Hz, 50Hz, 100Hz | Active |
| | Quantas-Q-SHIFT-388 | Pulsed DPSS Lasers | 388 | 0.125, 0.200, 0.250 | 1250.0, 2500.0, 5000.0, 7500.0, 10000.0, 12500.0 | 2ns to 5ns | 10Hz, 20Hz, 33Hz, 50Hz, 100Hz | Active |
| | Quantas-Q-SHIFT-388 | Pulsed DPSS Lasers | 388 | 0.060, 0.096, 0.120 | 600.0, 1200.0, 2400.0, 3600.0, 4800.0, 6000.0 | 2ns to 5ns | 10Hz, 20Hz, 33Hz, 50Hz, 100Hz | Active |
| | Quantas-Q-SHIFT-392 | Pulsed DPSS Lasers | 392 | 0.125, 0.200, 0.250 | 1250.0, 2500.0, 5000.0, 7500.0, 10000.0, 12500.0 | 2ns to 5ns | 10Hz, 20Hz, 33Hz, 50Hz, 100Hz | Active |
| | Quantas-Q-SHIFT-393 | Pulsed DPSS Lasers | 393 | 0.060, 0.096, 0.120 | 600.0, 1200.0, 2400.0, 3600.0, 4800.0, 6000.0 | 2ns to 5ns | 10Hz, 20Hz, 33Hz, 50Hz, 100Hz | Active |
| | Quantas-Q-SHIFT-433 | Pulsed DPSS Lasers | 433 | 0.075, 0.120, 0.150 | 750.0, 1500.0, 3000.0, 4500.0, 6000.0, 7500.0 | 2ns to 5ns | 10Hz, 20Hz, 33Hz, 50Hz, 100Hz | Active |
| | Quantas-Q-SHIFT-439 | Pulsed DPSS Lasers | 439 | 0.075, 0.120, 0.150 | 750.0, 1500.0, 3000.0, 4500.0, 6000.0, 7500.0 | 2ns to 5ns | 10Hz, 20Hz, 33Hz, 50Hz, 100Hz | Active |
| | Quantas-Q-SHIFT-517 | Pulsed DPSS Lasers | 517 | 0.100, 0.160, 0.200 | 1000.0, 2000.0, 4000.0, 6000.0, 8000.0, 10000.0 | 2ns to 5ns | 10Hz, 20Hz, 33Hz, 50Hz, 100Hz | Active |
| | Quantas-Q-SHIFT-524 | Pulsed DPSS Lasers | 524 | 0.100, 0.160, 0.200 | 1000.0, 2000.0, 4000.0, 6000.0, 8000.0, 10000.0 | 2ns to 5ns | 10Hz, 20Hz, 33Hz, 50Hz, 100Hz | Active |
| | Quantas-Q-SHIFT-581.5 | Pulsed DPSS Lasers | 581.5 | 0.250, 0.400, 0.495, 0.500 | 2500.0, 5000.0, 10000.0, 15000.0, 20000.0, 25000.0 | 2ns to 5ns | 10Hz, 20Hz, 33Hz, 50Hz, 100Hz | Active |
| | Quantas-Q-SHIFT-588.5 | Pulsed DPSS Lasers | 588.5 | 0.250, 0.400, 0.495, 0.500 | 2500.0, 5000.0, 10000.0, 15000.0, 20000.0, 25000.0 | 2ns to 5ns | 10Hz, 20Hz, 33Hz, 50Hz, 100Hz | Active |
| | Quantas-Q-SHIFT-650 | Pulsed DPSS Lasers | 650 | 0.150, 0.240, 0.300 | 1500.0, 3000.0, 6000.0, 9000.0, 12000.0, 15000.0 | 2ns to 5ns | 10Hz, 20Hz, 33Hz, 50Hz, 100Hz | Active |
| | Quantas-Q-SHIFT-658.5 | Pulsed DPSS Lasers | 658.5 | 0.150, 0.240, 0.300 | 1500.0, 3000.0, 6000.0, 9000.0, 12000.0, 15000.0 | 2ns to 5ns | 10Hz, 20Hz, 33Hz, 50Hz, 100Hz | Active |
| | Quantas-Q-SHIFT-775.5 | Pulsed DPSS Lasers | 775.5 | 0.200, 0.320, 0.400 | 2000.0, 4000.0, 8000.0, 12000.0, 16000.0, 20000.0 | 2ns to 5ns | 10Hz, 20Hz, 33Hz, 50Hz, 100Hz | Active |
| | Quantas-Q-SHIFT-785.5 | Pulsed DPSS Lasers | 785.5 | 0.200, 0.320, 0.400 | 2000.0, 4000.0, 8000.0, 12000.0, 16000.0, 20000.0 | 2ns to 5ns | 10Hz, 20Hz, 33Hz, 50Hz, 100Hz | Active |
| | Quantas-Q-SHIFT-WXXXX | Pulsed DPSS Lasers | Multiple Wavelength Options | Varies | Varies | 2ns to 5ns | Varies | Active |
| | Quantas-Q-SPARK-1064 | Pulsed DPSS Lasers | 1064 | 0.010 | 10000.0 | 800ps, 2ns | 100Hz | Active |
| | Quantas-Q-SPARK-266 | Pulsed DPSS Lasers | 266 | 0.010 | 1500.0 | 2ns | 20Hz | Active |
| | Quantas-Q-SPARK-355 | Pulsed DPSS Lasers | 355 | 0.010 | 2500.0 | 2ns | 20Hz | Active |
| | Quantas-Q-SPARK-532 | Pulsed DPSS Lasers | 532 | 0.010 | 2500.0 | 2ns | 20Hz | Active |
| | Quantas-Q1-1053 | Pulsed DPSS Lasers | 1053 | 0.100, 0.125, 0.160, 0.200, 0.250, 0.300, 0.400, 0.500 | 2500.0, 5000.0, 8000.0, 10000.0, 15000.0, 20000.0, 25000.0, 45000.0 | 10ns | Single Shot to 10Hz, Single Shot to 20Hz, Single Shot to 50Hz | Active |
| | Quantas-Q1-1064 | Pulsed DPSS Lasers | 1064 | 0.100, 0.125, 0.160, 0.200, 0.250, 0.300, 0.320, 0.350, 0.500 | 2500.0, 5000.0, 8000.0, 10000.0, 15000.0, 20000.0, 25000.0, 35000.0 | 10ns | Single Shot to 10Hz, Single Shot to 20Hz, Single Shot to 50Hz | Active |
| | Quantas-Q1-211 | Pulsed DPSS Lasers | 211 | 0.005, 0.008, 0.010, 0.014, 0.024, 0.025 | 100.0, 200.0, 400.0, 500.0, 700.0, 1000.0, 1200.0, 2500.0 | 10ns | Single Shot to 10Hz, Single Shot to 20Hz, Single Shot to 50Hz | Active |
| | Quantas-Q1-213 | Pulsed DPSS Lasers | 213 | 0.005, 0.008, 0.010, 0.014, 0.020, 0.024, 0.025 | 100.0, 200.0, 400.0, 500.0, 700.0, 1000.0, 1200.0, 2000.0 | 10ns | Single Shot to 10Hz, Single Shot to 20Hz, Single Shot to 50Hz | Active |
| | Quantas-Q1-263 | Pulsed DPSS Lasers | 263 | 0.015, 0.020, 0.030, 0.036, 0.060, 0.070, 0.075 | 300.0, 700.0, 1000.0, 1500.0, 1800.0, 3000.0, 7000.0 | 10ns | Single Shot to 10Hz, Single Shot to 20Hz, Single Shot to 50Hz | Active |
| | Quantas-Q1-266 | Pulsed DPSS Lasers | 266 | 0.015, 0.020, 0.030, 0.036, 0.050, 0.060, 0.075 | 300.0, 700.0, 1000.0, 1500.0, 1800.0, 3000.0, 5000.0 | 10ns | Single Shot to 10Hz, Single Shot to 20Hz, Single Shot to 50Hz | Active |
| | Quantas-Q1-351 | Pulsed DPSS Lasers | 355 | 0.030, 0.050, 0.060, 0.075, 0.100, 0.130, 0.150 | 600.0, 1500.0, 2500.0, 3000.0, 5000.0, 6000.0, 7500.0, 13000.0 | 10ns | Single Shot to 10Hz, Single Shot to 20Hz, Single Shot to 50Hz | Active |
| | Quantas-Q1-355 | Pulsed DPSS Lasers | 355 | 0.030, 0.050, 0.060, 0.075, 0.100, 0.150 | 600.0, 1500.0, 2500.0, 3000.0, 5000.0, 6000.0, 7500.0, 10000.0 | 10ns | Single Shot to 10Hz, Single Shot to 20Hz, Single Shot to 50Hz | Active |
| | Quantas-Q1-527 | Pulsed DPSS Lasers | 527 | 0.050, 0.060, 0.080, 0.100, 0.125, 0.150, 0.220, 0.250 | 1200.0, 2500.0, 4000.0, 5000.0, 7500.0, 10000.0, 12500.0, 22000.0 | 10ns | Single Shot to 10Hz, Single Shot to 20Hz, Single Shot to 50Hz | Active |
| | Quantas-Q1-532 | Pulsed DPSS Lasers | 532 | 0.050, 0.060, 0.080, 0.100, 0.125, 0.150, 0.170, 0.250 | 1200.0, 2500.0, 4000.0, 5000.0, 7500.0, 10000.0, 12500.0, 17000.0 | 10ns | Single Shot to 10Hz, Single Shot to 20Hz, Single Shot to 50Hz | Active |
| | Quantas-Q2-1053 | Pulsed DPSS Lasers | 1053 | 0.080, 0.100, 0.150, 0.200, 0.300, 0.350, 0.400, 0.500, 0.600, 0.800, 1.0, 1.3, 2.0 | 8000.0, 10000.0, 15000.0, 20000.0, 30000.0, 35000.0, 40000.0, 50000.0, 60000.0, 65000.0, 70000.0, 80000.0 | 5ns, 6ns, 7ns, 8ns | 10Hz, 20Hz, 33.3Hz, 50Hz | Active |
| | Quantas-Q2-1064 | Pulsed DPSS Lasers | 1064 | 0.080, 0.100, 0.150, 0.200, 0.300, 0.350, 0.400, 0.500, 0.600, 0.700, 0.800, 1.0, 1.2, 1.3, 2.0 | 2500.0, 5000.0, 8000.0, 10000.0, 15000.0, 20000.0, 30000.0, 35000.0, 40000.0, 60000.0 | 5ns, 6ns, 7ns, 8ns, 10ns | 10Hz, 20Hz, 33.3Hz, 50Hz, 100Hz, 200Hz | Active |
| | Quantas-Q2-211 | Pulsed DPSS Lasers | 211 | 0.035, 0.060, 0.080, 0.120 | 20.0, 500.0, 1000.0, 1800.0, 2500.0, 3000.0, 5000.0 | 5ns, 6ns, 7ns, 8ns | 10Hz, 20Hz, 33.3Hz, 50Hz | Active |
| | Quantas-Q2-213 | Pulsed DPSS Lasers | 213 | 0.060, 0.075, 0.080, 0.120, 0.150 | 20.0, 500.0, 1000.0, 1800.0, 2500.0, 3000.0, 5000.0 | 5ns, 6ns, 7ns, 8ns, 10ns | 10Hz, 20Hz, 33.3Hz, 50Hz, 100Hz, 200Hz | Active |
| | Quantas-Q2-263 | Pulsed DPSS Lasers | 263 | 0.110, 0.200, 0.300, 0.330 | 100.0, 1500.0, 5000.0, 6000.0, 10000.0, 12000.0 | 5ns, 6ns, 7ns, 8ns | 10Hz, 20Hz, 33.3Hz, 50Hz | Active |
| | Quantas-Q2-266 | Pulsed DPSS Lasers | 266 | 0.160, 0.200, 0.250, 0.500, 0.600 | 100.0, 5000.0, 6000.0, 8000.0, 12000.0 | 5ns, 6ns, 7ns, 8ns, 10ns | 20Hz, 33.3Hz, 50Hz, 100Hz, 200Hz | Active |
| | Quantas-Q2-351 | Pulsed DPSS Lasers | 351 | 0.200, 0.500, 0.600, 1.0 | 300.0, 3000.0, 12000.0, 15000.0, 18000.0, 20000.0, 30000.0 | 5ns, 6ns, 7ns, 8ns | 10Hz, 20Hz, 33.3Hz, 50Hz | Active |
| | Quantas-Q2-355 | Pulsed DPSS Lasers | 355 | 0.340, 0.500, 0.600, 1.0, 1.2 | 300.0, 4000.0, 12000.0, 15000.0, 18000.0, 20000.0 | 5ns, 6ns, 7ns, 8ns, 10ns | 20Hz, 33.3Hz, 50Hz, 100Hz, 200Hz | Active |
| | Quantas-Q2-527 | Pulsed DPSS Lasers | 527 | 0.350, 0.800, 1.0, 2.0 | 500.0, 5000.0, 15000.0, 25000.0, 30000.0, 35000.0, 40000.0 | 5ns, 6ns, 7ns, 8ns | 10Hz, 20Hz, 33.3Hz, 50Hz | Active |
| | Quantas-Q2-532 | Pulsed DPSS Lasers | 532 | 0.500, 0.750, 0.800, 1.0, 2.0 | 500.0, 5000.0, 25000.0, 30000.0, 35000.0, 40000.0 | 5ns, 6ns, 7ns, 8ns, 10ns | 10Hz, 20Hz, 33.3Hz, 50Hz, 100Hz, 200Hz | Active |
| | Quantas-Q2HE-1053 | Pulsed DPSS Lasers | 1053 | 1.2, 2.0 | 40000.0, 100000.0, 120000.0 | 6ns | 10Hz, 20Hz, 50Hz | Active |
| | Quantas-Q2HE-1064 | Pulsed DPSS Lasers | 1064 | 1.0, 1.6, 2.0, 3.5, 4.0 | 40000.0, 70000.0, 80000.0, 100000.0 | 6ns | 10Hz, 20Hz, 50Hz, 100Hz | Active |
| | Quantas-Q2HE-211 | Pulsed DPSS Lasers | 211 | 0.050, 0.075, 0.080 | 1500.0, 4000.0, 5000.0 | 6ns | 10Hz, 20Hz, 50Hz | Active |
| | Quantas-Q2HE-213 | Pulsed DPSS Lasers | 213 | 0.040, 0.070, 0.075, 0.150 | 1500.0, 3000.0, 3500.0, 4000.0 | 6ns | 10Hz, 20Hz, 50Hz, 100Hz | Active |
| | Quantas-Q2HE-263 | Pulsed DPSS Lasers | 263 | 0.180, 0.250, 0.300 | 5000.0, 15000.0, 18000.0 | 6ns | 10Hz, 20Hz, 50Hz | Active |
| | Quantas-Q2HE-266 | Pulsed DPSS Lasers | 266 | 0.600 | 5000.0, 10000.0 | 7ns | 20Hz, 50Hz, 100Hz | Active |
| | Quantas-Q2HE-351 | Pulsed DPSS Lasers | 351 | 0.350, 0.600 | 12000.0, 30000.0, 35000.0 | 6ns | 10Hz, 20Hz, 50Hz | Active |
| | Quantas-Q2HE-355 | Pulsed DPSS Lasers | 355 | 0.300, 0.500, 0.600, 1.0, 1.2 | 12000.0, 20000.0, 25000.0, 30000.0 | 6ns | 10Hz, 20Hz, 50Hz, 100Hz | Active |
| | Quantas-Q2HE-527 | Pulsed DPSS Lasers | 527 | 0.600, 1.0 | 20000.0, 50000.0, 60000.0 | 6ns | 10Hz, 20Hz, 50Hz | Active |
| | Quantas-Q2HE-532 | Pulsed DPSS Lasers | 532 | 0.500, 0.800, 1.0, 1.75, 2.0 | 20000.0, 35000.0, 40000.0, 50000.0 | 6ns | 10Hz, 20Hz, 50Hz, 100Hz | Active |
| | Quantas-Q2HE-XXX-XXXX | Pulsed DPSS Lasers | Multiple Wavelength Options | Varies | Varies | Varies | Varies | Active |
| | SB1-1064 | Pulsed DPSS Lasers, Microchip Lasers | 1064 | 0.008, 0.012, 0.040, 0.110, 0.150, 0.200, 0.225, 0.400 | 2.0, 15.0, 20.0, 30.0, 40.0, 60.0, 80.0 | 400ps, 1.3ns | 100Hz, 200Hz, 1kHz, 5kHz, 10kHz, 15kHz, 55kHz, 100kHz | Passive |
| | SB1-236.5 | Pulsed DPSS Lasers, Microchip Lasers | 236.5 | 0.001 | 0.200, 2.0 | 2ns | 500Hz, 5kHz | Passive |
| | SB1-266 | Pulsed DPSS Lasers, Microchip Lasers | 266 | 0.002, 0.005 | 0.500, 1.0, 2.0 | 1.3ns | 1kHz, 5kHz, 10kHz | Passive |
| | SB1-355 | Pulsed DPSS Lasers, Microchip Lasers | 355 | 0.010 | 1.0 | 1.3ns | 5kHz, 10kHz | Passive |
| | SB1-473 | Pulsed DPSS Lasers, Microchip Lasers | 473 | 0.0009, 0.010, 0.015 | 1.0, 3.0, 9.0 | 2ns | 100Hz, 5kHz, 10kHz | Passive |
| | SB1-532 | Pulsed DPSS Lasers, Microchip Lasers | 532 | 0.004, 0.006, 0.010, 0.017, 0.020, 0.030, 0.040, 0.075, 0.100 | 0.300, 7.0, 10.0, 15.0, 20.0, 30.0, 40.0 | 400ps, 1.3ns | 10Hz, 100Hz, 200Hz, 1kHz, 5kHz, 10kHz, 15kHz, 55kHz, 100kHz | Passive |
| | SB1-946 | Pulsed DPSS Lasers, Microchip Lasers | 946 | 0.004, 0.060, 0.070, 0.105 | 7.0 | 2ns | 100Hz, 5kHz, 10kHz | Passive |
| | Sirius GR | Pulsed DPSS Lasers, Ultrafast Lasers | 532 | 2.0 | 32.0 | 10ps | Single shot to 1MHz | Active |
| | Sirius IR | Pulsed DPSS Lasers, Ultrafast Lasers | 1064 | 5.0 | 60.0 | 10ps | Single shot to 1MHz | Active |
| | SOL-1064 | Pulsed DPSS Lasers | 1064 | 6.0, 10.0, 20.0, 30.0, 40.0 | 300.0, 450.0, 900.0, 1500.0, 2000.0 | 5ns to 35ns, 7ns to 35ns, 10ns to 40ns, 10ns to 50ns, 15ns to 60ns | Single Shot to 100kHz | Active |
| | SOL-355 | Pulsed DPSS Lasers | 355 | 4.0 | 650.0 | 15ns to 35ns | Single Shot to 100kHz | Active |
| | SOL-532 | Pulsed DPSS Lasers | 532 | 3.0, 5.0, 10.0, 20.0, 35.0 | 200.0, 400.0, 650.0, 1200.0 | 10ns to 50ns, 10ns to 60ns, 15ns to 60ns | Single Shot to 100kHz | Active |
| | Vento-1064 | Pulsed DPSS Lasers | 1064 | 15.0, 40.0, 100.0 | 300.0, 800.0, 2000.0 | 450ps to 1.5ns | 40kHz to 200kHz | Active |
| | Vento-532 | Pulsed DPSS Lasers | 532 | 7.0, 15.0, 50.0 | 150.0, 400.0, 1000.0 | 400ps to 1.5ns | 40kHz to 200kHz | Active |
| | Wedge-HB/XB 1064 | Pulsed DPSS Lasers | 1064 | 4.0 | 2000.0, 4000.0 | 1.5ns | Single shot to 1kHz, Single shot to 2kHz | Active |
| | Wedge-HB/XB 266 | Pulsed DPSS Lasers | 266 | 0.300, 0.500 | 150.0, 500.0 | 1.5ns, 1.8ns | Single shot to 2kHz | Active |
| | Wedge-HB/XB 355 | Pulsed DPSS Lasers | 355 | 0.400, 0.600 | 200.0, 600.0 | 1.2ns, 1.5ns | Single shot to 1kHz, Single shot to 2kHz | Active |
| | Wedge-HB/XB 532 | Pulsed DPSS Lasers | 532 | 2.0 | 1000.0, 2000.0 | 1.5ns | Single shot to 1kHz, Single shot to 2kHz | Active |
| | Wedge-HF/XF 1064 | Pulsed DPSS Lasers | 1064 | 1.5, 4.0 | 70.0, 180.0 | 400ps to 1.6ns, 700ps to 2.5ns | 10kHz to 100kHz, 50kHz to 200kHz | Active |
| | Wedge-HF/XF 266 | Pulsed DPSS Lasers | 266 | 0.050, 0.180 | 5.0, 15.0 | 400ps to 700ps, 500ps to 1ns | 10kHz to 50kHz | Active |
| | Wedge-HF/XF 355 | Pulsed DPSS Lasers | 355 | 0.800 | 40.0 | 500ps to 1ns | 10kHz to 50kHz | Active |
| | Wedge-HF/XF 532 | Pulsed DPSS Lasers | 532 | 0.500, 1.5, 2.0, 4.0 | 30.0, 40.0, 80.0, 120.0 | 400ps to 1ns, 500ps to 1.5ns, 750ps to 2ns, 750ps to 2.5ns | 10kHz to 100kHz, Single shot to 10kHz | Active |