How To Select A Laser Diode: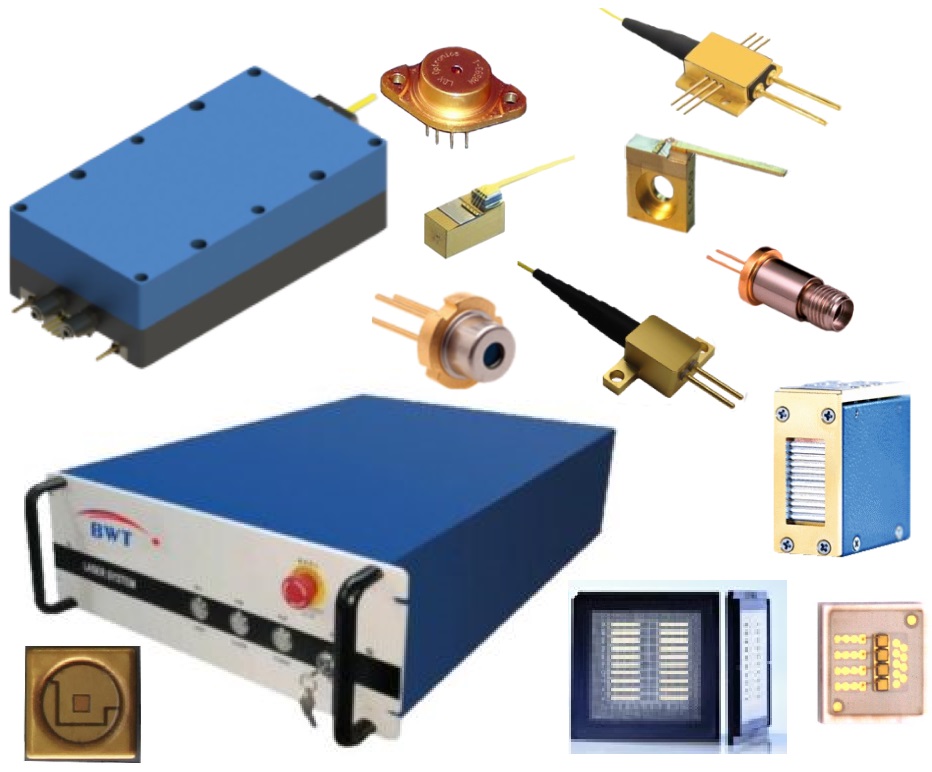 Welcome to RPMC's 'How To Select A Laser Diode' page. Primarily, this page should help you quickly identify an appropriate Laser Diode (LD) that suites your needs. In short, we explain how we define and organize these products, and how you can use our filters and product table to quickly find viable options to match your requirements.
A Laser Diode is defined as: A semiconductor light emitter that generates specified wavelengths of light with focused energy. Finally, the edge of laser diode chip emits the laser light, and the size and number of emitters determines the output power and beam quality of the LD.
RPMC offers a selection of Laser Diodes, covering a wide range of wavelengths, powers, packages, and more. Indeed, after reading this page, you should have a better understanding on how to select the best Laser Diode for your specific needs. Let's get started!
If you would like some assistance:
Laser Diode Types:
We offer a wide assortment of Laser Diode types to choose from. For example, we offer Single and Multi-Emitters, Quantum Cascade Lasers (QCLs), Volume Bragg Grating (VGB), and more. Furthermore, these "Types" typically define the technology utilized to generate lasing. However, there are some exceptions (e.g. Arrays/Bars, Stacks, Tunable, Turn-key Systems). Additionally, most products have customization options, including packaging, wafer level options, cooling, photodiodes, and more. Alternatively, for more information on our LDs, you can check out our Lasers 101 page, and you can click the Laser Diode Type links in each section below. Next, we will briefly explain each Laser Diode type.
Single Emitter/Multi-Emitter:
Firstly, we offer a wide variety of Single Emitter and Multi-Emitter Laser Diodes. Single Emitters have a single emitting region (emitter) that emits light. They can be multimode or single-mode, depending on the emitter size. Alternatively, multimode diodes have a larger width, which allows for more than one mode in the active region, therefore providing higher power, but a lower beam quality. However, for Single-Mode laser diodes, the inverse is true: lower power and higher beam quality. Finally, our Single Emitter Laser Diodes are available in UV, violet, blue, green, red, and IR wavelengths
Multi-Emitters utilize multiple Single Emitters. For example, these are typically multimode emitters with fiber-coupled output. Combining multiple Single Emitters allows for more power, with less current draw, when compared to Laser Diode Bars. Finally, our Multi-Emitter Laser Diodes are available in blue, red, and IR wavelengths
Both Single-Emitter and Multi-Emitter Laser Diode types are available with a wide variety of packages and customization options.
Arrays/Bars:
Laser Diode Arrays (or Bars) allow for emitters to lie next to each other, with a certain pitch between emitting regions. Therefore, the arrayed laser diodes can have a higher output power with red and IR wavelength options. Finally, they are typically used for various Industrial and Medical applications.
Stacks:
Laser Diode Stacks are comprised of Laser Diode Arrays/Bars, stacked vertically, or horizontally to provide increased total output power. Furthermore, our Laser Diode Stacks are available in wavelengths from 808nm to 980nm (IR regime) in several free-space and fiber-coupled packages.
VCSELs:
Vertical Cavity Surface Emitting Lasers (VCSELs) have an emitting region oriented perpendicular to the top surface of the chip, as opposed to laser diodes, which emit light from the side of the chip. Furthermore, one VCSEL chip can be used to achieve very high beam quality, or multiple chips (10s, 100s, or even 1000s) can be arrayed to create a larger emitting area, increase total output power, and increase long-term reliability. Finally, VCSELs haver greater accuracy, smaller size, lower power consumption, and higher reliability than their Diode laser counterparts.
Distributed Feedback:
Distributed Feedback (or DFB) Laser Diodes utilize a Bragg grating to provide single-frequency output and offer Narrow Linewidth with good side-mode suppression ratio (SMSR). Finally, these are available in IR wavelengths with free-space and fiber-coupled output options.
Volume Bragg Grating:
Volume Bragg Grating (VBG) Laser Diodes utilize an external cavity technique to provide Narrow Linewidth and Wavelength Stabilized output. Finally, VBG Laser Diodes are available in green, red, and IR wavelengths, with free-space and fiber-coupled output options.
Quantum Cascade:
Quantum Cascade Lasers (QCLs) are quasi-CW, Fabry-Perot, intersubband semiconductor lasers, operating at room temperature, emitting around a center wavelength in the MWIR and LWIR wavelength regimes. Furthermore, the high average power and wall-plug efficiency of QCLs is perfectly suited for counter-measure and other defense applications.
Superluminescent:
Superluminescent Laser Diodes (also sometimes called Superluminescence Diodes, or Superluminescent Light-Emitting Diodes – SLEDs / SLDs) are optoelectronic semiconductor devices that emit broadband optical radiation. Finally, these devices are typically used for Optical Component Testing, Telecommunications, and Optical Coherence Tomography.
Multi Wavelength:
Our Multi Wavelength Laser Diodes provide multiple CW wavelength output options from the same device. Furthermore, these multimode diodes are water-cooled, with multimode fiber-coupled output. Finally, these provide multiple wavelengths including blue, red, and IR.
Turn-Key System:
Our Laser Diode Turn-Key Systems are ready to use immediately, available with integrated electronics, thermal management, user interface, and more. For example, the BDL Turn-Key systems are available with 915nm and 976nm wavelengths, with CW multimode fiber-coupled output, and output powers from 1kW to 3kW, depending on the configuration. Another example, the DS3 Turn-Key system, can take ANY of our K Series Laser Diodes, to make them a Turn-Key System. Simply chose the configuration you want, with the DS3 turn-key system package option. Finally, there are many available wavelengths from violet to the IR regimes.
Tunable Lasers:
Our Tunable Laser Diodes are Distributed Feedback (DFB) Quantum Cascade Lasers (QCLs) in the LWIR wavelength regime from 11.3µm to 16µm. Furthermore, these QCLs are well suited for integration into systems, available in a sealed High Heat Load (HHL) package, with integrated collimating lens, thermistor, and thermoelectric cooler (TEC). Alternatively, they can act as a stand-alone turnkey system for R&D and detection applications.
Packages:
Our Laser Diodes are available in a huge variety of standard and custom packaging options. For example, we offer B-Mounts, C-Mounts, T-Mounts, and Q-mounts, 3.8mm/5.6mm/9mm TO-Cans, 9mm SMA, HHL, Open Beam & Fiber-Coupled Butterfly (BF), and MANY more.
Wavelength: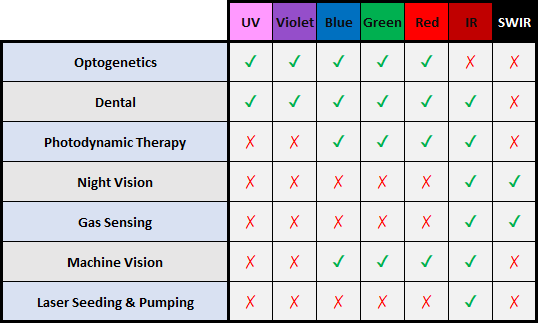 One of the more important specifications to consider when selecting a Laser Diode is wavelength, and our Laser Diodes are available in a wide range of wavelengths. Many applications are wavelength specific. However, some applications can use multiple wavelengths, depending on preference or specifics of your particular setup. Our many wavelength options span the UV, violet, blue, green, red, IR, SWIR, MWIR, and LWIR regimes. Finally, the table to the right shows a small sampling of which wavelengths work with a given application.
Ultraviolet or UV Lasers:
First, Our UV Laser Diodes are typically used at 375nm.
Violet Lasers:
Next, Our Violet Laser Diodes range from 390nm to 419nm.
Blue Lasers:
Next, Our Blue Laser Diodes range from 420nm to 499nm.
Green Lasers:
Next, Our Green Laser Diodes range from 500nm to 559nm.
Red Lasers:
Next, Our Red Laser Diodes range from 620nm to 699nm.
IR Lasers:
Finally, our Infrared or (IR) Laser Diodes can be classified into four different categories. Near Infrared (NIR), Short Wavelength Infrared (SWIR), Mid-Wavelength Infrared (MWIR), and Long-Wavelength Infrared (LWIR) LDs. To see all of the various IR Laser products we offer, check out these links:
•   NIR Lasers   •   SWIR Lasers   •   MWIR Lasers   •   LWIR Lasers   •
If you would like some assistance:
In conclusion, if you would like help in identifying a suitable Laser Diode, contact info@rpmclasers.com, or call us at 636.272.7227. Alternatively, click the button below to fill out a contact form!
If you wish to learn more:
| | | | | | | | | | |
| --- | --- | --- | --- | --- | --- | --- | --- | --- | --- |
| | HL375 | Single Emitter | 375 | 0.200 | Multimode | Free Space | | CW | 5.6mm |
| | HL405 | Single Emitter | 405 | 0.300, 0.600, 1.0, 3.5 | Single Mode, Multimode | Free Space | | CW | 5.6mm, 9mm |
| | HL633 | Single Emitter | 633 | 0.100 | Single Mode | Free Space | | CW | 5.6mm |
| | HL637 | Single Emitter | 637 | 0.007, 0.120, 0.250, 0.450, 1.0, 1.2 | Single Mode, Multimode | Free Space | | CW | 5.6mm, 9mm |
| | HL638 | Single Emitter | 638 | 0.005, 0.007, 0.010, 0.015, 0.120, 0.170, 0.200, 0.700, 1.5, 2.2, 2.4 | Single Mode, Multimode | Free Space | | CW | 3.8mm, 5.6mm, 9mm |
| | HL639 | Single Emitter | 639 | 0.010, 0.012, 0.020, 0.025, 0.030, 0.200 | Single Mode | Free Space | | CW | 5.6mm |
| | HL640 | Single Emitter | 640 | 0.045 | Single Mode | Free Space | | CW | 5.6mm |
| | HL642 | Single Emitter | 642 | 0.065, 0.090, 0.150 | Single Mode | Free Space | | CW | 5.6mm |
| | HL649 | Single Emitter | 649 | 0.150 | Single Mode | Free Space | | CW | 5.6mm |
| | HL658 | Single Emitter | 658 | 0.035, 0.085 | Single Mode | Free Space | | CW | 5.6mm |
| | HL659 | Single Emitter | 659 | 1.2 | Multimode | Free Space | | CW | 9mm |
| | HL660 | Single Emitter | 660 | 0.100, 0.110, 0.120, 0.130, 0.150, 0.210 | Single Mode | Free Space | | CW | 5.6mm |
| | HL670 | Single Emitter | 670 | 0.010, 0.015 | Single Mode | Free Space | | CW | 5.6mm, 9mm |
| | HL685 | Single Emitter | 685 | 0.055 | Single Mode | Free Space | | CW | 5.6mm |
| | HL690 | Single Emitter | 690 | 0.035 | Single Mode | Free Space | | CW | 5.6mm |
| | HL705 | Single Emitter | 705 | 0.050 | Single Mode | Free Space | | CW | 5.6mm |
| | HL730 | Single Emitter | 730 | 0.050 | Single Mode | Free Space | | CW | 5.6mm |
| | HL830 | Single Emitter | 830 | 0.050 | Single Mode | Free Space | | CW | 5.6mm |
| | HL852 | Single Emitter | 852 | 0.050 | Single Mode | Free Space | | CW | 5.6mm |
| | JDL-1020 | Array (Bar) | 1020 | 120.0, 200.0 | Multimode | Free Space | | CW | None |
| | JDL-1060 | Single Emitter, Array (Bar) | 1060 | 10.0, 40.0, 60.0, 80.0, 120.0, 200.0, 250.0, 350.0 | Multimode | Free Space | | CW, QCW | None |
| | JDL-760 | Array (Bar) | 760 | 40.0 | Multimode | Free Space | | CW | None |
| | JDL-792 | Array (Bar) | 792 | 60.0, 80.0 | Multimode | Free Space | | CW | None |
| | JDL-808 | Single Emitter, Array (Bar) | 808 | 6.0, 8.0, 10.0, 20.0, 40.0, 50.0, 60.0, 80.0, 92.0, 200.0, 300.0 | Multimode | Free Space | | CW, QCW | None |
| | JDL-880 | Array (Bar) | 880 | 500.0 | Multimode | Free Space | | QCW | None |
| | JDL-905 | Array (Bar) | 905 | 200.0 | Multimode | Free Space | | CW | None |
| | JDL-915 | Array (Bar) | 915 | 40.0, 60.0, 80.0, 200.0 | Multimode | Free Space | | CW | None |
| | JDL-940 | Array (Bar) | 940 | 60.0, 80.0, 120.0, 200.0, 300.0 | Multimode | Free Space | | CW, QCW | None |
| | JDL-976 | Array (Bar) | 976 | 60.0, 80.0, 120.0 | Multimode | Free Space | | CW | None |
| | JOLD-FC-1470 | Array (Bar) | 1470 | 20.0 | Multimode | MM Fiber | | CW | Fiber Coupled |
| | JOLD-FC-808 | Array (Bar) | 808 | 30.0, 45.0, 70.0, 75.0, 100.0, 120.0, 140.0, 210.0, 250.0, 400.0 | Multimode | MM Fiber | | CW, QCW | Fiber Coupled |
| | JOLD-FC-880 | Array (Bar) | 880 | 30.0, 45.0, 75.0, 100.0 | Multimode | MM Fiber | | CW | Fiber Coupled |
| | JOLD-FC-915 | Array (Bar) | 915 | 30.0, 45.0, 75.0, 100.0, 120.0, 140.0, 210.0, 250.0, 400.0 | Multimode | MM Fiber | | CW, QCW | Fiber Coupled |
| | JOLD-FC-940 | Array (Bar) | 940 | 30.0, 45.0, 70.0, 75.0, 100.0, 120.0, 140.0, 210.0, 250.0, 400.0 | Multimode | MM Fiber | | CW, QCW | Fiber Coupled |
| | JOLD-FC-976 | Array (Bar) | 976 | 30.0, 45.0, 75.0, 100.0, 120.0, 140.0, 210.0, 250.0, 400.0 | Multimode | MM Fiber | | CW, QCW | Fiber Coupled |
| | JOLD-Open-808-CW | Array (Bar) | 808 | 40.0, 50.0, 60.0, 80.0 | Multimode | Free Space | | CW | CS, CN, MCC Stack |
| | JOLD-Open-808-CW-FAC | Array (Bar) | 808 | 35.0, 55.0, 90.0 | Multimode | Free Space | | CW | CS, CN |
| | JOLD-Open-808-CW-FAC/SAC | Array (Bar) | 808 | 32.0, 50.0 | Multimode | Free Space | | CW | CS, CN |
| | JOLD-Open-808-QCW | Array (Bar) | 808 | 100.0, 300.0 | Multimode | Free Space | | QCW | CS, CN |
| | JOLD-Open-808-QCW-FAC | Array (Bar) | 808 | 90.0, 225.0, 270.0 | Multimode | Free Space | | QCW | CS, CN |
| | JOLD-Open-880-CW | Array (Bar) | 880 | 40.0, 60.0, 80.0 | Multimode | Free Space | | CW | CS, CN |
| | JOLD-Open-880-CW-FAC | Array (Bar) | 880 | 35.0, 50.0, 68.0 | Multimode | Free Space | | CW | CS, CN |
| | JOLD-Open-880-CW-FAC/SAC | Array (Bar) | 880 | 32.0, 50.0, 68.0 | Multimode | Free Space | | CW | CS, CN |
| | JOLD-Open-915-CW | Array (Bar) | 915 | 40.0, 60.0, 80.0, 275.0 | Multimode | Free Space | | CW | CS, CN, LK Package, MCC Stack |
| | JOLD-Open-915-CW-FAC | Array (Bar) | 915 | 32.0, 35.0, 55.0 | Multimode | Free Space | | CW | CS, CN |
| | JOLD-Open-915-CW-FAC/SAC | Array (Bar) | 915 | 32.0, 50.0, 68.0 | Multimode | Free Space | | CW | CS, CN |
| | JOLD-Open-938-CW | Array (Bar) | 938 | 40.0, 60.0, 80.0, 100.0, 120.0, 200.0, 275.0 | Multimode | Free Space | | CW | CS, CN, LK Package, MCC Stack |
| | JOLD-Open-938-CW-FAC | Array (Bar) | 938 | 35.0, 55.0, 90.0, 180.0 | Multimode | Free Space | | CW | CS, CN |
| | JOLD-Open-938-CW-FAC/SAC | Array (Bar) | 938 | 32.0, 35.0, 50.0, 68.0 | Multimode | Free Space | | CW | CS, CN |
| | JOLD-Open-938-QCW-FAC | Array (Bar) | 938 | 90.0, 100.0 | Multimode | Free Space | | QCW | CS, CN |
| | JOLD-Open-976-CW | Array (Bar) | 976 | 40.0, 60.0, 80.0, 100.0, 120.0, 160.0, 275.0 | Multimode | Free Space | | CW | CS, CN, LK Package, MCC Stack |
| | JOLD-Open-976-CW-FAC | Array (Bar) | 976 | 55.0, 90.0 | Multimode | Free Space | | CW | CS, CN |
| | JOLD-Open-976-CW-FAC/SAC | Array (Bar) | 976 | 32.0, 35.0, 50.0, 68.0 | Multimode | Free Space | | CW | CS, CN |
| | JOLD-Stack-808-CW-FAC | Laser Diode Stack | 808 | 288.0, 432.0, 576.0, 720.0, 864.0 | Multimode | Free Space | | CW | MCC Stack |
| | JOLD-Stack-808-CW-FAC/SAC | Laser Diode Stack | 808 | 200.0, 300.0, 400.0, 500.0, 600.0 | Multimode | Free Space | | CW | MCC Stack |
| | JOLD-Stack-808-CW | Laser Diode Stack | 808 | 310.0, 320.0, 480.0, 640.0, 800.0, 960.0 | Multimode | Free Space | | CW | Stack, MCC Stack |
| | JOLD-Stack-808-QCW-FAC | Laser Diode Stack | 808 | 360.0, 540.0, 720.0, 780.0, 810.0, 900.0, 1080.0, 1560.0, 2160.0 | Multimode | Free Space | | QCW | Stack, MCC Stack |
| | JOLD-Stack-808-QCW | Laser Diode Stack | 808 | 400.0, 600.0, 800.0, 900.0, 1000.0, 1200.0, 1600.0, 2400.0 | Multimode | Free Space | | QCW | Stack, MCC Stack |
| | JOLD-Stack-940-CW-FAC | Laser Diode Stack | 940 | 440.0, 660.0, 880.0, 1100.0, 1320.0 | Multimode | Free Space | | CW | MCC Stack |
| | JOLD-Stack-940-CW-FAC/SAC | Laser Diode Stack | 940 | 200.0, 300.0, 400.0, 500.0, 600.0 | Multimode | Free Space | | CW | MCC Stack |
| | JOLD-Stack-940-CW | Laser Diode Stack | 940 | 310.0, 480.0, 720.0, 960.0, 1200.0, 1440.0 | Multimode | Free Space | | CW | Stack, MCC Stack |
| | JOLD-Stack-940-QCW-FAC | Laser Diode Stack | 940 | 360.0, 540.0, 720.0, 810.0, 900.0, 1080.0, 2160.0 | Multimode | Free Space | | QCW | Stack, MCC Stack |
| | JOLD-Stack-940-QCW | Laser Diode Stack | 940 | 400.0, 600.0, 800.0, 900.0, 1000.0, 1200.0, 2400.0 | Multimode | Free Space | | QCW | Stack, MCC Stack |
| | JOLD-Stack-980-CW-FAC | Laser Diode Stack | 980 | 440.0, 660.0, 880.0, 1100.0, 1320.0 | Multimode | Free Space | | CW | MCC Stack |
| | JOLD-Stack-980-CW-FAC/SAC | Laser Diode Stack | 980 | 200.0, 300.0, 400.0, 500.0, 600.0 | Multimode | Free Space | | CW | MCC Stack |
| | JOLD-Stack-980-CW | Laser Diode Stack | 980 | 480.0, 720.0, 960.0, 1200.0, 1440.0 | Multimode | Free Space | | CW | MCC Stack |
| | LDX-XXXX-1030 | Single Emitter | 1030 | 3.0, 5.0 | Multimode | Free Space, MM Fiber | | CW | Chip on Carrier, C-Mount, B-Mount, Q-Mount, 9mm, TO-3 no TEC, HHL, 9mm SMA, 2-Pin FC, 8-pin HHL, 9-pin HHL |
| | LDX-XXXX-1064 | Single Emitter | 1064 | 1.5, 3.0, 5.0 | Multimode | Free Space, MM Fiber | | CW | Chip on Carrier, C-Mount, B-Mount, Q-Mount, 9mm, TO-3 no TEC, TO-3-TEC, HHL, 9mm SMA, 2-Pin FC, 8-pin HHL, 9-pin HHL |
| | LDX-XXXX-1120 | Single Emitter | 1120 | 2.0, 3.5, 5.0 | Multimode | Free Space, MM Fiber | | CW | Chip on Carrier, C-Mount, B-Mount, Q-Mount, 9mm, TO-3 no TEC, HHL, 9mm SMA, 2-Pin FC, 9-pin HHL |
| | LDX-XXXX-1210 | Single Emitter | 1210 | 1.5, 2.0 | Multimode | Free Space, MM Fiber | | CW | C-Mount, B-Mount, TO-3 no TEC, HHL |
| | LDX-XXXX-1280 | Single Emitter | 1280 | 3.5, 5.0, 7.0 | Multimode | Free Space, MM Fiber | | CW | Chip on Carrier, C-Mount, B-Mount, Q-Mount, 9mm, TO-3 no TEC, HHL, 9mm SMA, 2-Pin FC, 8-pin HHL, 9-pin HHL |
| | LDX-XXXX-1370 | Single Emitter | 1370 | 3.5, 5.0 | Multimode | Free Space, MM Fiber | | CW | C-Mount, B-Mount, TO-3 no TEC, HHL |
| | LDX-XXXX-1470 | Single Emitter | 1470 | 3.5, 5.0, 7.0 | Multimode | Free Space, MM Fiber | | CW | C-Mount, B-Mount, TO-3 no TEC, HHL |
| | LDX-XXXX-1550 | Single Emitter | 1550 | 0.800, 1.0, 1.5, 1.75, 2.5, 3.5, 5.0 | Multimode | Free Space, MM Fiber | | CW | Chip on Carrier, C-Mount, B-Mount, Q-Mount, 9mm, TO-3 no TEC, HHL, 9mm SMA, 2-Pin FC, 9-pin HHL |
| | LDX-XXXX-1620 | Single Emitter | 1620 | 1.0 | Multimode | Free Space, MM Fiber | | CW | Chip on Carrier, C-Mount, B-Mount, HHL |
| | LDX-XXXX-1640 | Single Emitter | 1640 | 1.2 | Multimode | Free Space, MM Fiber | | CW | Chip on Carrier, C-Mount, B-Mount, TO-3 no TEC, HHL |
| | LDX-XXXX-1675 | Single Emitter | 1675 | 2.0 | Multimode | Free Space, MM Fiber | | CW | Chip on Carrier, C-Mount, B-Mount, TO-3 no TEC, HHL, 2-Pin FC, 8-pin HHL, 9-pin HHL |
| | LDX-XXXX-1850 | Single Emitter | 1850 | 1.0 | Multimode | Free Space, MM Fiber | | CW | Chip on Carrier, C-Mount, B-Mount, Q-Mount, 9mm, TO-3 no TEC, HHL, 9mm SMA, 2-Pin FC, 8-pin HHL, 9-pin HHL |
| | LDX-XXXX-445 | Single Emitter | 445 | 3.5 | Multimode | Free Space, MM Fiber | | CW | Chip on Carrier, C-Mount, B-Mount, Q-Mount, 9mm, TO-3 no TEC, HHL, 9mm SMA, 2-Pin FC, 8-pin HHL, 9-pin HHL |
| | LDX-XXXX-520 | Single Emitter | 520 | 1.0 | Multimode | Free Space, MM Fiber | | CW | TO-3 no TEC, HHL |
| | LDX-XXXX-622 | Single Emitter | 622 | 0.150 | Multimode | Free Space, MM Fiber | | CW | Chip on Carrier, C-Mount, B-Mount, Q-Mount, 9mm, TO-3 no TEC, HHL, 9mm SMA, 2-Pin FC, 8-pin HHL, 9-pin HHL |
| | LDX-XXXX-627 | Single Emitter | 627 | 0.250, 0.350 | Multimode | Free Space, MM Fiber | | CW | Chip on Carrier, C-Mount, B-Mount, Q-Mount, 9mm, TO-3 no TEC, TO-3-TEC, HHL, 9mm SMA, 2-Pin FC, 8-pin HHL, 9-pin HHL |
| | LDX-XXXX-630 | Single Emitter | 630 | 0.250, 0.400 | Multimode | Free Space, MM Fiber | | CW | Chip on Carrier, C-Mount, B-Mount, Q-Mount, 9mm, TO-3 no TEC, TO-3-TEC, HHL, 9mm SMA, 2-Pin FC, 8-pin HHL, 9-pin HHL |
| | LDX-XXXX-635 | Single Emitter | 635 | 0.300, 0.400, 0.600, 1.2 | Multimode | Free Space, MM Fiber | | CW | Chip on Carrier, C-Mount, B-Mount, Q-Mount, 9mm, TO-3 no TEC, HHL, 9mm SMA, 2-Pin FC, 8-pin HHL, 9-pin HHL |
| | LDX-XXXX-645 | Single Emitter | 645 | 0.300, 0.400 | Multimode | Free Space, MM Fiber | | CW | Chip on Carrier, C-Mount, B-Mount, Q-Mount, 9mm, TO-3 no TEC, TO-3-TEC, HHL, 9mm SMA, 2-Pin FC, 8-pin HHL, 9-pin HHL |
| | LDX-XXXX-650 | Single Emitter | 650 | 1.0 | Multimode | Free Space, MM Fiber | | CW | Chip on Carrier, C-Mount, B-Mount, Q-Mount, 9mm, TO-3 no TEC, TO-3-TEC, HHL, 9mm SMA, 2-Pin FC, 8-pin HHL, 9-pin HHL |
| | LDX-XXXX-660 | Single Emitter | 660 | 0.350, 0.750, 1.0, 2.0 | Multimode | Free Space, MM Fiber | | CW | Chip on Carrier, C-Mount, B-Mount, Q-Mount, 9mm, TO-3 no TEC, TO-3-TEC, HHL, 9mm SMA, 2-Pin FC, 8-pin HHL, 9-pin HHL |
| | LDX-XXXX-665 | Single Emitter | 665 | 0.350, 0.750, 1.0, 2.0 | Multimode | Free Space, MM Fiber | | CW | Chip on Carrier, C-Mount, B-Mount, Q-Mount, 9mm, TO-3 no TEC, HHL, 9mm SMA, 2-Pin FC, 8-pin HHL, 9-pin HHL |
| | LDX-XXXX-680 | Single Emitter | 680 | 0.400, 0.800, 1.2, 2.0 | Multimode | Free Space, MM Fiber | | CW | Chip on Carrier, C-Mount, B-Mount, Q-Mount, 9mm, TO-3 no TEC, TO-3-TEC, HHL, 9mm SMA, 2-Pin FC, 8-pin HHL, 9-pin HHL |
| | LDX-XXXX-685 | Single Emitter | 685 | 0.400, 0.800, 1.2, 2.0 | Multimode | Free Space, MM Fiber | | CW | Chip on Carrier, C-Mount, B-Mount, Q-Mount, 9mm, TO-3 no TEC, TO-3-TEC, HHL, 9mm SMA, 2-Pin FC, 8-pin HHL, 9-pin HHL |
| | LDX-XXXX-690 | Single Emitter | 690 | 0.400, 0.750, 1.1 | Multimode | Free Space, MM Fiber | | CW | Chip on Carrier, C-Mount, B-Mount, Q-Mount, 9mm, TO-3 no TEC, HHL, 9mm SMA, 2-Pin FC, 8-pin HHL, 9-pin HHL |
| | LDX-XXXX-735 | Single Emitter | 735 | 1.0, 1.75, 2.0, 4.0 | Multimode | Free Space, MM Fiber | | CW | Chip on Carrier, C-Mount, B-Mount, Q-Mount, 9mm, TO-3 no TEC, HHL, 9mm SMA, 2-Pin FC, 8-pin HHL, 9-pin HHL |
| | LDX-XXXX-750 | Single Emitter | 750 | 1.0, 2.0, 3.0, 5.0 | Multimode | Free Space, MM Fiber | | CW | Chip on Carrier, C-Mount, B-Mount, Q-Mount, 9mm, TO-3 no TEC, HHL, 9mm SMA, 2-Pin FC, 8-pin HHL, 9-pin HHL |
| | LDX-XXXX-760 | Single Emitter | 760 | 1.0, 2.0, 3.0, 6.0 | Multimode | Free Space, MM Fiber | | CW | Chip on Carrier, C-Mount, B-Mount, Q-Mount, 9mm, TO-3 no TEC, HHL, 9mm SMA, 2-Pin FC, 8-pin HHL, 9-pin HHL |
| | LDX-XXXX-780 | Single Emitter | 780 | 1.2, 2.5, 3.5, 5.0 | Multimode | Free Space, MM Fiber | | CW | Chip on Carrier, C-Mount, B-Mount, Q-Mount, 9mm, TO-3 no TEC, TO-3-TEC, HHL, 9mm SMA, 2-Pin FC, 8-pin HHL, 9-pin HHL |
| | LDX-XXXX-785 | Single Emitter | 785 | 3.5, 5.0 | Multimode | Free Space, MM Fiber | | CW | Chip on Carrier, C-Mount, B-Mount, Q-Mount, 9mm, TO-3 no TEC, TO-3-TEC, HHL, 9mm SMA, 2-Pin FC, 8-pin HHL, 9-pin HHL |
| | LDX-XXXX-792 | Single Emitter | 792 | 1.2, 2.5, 3.5 | Multimode | Free Space, MM Fiber | | CW | Chip on Carrier, C-Mount, B-Mount, Q-Mount, 9mm, TO-3 no TEC, HHL, 9mm SMA, 2-Pin FC, 8-pin HHL, 9-pin HHL |
| | LDX-XXXX-797 | Single Emitter | 797 | 3.0, 4.0 | Multimode | Free Space, MM Fiber | | CW | Chip on Carrier, C-Mount, B-Mount, Q-Mount, 9mm, TO-3 no TEC, HHL, 9mm SMA, 2-Pin FC, 8-pin HHL, 9-pin HHL |
| | LDX-XXXX-808 | Single Emitter | 808 | 1.2, 2.0, 3.0, 4.0, 6.0, 10.0 | Multimode | Free Space, MM Fiber | | CW | Chip on Carrier, C-Mount, B-Mount, Q-Mount, 9mm, TO-3 no TEC, HHL, 9mm SMA, 2-Pin FC, 8-pin HHL, 9-pin HHL |
| | LDX-XXXX-825 | Single Emitter | 825 | 4.0 | Multimode | Free Space, MM Fiber | | CW | Chip on Carrier, C-Mount, B-Mount, Q-Mount, 9mm, TO-3 no TEC, HHL, 9mm SMA, 2-Pin FC, 8-pin HHL, 9-pin HHL |
| | LDX-XXXX-830 | Single Emitter | 830 | 1.6 | Multimode | Free Space, MM Fiber | | CW | Chip on Carrier, C-Mount, B-Mount, Q-Mount, 9mm, TO-3 no TEC, HHL, 9mm SMA, 2-Pin FC, 8-pin HHL, 9-pin HHL |
| | LDX-XXXX-860 | Single Emitter | 860 | 1.0, 1.5, 2.0, 3.0, 4.0, 5.0 | Multimode | Free Space, MM Fiber | | CW | Chip on Carrier, C-Mount, B-Mount, Q-Mount, 9mm, TO-3 no TEC, HHL, 9mm SMA, 2-Pin FC, 8-pin HHL, 9-pin HHL |
| | LDX-XXXX-885 | Single Emitter | 885 | 2.5, 6.0 | Multimode | Free Space, MM Fiber | | CW | Chip on Carrier, C-Mount, B-Mount, Q-Mount, 9mm, TO-3 no TEC, TO-3-TEC, HHL, 9mm SMA, 2-Pin FC, 8-pin HHL, 9-pin HHL |
| | LDX-XXXX-900 | Single Emitter | 900 | 2.0 | Multimode | Free Space, MM Fiber | | CW | Chip on Carrier, C-Mount, B-Mount, Q-Mount, 9mm, TO-3 no TEC, HHL, 9mm SMA, 2-Pin FC, 8-pin HHL, 9-pin HHL |
| | LDX-XXXX-915 | Single Emitter | 915 | 3.0, 6.0, 10.0 | Multimode | Free Space, MM Fiber | | CW | Chip on Carrier, C-Mount, B-Mount, Q-Mount, 9mm, TO-3 no TEC, HHL, 9mm SMA, 2-Pin FC, 8-pin HHL, 9-pin HHL |
| | LDX-XXXX-940 | Single Emitter | 940 | 3.0, 5.0, 6.0, 16.0 | Multimode | Free Space, MM Fiber | | CW | Chip on Carrier, C-Mount, B-Mount, Q-Mount, 9mm, TO-3 no TEC, HHL, 9mm SMA, 2-Pin FC, 8-pin HHL, 9-pin HHL |
| | LDX-XXXX-960 | Single Emitter | 960 | 10.0 | Multimode | Free Space, MM Fiber | | CW | Chip on Carrier, C-Mount, TO-3 no TEC, HHL, 2-Pin FC, 8-pin HHL, 9-pin HHL |
| | LDX-XXXX-980 | Single Emitter | 980 | 1.5, 4.0, 5.0, 6.0, 10.0 | Multimode | Free Space, MM Fiber | | CW | Chip on Carrier, C-Mount, B-Mount, Q-Mount, 9mm, TO-3 no TEC, TO-3-TEC, HHL, 9mm SMA, 2-Pin FC, 8-pin HHL, 9-pin HHL |
| | LTC-OSE-1300 | Superluminescent | 1300 | 0.012, 0.020, 0.025, 0.035, 0.040, 0.045, 0.070, 0.090, 0.115, 0.125, 0.130 | Single Mode | Free Space, SM Fiber, PM Fiber | Broadband | CW | Fiber Coupled, Butterfly - Open Beam, Butterfly FC |
| | LTC-OSE-1340 | Superluminescent | 1340 | 0.012, 0.020, 0.025, 0.035, 0.040, 0.065, 0.070, 0.090, 0.110, 0.115, 0.130 | Single Mode | Free Space, SM Fiber, PM Fiber | Broadband | CW | Fiber Coupled, Butterfly - Open Beam, Butterfly FC |
| | LTC-OSE-1390 | Superluminescent | 1390 | 0.010, 0.019, 0.020, 0.025, 0.035, 0.038, 0.040, 0.070, 0.090, 0.100, 0.110, 0.115, 0.125, 0.130 | Single Mode | Free Space, SM Fiber, PM Fiber | Broadband | CW | Fiber Coupled, Butterfly - Open Beam, Butterfly FC |
| | LTC-OSE-1430 | Superluminescent | 1430 | 0.019, 0.020, 0.025, 0.035, 0.038, 0.040, 0.060, 0.065, 0.090, 0.110, 0.115, 0.125, 0.130 | Single Mode | Free Space, SM Fiber, PM Fiber | Broadband | CW | Fiber Coupled, Butterfly - Open Beam, Butterfly FC |
| | LTC-OSE-1480 | Superluminescent | 1480 | 0.012, 0.013, 0.018, 0.019, 0.020, 0.025, 0.032, 0.035, 0.038, 0.040, 0.045, 0.055, 0.060, 0.065, 0.070, 0.080, 0.100, 0.110, 0.115, 0.120, 0.130 | Single Mode | Free Space, SM Fiber, PM Fiber | Broadband | CW | Fiber Coupled, Butterfly - Open Beam, Butterfly FC |
| | LTC-OSE-1550 | Superluminescent | 1550 | 0.008, 0.012, 0.015, 0.018, 0.019, 0.020, 0.025, 0.030, 0.032, 0.035, 0.038, 0.040, 0.050, 0.055, 0.060, 0.080, 0.100, 0.110, 0.115, 0.120, 0.125 | Single Mode | Free Space, SM Fiber, PM Fiber | Broadband | CW | Fiber Coupled, Butterfly - Open Beam, Butterfly FC |
| | LTC-OSE-1615 | Superluminescent | 1615 | 0.006, 0.010, 0.012, 0.018, 0.020, 0.025, 0.030, 0.032, 0.035, 0.038, 0.040, 0.055, 0.080, 0.100, 0.120, 0.125, 0.130 | Single Mode | Free Space, SM Fiber, PM Fiber | Broadband | CW | Fiber Coupled, Butterfly - Open Beam, Butterfly FC |
| | LTC-OSE-1680 | Superluminescent | 1680 | 0.012, 0.013, 0.018, 0.025, 0.032, 0.035, 0.040, 0.055, 0.080, 0.100, 0.125 | Single Mode | Free Space, SM Fiber, PM Fiber | Broadband | CW | Fiber Coupled, Butterfly - Open Beam, Butterfly FC |
| | PowerMir 4.0um | Quantum Cascade Lasers | 4000 | 0.500, 1.0 | Multimode | Free Space | | QCW | Chip on Carrier, HHL |
| | PowerMir 4.6um | Quantum Cascade Lasers | 4600 | 0.500, 1.0 | Multimode | Free Space | | QCW | Chip on Carrier, HHL |
| | PowerMir 4.8um | Quantum Cascade Lasers | 4800 | 0.500, 1.0 | Multimode | Free Space | | QCW | Chip on Carrier, HHL |
| | PowerMir 9.4um | Quantum Cascade Lasers | 9400 | 0.100, 0.300 | Multimode | Free Space | | QCW | Chip on Carrier, HHL |
| | R0633 | Single Emitter, Volume Bragg Grating (VBG) | 633 | 0.020, 0.050 | Single Mode | Free Space, PM Fiber | Narrow | CW | 5.6mm, Butterfly - Open Beam, Butterfly FC |
| | R0638 | Single Emitter, Volume Bragg Grating (VBG) | 638 | 0.025, 0.060, 0.300 | Single Mode, Multimode | Free Space, MM Fiber, PM Fiber | Narrow | CW | 5.6mm, Butterfly - Open Beam, Butterfly FC, Open Beam Stub Laser |
| | R0680 | Single Emitter, Volume Bragg Grating (VBG) | 680 | 0.300 | Single Mode, Multimode | Free Space, MM Fiber | Narrow | CW | 5.6mm, Butterfly - Open Beam, Butterfly FC |
| | R0780 | Single Emitter, Volume Bragg Grating (VBG) | 780 | 0.050, 0.100 | Single Mode, Multimode | Free Space, PM Fiber | Narrow | CW | 5.6mm, Butterfly - Open Beam, Butterfly FC |
| | R0783 | Single Emitter, Volume Bragg Grating (VBG) | 783 | 0.050, 0.100 | Single Mode, Multimode | Free Space, SM Fiber, PM Fiber | Narrow | CW | 5.6mm, Butterfly - Open Beam, Butterfly FC |
| | R0785 | Single Emitter, Volume Bragg Grating (VBG) | 785 | 0.050, 0.100, 0.200, 0.350, 0.600 | Single Mode, Multimode | Free Space, MM Fiber, PM Fiber | Narrow | CW | 5.6mm, Butterfly - Open Beam, Butterfly FC |
| | R0808 | Single Emitter, Volume Bragg Grating (VBG) | 808 | 0.050, 0.100, 0.350, 0.600 | Single Mode, Multimode | Free Space, MM Fiber, PM Fiber | Narrow | CW | 5.6mm, Butterfly - Open Beam, Butterfly FC |
| | R0830 | Single Emitter, Volume Bragg Grating (VBG) | 830 | 0.050, 0.100, 0.350, 0.600 | Single Mode, Multimode | Free Space, MM Fiber, PM Fiber | Narrow | CW | 5.6mm, Butterfly - Open Beam, Butterfly FC |
| | R0976 | Single Emitter, Volume Bragg Grating (VBG) | 976 | 0.220, 0.500, 0.750, 4.0, 5.0 | Single Mode, Multimode | Free Space, MM Fiber | Narrow | CW | Butterfly - Open Beam, Butterfly FC |
| | R1030 | Single Emitter, Volume Bragg Grating (VBG) | 1030 | 0.050, 0.100, 0.280, 0.450 | Single Mode, Multimode | Free Space, SM Fiber, PM Fiber | Narrow | CW | Butterfly - Open Beam, Butterfly FC |
| | R1053 | Single Emitter, Volume Bragg Grating (VBG) | 1053 | 0.050, 0.120, 0.150, 0.300, 0.500 | Single Mode, Multimode | Free Space, SM Fiber, PM Fiber | Narrow | CW | 5.6mm, Butterfly - Open Beam, Butterfly FC |
| | R1064 | Single Emitter, Volume Bragg Grating (VBG) | 1064 | 0.050, 0.150, 0.300, 0.350, 0.600 | Single Mode, Multimode | Free Space, MM Fiber, PM Fiber | Narrow | CW | 5.6mm, Butterfly - Open Beam, Butterfly FC |
| | R1064.X | Single Emitter, Volume Bragg Grating (VBG) | 1064 | 0.050, 0.120, 0.300 | Single Mode | Free Space, SM Fiber, PM Fiber | Narrow | CW | Butterfly FC |
| | RBDL-CW | Turn-Key System | 915, 976 | 1000.0, 2000.0, 3000.0 | Multimode | MM Fiber | | CW | Fiber Coupled |
| | RDS3 | Turn-Key System | Multiple Wavelength Options | Multiple Options Available | Single Mode, Multimode | MM Fiber, SM Fiber | | CW | Fiber Coupled |
| | REP1260-1300 | Single Emitter, Distributed Feedback (DFB) Lasers | 1260-1300 | 0.009, 0.012, 0.020, 0.022 | Single Mode | Free Space, SM Fiber, PM Fiber | Narrow | CW | 5.6mm, TO-39, Butterfly FC |
| | REP1320-1380 | Single Emitter, Distributed Feedback (DFB) Lasers | 1320-1380 | 0.006 | Single Mode | Free Space, SM Fiber, PM Fiber | Narrow | CW | 5.6mm, TO-39, Butterfly FC |
| | REP1380-1400 | Single Emitter, Distributed Feedback (DFB) Lasers | 1380-1400 | 0.008 | Single Mode | Free Space, SM Fiber, PM Fiber | Narrow | CW | 5.6mm, TO-39, Butterfly FC |
| | REP1500-1560 | Single Emitter, Distributed Feedback (DFB) Lasers | 1500-1560 | 0.005, 0.008, 0.016, 0.020, 0.022, 0.050 | Single Mode | Free Space, SM Fiber, PM Fiber | Narrow | CW | 5.6mm, TO-39, Butterfly FC |
| | REP1560-1600 | Single Emitter, Distributed Feedback (DFB) Lasers | 1560-1600 | 0.006, 0.020 | Single Mode | Free Space, SM Fiber, PM Fiber | Narrow | CW | 5.6mm, TO-39, Butterfly FC |
| | REP1635-1670 | Single Emitter, Distributed Feedback (DFB) Lasers | 1635-1670 | 0.006 | Single Mode | Free Space, SM Fiber, PM Fiber | Narrow | CW | 5.6mm, TO-39, Butterfly FC |
| | REP1678-1720 | Single Emitter, Distributed Feedback (DFB) Lasers | 1678-1720 | 0.005 | Single Mode | Free Space, SM Fiber, PM Fiber | Narrow | CW | 5.6mm, TO-39, Butterfly FC |
| | REP1720-1770 | Single Emitter, Distributed Feedback (DFB) Lasers | 1720-1770 | 0.005 | Single Mode | Free Space, SM Fiber, PM Fiber | Narrow | CW | 5.6mm, TO-39, Butterfly FC |
| | REP1850-1880 | Single Emitter, Distributed Feedback (DFB) Lasers | 1850-1880 | 0.003, 0.014 | Single Mode | Free Space, SM Fiber, PM Fiber | Narrow | CW | 5.6mm, TO-39, Butterfly FC |
| | REP1908-1970 | Single Emitter, Distributed Feedback (DFB) Lasers | 1908-1970 | 0.0015, 0.002 | Single Mode | Free Space, SM Fiber, PM Fiber | Narrow | CW | 5.6mm, TO-39, Butterfly FC |
| | REP1970-2053 | Single Emitter, Distributed Feedback (DFB) Lasers | 1970-2053 | 0.003, 0.014 | Single Mode | Free Space, SM Fiber, PM Fiber | Narrow | CW | 5.6mm, TO-39, Butterfly FC |
| | REP2300-2333 | Single Emitter, Distributed Feedback (DFB) Lasers | 2300-2333 | 0.005 | Single Mode | SM Fiber, PM Fiber | | CW | TO-39, Butterfly FC |
| | RPK445M | Multi-Emitter Laser Diodes | 445 | 10.0, 15.0, 20.0, 50.0 | Multimode | MM Fiber | | CW | Fiber Coupled |
| | RPK445S | Single Emitter | 445 | 0.800, 3.0 | Multimode | MM Fiber | | CW | 2-Pin FC |
| | RPK520S | Single Emitter | 520 | 0.005 | Multimode | MM Fiber | | CW | Coaxial |
| | RPK635M | Multi-Emitter Laser Diodes | 635 | 5.0 | Multimode | MM Fiber | | CW | Fiber Coupled |
| | RPK635S | Single Emitter | 635 | 0.002, 0.020 | Single Mode | SM Fiber | | CW | Coaxial |
| | RPK785SS | Single Emitter, Volume Bragg Grating (VBG) | 785 | 0.600 | Multimode | MM Fiber | Narrow | CW | Butterfly FC |
| | RPK793M | Multi-Emitter Laser Diodes | 793 | 8.0, 12.0, 16.0, 30.0, 50.0, 80.0, 90.0, 140.0, 180.0 | Multimode | MM Fiber | | CW | Fiber Coupled |
| | RPK793S | Single Emitter | 793 | 4.0 | Multimode | MM Fiber | | CW | 2-Pin FC |
| | RPK808M | Multi-Emitter Laser Diodes | 808 | 15.0, 25.0, 30.0, 60.0, 150.0 | Multimode | MM Fiber | | CW | Fiber Coupled |
| | RPK808S | Single Emitter | 808 | 4.0, 8.0 | Multimode | MM Fiber | | CW | Fiber Coupled |
| | RPK830S | Single Emitter | 830 | 1.0 | Multimode | MM Fiber | | CW | 2-Pin FC |
| | RPK878MS | Multi-Emitter Laser Diodes, Volume Bragg Grating (VBG) | 878 | 30.0, 65.0, 120.0 | Multimode | MM Fiber | Narrow | CW | Fiber Coupled |
| | RPK888MS | Multi-Emitter Laser Diodes, Volume Bragg Grating (VBG) | 888 | 65.0, 120.0 | Multimode | MM Fiber | Narrow | CW | Fiber Coupled |
| | RPK915M | Multi-Emitter Laser Diodes | 915 | 30.0, 70.0, 160.0, 180.0, 300.0, 370.0 | Multimode | MM Fiber | | CW | Fiber Coupled |
| | RPK915S | Single Emitter | 915 | 12.0 | Multimode | MM Fiber | | CW | 2-Pin FC |
| | RPK940M | Multi-Emitter Laser Diodes | 940 | 30.0, 70.0, 150.0, 200.0 | Multimode | MM Fiber | | CW | Fiber Coupled |
| | RPK940S | Single Emitter | 940 | 10.0, 11.0, 20.0 | Multimode | MM Fiber | | CW | Fiber Coupled |
| | RPK960S | Single Emitter | 960 | 9.0 | Multimode | MM Fiber | | CW | 2-Pin FC |
| | RPK976M | Multi-Emitter Laser Diodes | 976 | 15.0, 20.0, 30.0, 70.0, 150.0, 200.0, 330.0, 540.0 | Multimode | MM Fiber | | CW | Fiber Coupled |
| | RPK976MS | Multi-Emitter Laser Diodes, Volume Bragg Grating (VBG) | 976 | 18.0, 27.0, 60.0, 100.0, 140.0, 180.0, 400.0 | Multimode | MM Fiber | Narrow | CW | Fiber Coupled |
| | RPK976S | Single Emitter | 976 | 10.0 | Multimode | MM Fiber | | CW | Fiber Coupled |
| | RPK976SS | Single Emitter, Volume Bragg Grating (VBG) | 976 | 3.0, 9.0 | Multimode | MM Fiber | Narrow | CW | 2-Pin FC |
| | RPKA64M | Multi-Emitter Laser Diodes | 1064 | 20.0 | Multimode | MM Fiber | | CW | Fiber Coupled |
| | RPKBDL-CW500-E330-5 | Turn-Key System | 445 | 500.0 | Multimode | MM Fiber | | CW | Fiber Coupled |
| | RPKDS3-LC 445nm Fiber Coupled Blue Diode Laser System | Turn-Key System | 445 | 120.0, 200.0, 250.0 | Multimode | MM Fiber | | CW | Fiber Coupled |
| | RPKMWM | Multi Wavelength | Multiple Wavelength Options | 0.300, 0.600, 5.0, 6.0, 10.0, 15.0, 25.0 | Multimode | MM Fiber | | CW | Fiber Coupled |
| | RPMC-905-xxxW-P-xS | Single Emitter | 905 | 10.0, 30.0, 60.0, 150.0 | Single Mode | Free Space | | Pulsed | 5.6mm, 9mm |
| | RPMC-905-xxxW-P | Single Emitter | 905 | 5.0, 10.0, 15.0, 25.0 | Single Mode | Free Space | | Pulsed | 5.6mm, 9mm |
| | TG-420 | Single Emitter | 420 | 0.050 | Single Mode | Free Space | | CW | 5.6mm |
| | TG-425 | Single Emitter | 425 | 0.050 | Single Mode | Free Space | | CW | 5.6mm |
| | TG-430 | Single Emitter | 430 | 0.050 | Single Mode | Free Space | | CW | 5.6mm |
| | TG-435 | Single Emitter | 435 | 0.050 | Single Mode | Free Space | | CW | 5.6mm |
| | TG-440 | Single Emitter | 440 | 0.050 | Single Mode | Free Space | | CW | 5.6mm |
| | TG-445 | Single Emitter | 445 | 0.050 | Single Mode | Free Space | | CW | 5.6mm |
| | TG-450 | Single Emitter | 450 | 0.050 | Single Mode | Free Space | | CW | 5.6mm |
| | TG-455 | Single Emitter | 455 | 0.050 | Single Mode | Free Space | | CW | 5.6mm |
| | TG-460 | Single Emitter | 460 | 0.050 | Single Mode | Free Space | | CW | 5.6mm |
| | UniMir 11.3um | Distributed Feedback (DFB) Lasers, Quantum Cascade Lasers, Tunable Lasers | 11300 | 0.010 | Single Mode | Free Space | Narrow | CW | HHL |
| | UniMir 13.4um | Distributed Feedback (DFB) Lasers, Quantum Cascade Lasers, Tunable Lasers | 13400 | 0.005 | Single Mode | Free Space | Narrow | CW | HHL |
| | UniMir 14.0um | Distributed Feedback (DFB) Lasers, Quantum Cascade Lasers, Tunable Lasers | 14000 | 0.005 | Single Mode | Free Space | Narrow | CW | HHL |
| | UniMir 14.9um | Distributed Feedback (DFB) Lasers, Quantum Cascade Lasers, Tunable Lasers | 14900 | 0.005 | Single Mode | Free Space | Narrow | CW | HHL |
| | UniMir 16.0um | Distributed Feedback (DFB) Lasers, Quantum Cascade Lasers, Tunable Lasers | 16000 | 0.002 | Single Mode | Free Space | Narrow | CW | HHL |
| | VD-0808 Pulsed | VCSELs | 808 | 50.0 | Single Mode | Free Space | | Pulsed | 7471, T-mount |
| | VD-0808-CW | VCSELs | 808 | 0.300, 2.0, 4.0, 7.0, 10.0, 20.0, 100.0, 200.0 | Single Mode | Free Space | | CW | 2016, 3535, 7060, T-mount |
| | VD-0850 Pulsed | VCSELs | 850 | 10.0, 15.0, 25.0, 50.0 | Single Mode | Free Space | | Pulsed | TO-16, TO-46 |
| | VD-0850-CW | VCSELs | 850 | 0.008, 0.200, 0.400, 0.700, 1.0, 2.0, 4.0, 8.0 | Single Mode | Free Space | | CW | 2016, 3535, 7060, TO-18 |
| | VD-0940 Pulsed | VCSELs | 940 | 10.0, 25.0, 50.0 | Single Mode | Free Space | | Pulsed | 3535, TO-46 |
| | VD-0940-CW | VCSELs | 940 | 0.008, 0.020, 0.060, 0.070, 0.140, 0.150, 0.160, 0.200, 0.250, 0.500, 2.0, 4.0 | Single Mode | Free Space | | CW | 2016, 3535, 7060, 5.6mm, TO-46 |
| | WSLD-445-4500m-k | Single Emitter | 445 | 4.5 | Multimode | Free Space | | CW | 9mm |
| | WSLP-905-050m-M-B-PD | Single Emitter | 905 | 0.050 | Multimode | MM Fiber | | CW | Coaxial |