In-Stock Laser Diodes – Buy Now!
The team at RPMC Lasers is now accepting online orders for ALL of our in-stock laser diodes.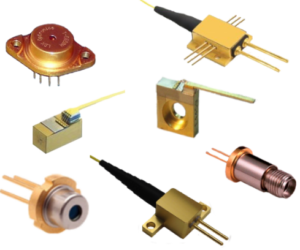 Now you can create an online account and view all of our current in-stock laser diodes, with full pricing information.  Quickly order the laser you need without having to contact a salesperson directly. Additionally, since all of these lasers are currently in-stock, we guarantee that all diodes will ship within 1 business day from when you place your order. Make sure to check back regularly as our selection of in-stock lasers is continuously updated to reflect our current stock list.
We offer volume discounts for orders consisting of 5 or more units. For volume pricing, you can contact us online by clicking here, or you can always talk to one of our laser experts today by calling 1-636-272-7227.
In addition to the in-stock products listed below, RPMC Lasers offers a wide range of solid-state laser technologies. Our laser solutions include diode lasers, CW lasers and modules, laser amplifiers, pulsed lasers, and laser electronics.  We also provide a wide range of custom solid-state lasers and laser diode subsystems.
Picture
Part Number

Type

Wavelength (nm)

Output power (W)

Mode

Output

Notes

Price

Buy Now

BDL130-808-F4-F
Multi-Emitter
808
130.0
Multimode
MM Fiber

$

4,000.00
Add to cart
CWV-TO-P100-W850
VCSELs
850
0.100
Multimode
Free Space

$

125.00
Add to cart
Fiber Patchcord
Fiber

$

100.00 –

$

425.00
Add to cart
FL-FCSE08-7-808-200
Single Emitter
808
7.0
Multimode
MM Fiber

$

330.00
Add to cart
HL40041MG
Single Emitter
404
0.150
Multimode
Free Space

$

70.23
Add to cart
HL40053MG
Single Emitter
404
0.400
Multimode
Free Space

$

179.15
Add to cart
HL40065MG
Single Emitter
405
0.600
Multimode
Free Space

$

336.82
Add to cart
HL40071MG
Single Emitter
405
0.300
Single Mode
Free Space

$

403.00
Add to cart
HL63101MG-A
Single Emitter
637
0.007
Single Mode
Free Space

$

4.17
Add to cart
HL63133DG
Single Emitter
638
0.170
Single Mode
Free Space

$

64.52
Add to cart
HL63193MG
Single Emitter
638
0.700
Multimode
Free Space

$

31.66
Add to cart
HL6319G-A
Single Emitter
638
0.010
Single Mode
Free Space

$

30.90
Add to cart
HL6323MG-A
Single Emitter
639
0.030
Single Mode
Free Space

$

68.04
Add to cart
HL63263DG
Single Emitter
638
0.200
Single Mode
Free Space

$

61.78
Add to cart
HL63283HD
Single Emitter
637
1.2
Multimode
Free Space

$

70.98
Add to cart
HL63290HD
Single Emitter
638
2.2
Multimode
Free Space

$

101.40
Add to cart
HL63391DG
Single Emitter
639
0.200
Single Mode
Free Space

$

77.21
Add to cart
HL63392DG
Single Emitter
639
0.200
Single Mode
Free Space

$

77.21
Add to cart
HL63520HD
Multi-Emitter
638
2.4
Multimode
Free Space

$

73.52
Add to cart
HL6354MG-A
Single Emitter
638
0.007
Single Mode
Free Space

$

4.17
Add to cart
HL63603TG
Single Emitter
638
0.120
Single Mode
Free Space

$

20.59
Add to cart
HL6361MG-A
Single Emitter
639
0.025
Single Mode
Free Space

$

15.60
Add to cart
HL6364DG-A
Single Emitter
642
0.065
Single Mode
Free Space

$

79.33
Add to cart
HL6367DG-A
Single Emitter
642
0.090
Single Mode
Free Space

$

102.25
Add to cart
HL6396MG-A
Single Emitter
639
0.010
Single Mode
Free Space

$

11.61
Add to cart
HL6398MG
Single Emitter
639
0.020
Single Mode
Free Space

$

18.99
Add to cart
HL6501MG-A
Single Emitter
658
0.035
Single Mode
Free Space

$

14.25
Add to cart
HL65051DG
Single Emitter
660
0.120
Single Mode
Free Space

$

52.77
Add to cart
HL65223DG
Single Emitter
660
0.210, 0.420
Single Mode
Free Space

$

67.34
Add to cart
HL6545MG-A
Single Emitter
660
0.130
Single Mode
Free Space

$

16.89
Add to cart
HL6548FG
Single Emitter
660
0.100
Single Mode
Free Space

$

60.00
Add to cart
HL6714G-A
Single Emitter
670
0.010
Single Mode
Free Space

$

31.66
Add to cart
HL6756MG-A
Single Emitter
670
0.015
Single Mode
Free Space

$

21.11
Add to cart
HL7001MG-A
Single Emitter
705
0.050
Single Mode
Free Space

$

193.92
Add to cart
HL7002MG-A
Single Emitter
705
0.050
Single Mode
Free Space

$

193.92
Add to cart
HL7301MG-A
Single Emitter
730
0.050
Single Mode
Free Space

$

193.92
Add to cart
HL8337MG-A
Single Emitter
830
0.050
Single Mode
Free Space

$

26.27
Add to cart
HL8338MG-A
Single Emitter
830
0.050
Single Mode
Free Space

$

30.60
Add to cart
HL8340MG-A
Single Emitter
852
0.050
Single Mode
Free Space

$

30.60
Add to cart
JDL-BAB-20-19-940-TE-80-2.0
Array (Bar)
940
80.0
Multimode
Free Space

$

150.00
Add to cart
JDL-BAB-20-47-976-TE-80-2.0-LAR
Array (Bar)
976
80.0
Multimode
Free Space

$

150.00
Add to cart
JDL-BAB-25-23-808-TM-92-2.0
Array (Bar)
808
92.0
Multimode
Free Space

$

140.00
Add to cart
JDL-BAB-30-19-760-TE-40-1.5
Array (Bar)
760
40.0
Multimode
Free Space

$

98.00
Add to cart
JDL-BAB-50-47-792-TE-80-2.0
Array (Bar)
792
80.0
Multimode
Free Space

$

140.00
Add to cart
JDL-BAB-50-47-976-TE-120-2.0
Array (Bar)
976
120.0
Multimode
Free Space

$

150.00
Add to cart
JDL-BAB-50-47-976-TE-80-1.5
Array (Bar)
976
80.0
Multimode
Free Space

$

110.00
Add to cart
JDL-BAB-75-62-808-TE-200-1.0
Array (Bar)
808
200.0
Multimode
Free Space

$

64.00
Add to cart
JOLD-100-FC-18-808-QCW
Array (Bar)
808
100.0
Multimode
MM Fiber

$

2,750.00
Add to cart
JOLD-100-HS-2L-808
Array (Bar)
808
100.0
Multimode
MM Fiber

$

1,993.00
Add to cart
JOLD-180-CPFN-1L 1035
Array (Bar)
1035
180.0
Multimode
Free Space

$

1,183.00
Add to cart
JOLD-30-CPXF-1L 808
Array (Bar)
808
30.0
Multimode
MM Fiber

$

2,750.00
Add to cart
JOLD-35-CPNF-1L 975
Array (Bar)
975
35.0
Multimode
Free Space

$

613.00
Add to cart
JOLD-45-CPXF-1L 940
Array (Bar)
940
45.0
Multimode
MM Fiber

$

2,750.00
Add to cart
JOLD-50-CPNN-1L 791
Array (Bar)
792
50.0
Multimode
Free Space

$

720.00
Add to cart
JOLD-60-CPNN-1L 891
Array (Bar)
891
60.0
Multimode
Free Space

$

591.00
Add to cart
JOLD-70-CPFN-1L 808
Array (Bar)
808
70.0
Multimode
Free Space

$

813.00
Add to cart
JOLD-75-CPXF-2P 0.6 W 808
Array (Bar)
808
75.0
Multimode
MM Fiber

$

5,500.00
Add to cart
K808DN1RN-60.00WN1N-10522F10ENA
Single Emitter
808
4.0, 8.0
Multimode
MM Fiber

$

3,247.00
Add to cart
K915FA3RN-30.00WN0N-10522I10ESM
Multi-Emitter
915
30.0
Multimode
MM Fiber

$

398.00
Add to cart
K940E02RN-11.00WN0N-10522E12ENA
Single Emitter
940
11.0
Multimode
MM Fiber

$

215.90
Add to cart
K940EA2HN-20.00WN0N-10522F10ESM
Single Emitter
940
20.0
Multimode
MM Fiber

$

398.00
Add to cart
K940EB2RN-10.00WN0N-10522F10ESM
Single Emitter
940
11.0
Multimode
MM Fiber

$

171.00
Add to cart
K960FB2RN-9.000WN0N-10522N10ESM
Single Emitter
960
11.0
Multimode
MM Fiber

$

169.00
Add to cart
K976A02RN-3.000WN0N-10522B10ENA
Single Emitter
976
3.0
Multimode
MM Fiber

$

301.00
Add to cart
K976A02RN-9.000WN0N-10522B10ENA
Single Emitter
976
9.0
Multimode
MM Fiber

$

329.80
Add to cart
K976AB2RN-9.000WN0N-10522F10ESM
Single Emitter
976
9.0
Multimode
MM Fiber

$

301.00
Add to cart
K976DA2RN-20.00WN0N-10522F20ESM
Multi-Emitter
976
20.0
Multimode
MM Fiber

$

424.00
Add to cart
K976DA3RN-30.00WN0N-10522F20ESM
Multi-Emitter
976
30.0
Multimode
MM Fiber

$

569.00
Add to cart
K976DB2RN-10.00WN0N-10522A10ESM
Multi-Emitter
976
20.0
Multimode
MM Fiber

$

186.00
Add to cart
LBX-830-1200-HPE-OE
LD Module
830
1.2
Multimode
Free Space, MM Fiber

$

4,175.00
Add to cart
LDX-3415-808-FCP
Single Emitter
808
4.0
Multimode
Free Space, MM Fiber

$

1,030.00
Add to cart
QL63F5SA
Single Emitter
637
0.010
Single Mode
Free Space

$

5.00
Add to cart
RPK793D02RN-4.000WN0N-10522F20ESM
Single Emitter
793
4.0
Multimode
MM Fiber

$

170.50
Add to cart
RPK793DN0RN-30.00WN0N-10522F20ENA
Multi-Emitter
793
30.0
Multimode
MM Fiber

$

1,085.00
Add to cart
RPM9-852-0100-S50
Single Emitter
852
0.070, 0.150
Single Mode
Free Space

$

250.00
Add to cart
RPM9-915-0300-D5P
Single Emitter
915
0.300
Single Mode
Free Space

$

500.00
Add to cart
TG420
Single Emitter
420
0.050
Single Mode
Free Space

$

500.00
Add to cart
TG430
Single Emitter
430
0.050
Single Mode
Free Space

$

500.00
Add to cart
TG435
Single Emitter
435
0.050
Single Mode
Free Space

$

500.00
Add to cart
TG460
Single Emitter
460
0.050
Single Mode
Free Space

$

500.00
Add to cart
VD-0850I-004W-1C-5A4
VCSELs
850
4.0
Single Mode
Free Space

$

36.00
Add to cart
VD-0850I-004W-1C-5A5
VCSELs
850
4.0
Single Mode
Free Space

$

32.00
Add to cart
VD-0850P-004W-1C-2A0
VCSELs
850
4.0
Single Mode
Free Space

$

25.95
Add to cart
VD-0850P-200M-5H-2A0
VCSELs
850
0.200
Single Mode
Free Space

$

8.04
Add to cart
VD-0850P-700M-1A-2A0
VCSELs
850
0.700
Single Mode
Free Space

$

9.96
Add to cart
VD-0940P-002W-1C-5A2
VCSELs
940
2.0
Single Mode
Free Space

$

13.00
Add to cart
VD-0940P-002W-1C-5A3
VCSELs
940
2.0
Single Mode
Free Space

$

13.00
Add to cart
VD-0940P-200M-1C-2A0
VCSELs
940
0.200
Single Mode
Free Space

$

8.31
Add to cart
WSLB-980-012-H
Multi-Emitter
980
12.0
Multimode
MM Fiber

$

2,500.00
Add to cart
WSLD-405-020m-1-PD
Single Emitter
405
0.020
Single Mode
Free Space

$

60.00
Add to cart
WSLD-405-065m-1
Single Emitter
405
0.065
Multimode
Free Space

$

140.00
Add to cart
WSLD-405-200m-1
Single Emitter
405
0.200
Single Mode
Free Space

$

186.00
Add to cart
WSLD-445-050m-1
Single Emitter
445
0.050
Single Mode
Free Space

$

62.00
Add to cart
WSLD-445-4500m-k
Single Emitter
445
4.5
Multimode
Free Space

$

180.00
Add to cart
WSLD-520-050m-1
Single Emitter
520
0.050
Single Mode
Free Space

$

78.00
Add to cart
WSLD-635-130m-1
Single Emitter
635
0.130
Single Mode
Free Space

$

93.00
Add to cart
WSLD-650-100m-1-PD
Single Emitter
650
0.100
Single Mode
Free Space

$

93.00
Add to cart
WSLD-785-100m-1-PD
Single Emitter
785
0.100
Single Mode
Free Space

$

47.00
Add to cart
WSLD-808-003-C
Single Emitter
808
3.0
Multimode
Free Space

$

80.00
Add to cart
WSLD-808-500m-2-PD
Single Emitter
808
0.500
Multimode
Free Space

$

25.00
Add to cart
WSLD-860-003-C
Single Emitter
860
3.0
Multimode
Free Space

$

200.00
Add to cart
WSLD-980-001-2-PD
Single Emitter
980
1.0
Multimode
Free Space

$

110.00
Add to cart
WSLP-1430-002m-9-DFB
Distributed Feedback (DFB)
1430
0.002
Single Mode
SM Fiber

$

186.00
Add to cart
WSLP-1550-003m-9-DFB
Distributed Feedback (DFB)
1550
0.003
Single Mode
SM Fiber

$

186.00
Add to cart
WSLP-1550-010m-PM-DFB-ISO
Distributed Feedback (DFB)
1550
0.010
Single Mode
PM Fiber

$

800.00
Add to cart
WSLP-445-001-M
Single Emitter
445
1.0
Multimode
MM Fiber

$

326.00
Add to cart
WSLP-445-030m-4
Single Emitter
445
0.030
Multimode
SM Fiber

$

1,100.00
Add to cart
WSLP-520-050m-M-B
Single Emitter
520
0.050
Single Mode
MM Fiber

$

220.00
Add to cart
WSLP-650-020m-M
Single Emitter
650
0.020
Multimode
MM Fiber

$

220.00
Add to cart
WSLP-808-100m-M-PD
Single Emitter
808
0.100
Multimode
MM Fiber

$

120.00
Add to cart
WSLP-905-050m-M-B-PD
Single Emitter
905
0.050
Multimode
MM Fiber

$

300.00
Add to cart
WSPP-IGA-80-105
Photodiode
MM Fiber

$

35.00
Add to cart