Specifications
| | |
| --- | --- |
| wavelength | |
| series | |
| pulse width | |
| output power | |
| pulse energy | |
| rep rate | |
| q-switch type | |
Overview of Nps-1064-10: 10mW Picosecond Narrowband Mode-Locked Laser
The new, ultrafast Nps-1064-10 is a 1064nm laser, featuring 10mW average output power, < 7ps pulse width, and a 40MHz repetition rate. The transform-limited operation, with a spectral width of < 0.3nm), and remarkably accurate central wavelength (1064.3 +/- 0.1nm) make the Nps-1064-10 laser a suitable candidate for highly efficient amplification by Nd-doped DPSS amplifiers. Therefore, opening the way to nonlinear optics applications like OPO pumping, and narrowband Raman Spectroscopy.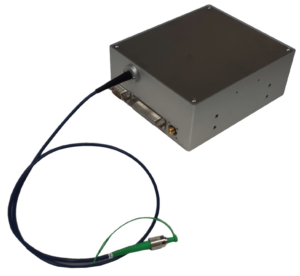 Nps-1064-10 Features:
7ps pulses @ 1064.3nm @ 40MHz
10mW average output power – 250nJ pulse energy
Transform-limited operation – spectral width < 0.3nm
User-friendly turnkey operation
Alignment-free and compact system
Low power consumption
Fiber-coupled output
Options Available:
Custom Wavelengths, repetition rates, and amplifications
Second-harmonic generation
Beam expanding and collimating optics
Circular polarization
Water cooling
Remote control cbox and software interface
AC-DC power supply
To see all the products available from Bright Solutions, please Click Here!
Datasheets: