Micromachining Systems
Micromachining Systems are completely integrated laser systems, including all necessary components (e.g., laser source, video microscope, control software, etc.) for a variety of micromachining applications.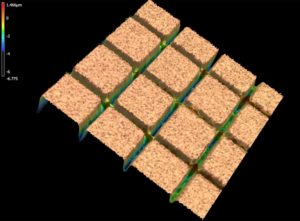 What is Micromachining?
Laser micromachining (also laser micro-machining, laser beam micro-machining, or precision laser machining) encompasses a wide varity of processes, including cutting, drilling, milling, turning, threading, structuring, and marking. These processes or applications can be utilized for the processing of various materials such as metals, plastics, glass, ceramics, thin films, and more.
Typically, micromachining refers to a subtractive process (removal of material), with features in the micron range (from a few microns up to a few hundred microns). Micromachining can be performed with direct writing from the laser beam, trepanning or other processes utilizing galvonometer mirrors, or through image projection or mask projection.
Micromachining allows for very fine features to be machined, with minimal heat affected zone (HAZ), a low level of roughness, high aspect ratios, and other benefits over traditional macromachining, or machining with traditional, physical tools, even to the point that most features would be impossible to create with traditional methods.
If you are looking for other laser sources for micromachining, other than our fully integrated micromachining system, head to our Micromachining Lasers application page!