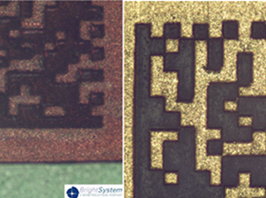 Optical technologies have been widely deployed in anti-counterfeiting for many years including holograms, fluorescent tags, and dichroic inks.  One of the newer techniques used to fight the never-ending war on counterfeiting uses a combination of laser marking and laser micromachining to embed microscopic two-dimensional (2D) barcodes (also known as unique identification (UID) tags or data matrix codes) directly onto the item of interest.  These 2D barcodes can be embedded into any item for which identification may be required, this could include but is not limited to currency, precious metals or stones, medical devices, and microelectronics.  In the images below, you can see two examples of such 2D barcodes embedded in copper (left) and gold (right), courtesy of Bright Systems.  Each of these 400-micron by 400-micron 2D barcodes is invisible to the naked eye, but when looked at under a microscope are easily identifiable, making them ideal for anti-counterfeiting.  In this blog, we will explore the types of lasers used in such applications, as well as take a look at the system level requirements for producing high-resolution 2D barcodes for anti-counterfeiting.

The MicroMake from Bright System, utilizes a sub-nanosecond pulsed Nd:YAG lasers which is offered at either the second or fourth harmonic (532 nm and 266 nm) and a 10x microscope objective.  By utilizing the 266 nm option users are able to focus the laser spot down to ~2 microns allowing for extremely high-resolution marking.  But, it is important to note that the peak power at 266 nm is only about 10% that of the 532 nm counterpart leading to a tradeoff between resolution and speed.
Here at RPMC, we are proud to now offer the MicroMake from Bright System, a completely integrated system containing a compact micromachining laser, a high-quality video microscope, and control software all in one unit.   The MircoMake provides you with an easily integrated micromachining OEM modular for high precision and high-resolution applications, including 2D barcode marking as well as cutting, drilling, and thin film removal.  The inclusion of a live video microscope allows for imaging of the sample during all process phases for sample alignment and immediate quality check, especially when used in conjunction with the user-friendly control software.   This software package also allows for the design of any arbitrary shape to be applied as cutting shape on the work-piece making it an extremely versatile laser precision tool, especially when combined with an optional motorized XYZ translation stage.
For detailed technical specifications on the MicroMake laser micromachining module from Bright Solutions click here or talk to one of our laser experts today by calling 1-636-272-7227.