Photoluminescence Lasers
Photoluminescence is a generalized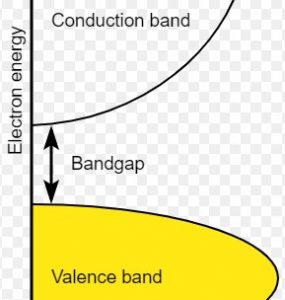 term that simply means to excite the emission of light from material by using a short wavelength light source as an excitation source.  While this term can be applied to many different optical applications, the more common usage of the term is for measuring the bandgap of a semiconductor.  This process commonly used in testing laser diodes and light-emitting diodes (LEDs), utilizes short-wavelength (typically blue or ultraviolet) photoluminescence lasers to excite the electrons from the valence band to the conduction band.  Then when they relax back down the valence band, they emit light whose energy is equal to that of the band gap. By measuring this emission, LEDs and laser diodes can then be sorted and binned according to their emission properties.   On this page, you will find a list of all of the photoluminescence lasers we offer including UV and visible diode and DPSS lasers.
RPMC has years of experience supporting Photoluminescence applications, helping industry professionals select the right tool for the job.
Contact Us today to let one of our knowledgeable Product Managers assist you!
| | | | | | | | | | |
| --- | --- | --- | --- | --- | --- | --- | --- | --- | --- |
| | 405L-1XA | LD Module | 0.100, 0.150, 0.180 | Single-Mode Lasers | Free Space, MM Fiber, SM Fiber, PM Fiber | | | | |
| | 405L-2XA | LD Module | 0.015, 0.030, 0.040 | Single-Mode Lasers | Free Space, MM Fiber, SM Fiber, PM Fiber | Narrow | | | |
| | 450L-1XA | LD Module | 0.035, 0.050, 0.060 | Single-Mode Lasers | Free Space, MM Fiber, SM Fiber, PM Fiber | | | | |
| | 488L-1XA | LD Module | 0.020, 0.030, 0.040 | Single-Mode Lasers | Free Space, MM Fiber, SM Fiber, PM Fiber | | | | |
| | 488L-2XA | LD Module | 0.010, 0.015, 0.030 | Single-Mode Lasers | Free Space, MM Fiber, SM Fiber, PM Fiber | Narrow | | | |
| | HL375 | Single Emitter | | Multimode | Free Space | | | | |
| | HL405 | Single Emitter | 0.300, 0.600, 1.0, 3.5 | Single-Mode Lasers, Multimode | Free Space | | | | |
| | LBX-375-HPE | LD Module | 0.200, 0.400 | Multimode | Free Space, MM Fiber | | | | |
| | LBX-375 | LD Module | 0.070 | Single-Mode Lasers | Free Space, MM Fiber, SM Fiber, PM Fiber | | | | |
| | LBX-395 | LD Module | 0.120 | Single-Mode Lasers | Free Space, MM Fiber, SM Fiber, PM Fiber | | | | |
| | LBX-405-HPE | LD Module | 0.900, 1.2 | Multimode | Free Space, MM Fiber | | | | |
| | LBX-405 | LD Module | 0.050, 0.100, 0.180, 0.300 | Single-Mode Lasers | Free Space, MM Fiber, SM Fiber, PM Fiber | | | | |
| | LBX-415 | LD Module | 0.120 | Single-Mode Lasers | Free Space, MM Fiber, SM Fiber, PM Fiber | | | | |
| | LBX-445 | LD Module | 0.100, 0.500 | Single-Mode Lasers | Free Space, MM Fiber, SM Fiber, PM Fiber | | | | |
| | LBX-450-HPE | LD Module | 0.650, 1.2 | Multimode | Free Space, MM Fiber | | | | |
| | LBX-450 | LD Module | 0.070 | Single-Mode Lasers | Free Space, MM Fiber, SM Fiber, PM Fiber | | | | |
| | LBX-458 | LD Module | 0.070 | Single-Mode Lasers | Free Space, MM Fiber, SM Fiber, PM Fiber | | | | |
| | LBX-473-HPE | LD Module | 1.0 | Multimode | Free Space, MM Fiber | | | | |
| | LBX-473 | LD Module | 0.100, 0.300 | Single-Mode Lasers | Free Space, MM Fiber, SM Fiber, PM Fiber | | | | |
| | LBX-488-HPE | LD Module | 1.0 | Multimode | Free Space, MM Fiber | | | | |
| | LBX-488 | LD Module | 0.040, 0.050, 0.060, 0.100, 0.150, 0.200, 0.300 | Single-Mode Lasers | Free Space, MM Fiber, SM Fiber, PM Fiber | | | | |
| | LDX-XXXX-445 | Single Emitter | 3.5 | Multimode | Free Space, MM Fiber | | | | |
| | Onda 266nm | Pulsed DPSS Lasers | 0.800 | | | | 80.0 | 2ns - 6ns | Single shot to 1kHz, Single shot to 50kHz |
| | Onda 355nm | Pulsed DPSS Lasers | 0.300 | | | | 150.0 | 3ns | Single shot to 2kHz |
| | RPKMWM | Multi Wavelength | 0.300, 0.600, 5.0, 6.0, 10.0, 15.0, 25.0 | Multimode | MM Fiber | | | | |
| | RWLP-445-001-M | Single Emitter | 1.0 | Multimode | MM Fiber | | | | |
| | RWLP-445-030m-4 | Single Emitter | 0.030 | Multimode | SM Fiber | | | | |
| | RWLP-905-050m-M-PD | Single Emitter | 0.050 | Multimode | MM Fiber | | | | |
| | SB1-236.5 | Pulsed DPSS Lasers, Microchip Lasers | 0.001 | | | | 0.200, 2.0 | 2ns | 500Hz, 5kHz |
| | SB1-266 | Pulsed DPSS Lasers, Microchip Lasers | 0.002, 0.005 | | | | 0.500, 1.0, 2.0 | 1.3ns | 1kHz, 5kHz, 10kHz |
| | SB1-355 | Pulsed DPSS Lasers, Microchip Lasers | 0.010 | | | Narrow | 1.0 | 1.3ns | 5kHz, 10kHz |
| | SB1-473 | Pulsed DPSS Lasers, Microchip Lasers | 0.0009, 0.010, 0.015 | | | | 1.0, 3.0, 9.0 | 2ns | 100Hz, 5kHz, 10kHz |
| | TG-420 | Single Emitter | 0.050 | Single-Mode Lasers | Free Space | | | | |
| | TG-425 | Single Emitter | 0.050 | Single-Mode Lasers | Free Space | | | | |
| | TG-430 | Single Emitter | 0.050 | Single-Mode Lasers | Free Space | | | | |
| | TG-435 | Single Emitter | 0.050 | Single-Mode Lasers | Free Space | | | | |
| | TG-440 | Single Emitter | 0.050 | Single-Mode Lasers | Free Space | | | | |
| | TG-445 | Single Emitter | 0.050 | Single-Mode Lasers | Free Space | | | | |
| | TG-450 | Single Emitter | 0.050 | Single-Mode Lasers | Free Space | | | | |
| | TG-455 | Single Emitter | 0.050 | Single-Mode Lasers | Free Space | | | | |
| | TG-460 | Single Emitter | 0.050 | Single-Mode Lasers | Free Space | | | | |
| | Wedge-HB/XB 266 | Pulsed DPSS Lasers | 0.300, 0.500 | | | | 150.0, 500.0 | 1.5ns, 1.8ns | Single shot to 2kHz |
| | Wedge-HB/XB 355 | Pulsed DPSS Lasers | 0.400, 0.600 | | | | 200.0, 600.0 | 1.2ns, 1.5ns | Single shot to 1kHz, Single shot to 2kHz |
| | Wedge-HF/XF 266 | Pulsed DPSS Lasers | 0.050, 0.180 | | | | 5.0, 15.0 | 400ps - 700ps, 500ps - 1ns | 10kHz to 50kHz |
| | Wedge-HF/XF 355 | Pulsed DPSS Lasers | 0.800 | | | | 40.0 | 500ps - 1ns | 10kHz to 50kHz |