Laser Doppler Velocimetry Lasers
Laser Doppler velocimetry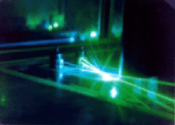 is a method for measuring the velocity of transparent, or semi-transparent fluids.  This process relies on a shift in frequency of laser Doppler velocimetry lasers, to calculate the speed at which the fluid is moving.  Unlike its counterpart particle imaging velocimetry, laser Doppler velocimetry does not require a particle to be added to the flow reducing the sample preparation and contamination.  It must be noted though that the signal detection and processing can be somewhat complicated.   Since this change in frequency tends to be relatively small, it is essential that the laser source is highly coherent and stable, for this reason, single frequency continuous wave sources are used as laser Doppler velocimetry lasers.  On this page, you will find a list of all of the full range of single frequency laser doppler velocimetry lasers we offer at RPMC.
RPMC has years of experience supporting Laser Doppler Velocimetry applications, helping industry professionals select the right tool for the job.
Contact us today to let one of our knowledgeable Product Managers assist you!
| | | | | | | | | | |
| --- | --- | --- | --- | --- | --- | --- | --- | --- | --- |
| | 1030L-2XB | CW DPSS Lasers | 0.200, 0.280, 0.400 | Single-Mode Lasers, Multimode | Free Space, MM Fiber, SM Fiber, PM Fiber | Narrow | | | |
| | 1064L-1XB | CW DPSS Lasers | 0.300, 0.400, 0.500 | Single-Mode Lasers, Multimode | Free Space, MM Fiber, SM Fiber, PM Fiber, SMA Port | | | | |
| | 1064L-2XB | CW DPSS Lasers | 0.200, 0.280, 0.400 | Single-Mode Lasers, Multimode | Free Space, MM Fiber, SM Fiber, PM Fiber | Narrow | | | |
| | 320 NX | CW DPSS Lasers | 0.050, 0.100, 0.200 | Single-Mode Lasers | Free Space | Narrow | | | |
| | 349 NX | CW DPSS Lasers | 0.050, 0.100, 0.200 | Single-Mode Lasers | Free Space | Narrow | | | |
| | 405L-2XA | LD Module | 0.015, 0.030, 0.040 | Single-Mode Lasers | Free Space, MM Fiber, SM Fiber, PM Fiber | Narrow | | | |
| | 488L-2XA | LD Module | 0.010, 0.015, 0.030 | Single-Mode Lasers | Free Space, MM Fiber, SM Fiber, PM Fiber | Narrow | | | |
| | 520L-2XA | LD Module | 0.025, 0.035, 0.040 | Single-Mode Lasers | Free Space, MM Fiber, SM Fiber, PM Fiber | Narrow | | | |
| | 633L-1XA | LD Module | 0.100 | Single-Mode Lasers | Free Space, MM Fiber, SM Fiber, PM Fiber | | | | |
| | 633L-2XA | LD Module | 0.035, 0.040, 0.070 | Single-Mode Lasers | Free Space, MM Fiber, SM Fiber, PM Fiber | Narrow | | | |
| | 638L-2XA | LD Module | 0.060, 0.080, 0.100 | Single-Mode Lasers | Free Space, MM Fiber, SM Fiber, PM Fiber | Narrow | | | |
| | 638L-4XA | LD Module | 0.300, 0.500 | Multimode | Free Space, MM Fiber | Narrow | | | |
| | 783L-2XA | LD Module | 0.070, 0.080, 0.100 | Single-Mode Lasers | Free Space, MM Fiber, SM Fiber, PM Fiber | Narrow | | | |
| | 785L-2XA | LD Module | 0.080, 0.100, 0.130 | Single-Mode Lasers | Free Space, MM Fiber, SM Fiber, PM Fiber | Narrow | | | |
| | 785L-4XA | LD Module | 0.120, 0.150, 0.500, 0.700 | Multimode | Free Space, MM Fiber | Narrow | | | |
| | 830L-2XA | LD Module | 0.050, 0.070, 0.080 | Single-Mode Lasers | Free Space, MM Fiber, SM Fiber, PM Fiber | Narrow | | | |
| | 830L-4XA | LD Module | 0.350 | Multimode | MM Fiber, SMA Port | Narrow | | | |
| | LBX-633S | LD Module | 0.040 | Single-Mode Lasers | Free Space, MM Fiber, SM Fiber, PM Fiber | Narrow | | | |
| | LBX-830S | LD Module | 0.100 | Single-Mode Lasers | Free Space, MM Fiber, SM Fiber, PM Fiber | Narrow | | | |
| | LCX-1064S | CW DPSS Lasers | 0.100, 0.200, 0.300, 0.400, 0.500 | Single-Mode Lasers | Free Space, MM Fiber, SM Fiber, PM Fiber | Narrow | | | |
| | LCX-532S | CW DPSS Lasers | 0.050, 0.100, 0.200, 0.300 | Single-Mode Lasers | Free Space, MM Fiber, SM Fiber, PM Fiber | Narrow | | | |
| | LCX-553S | CW DPSS Lasers | 0.050, 0.100 | Single-Mode Lasers | Free Space, MM Fiber, SM Fiber, PM Fiber | Narrow | | | |
| | LCX-561S | CW DPSS Lasers | 0.100, 0.150, 0.200 | Single-Mode Lasers | Free Space, MM Fiber, SM Fiber, PM Fiber | Narrow | | | |
| | LSX-785S | LD Module | 0.150 | Single-Mode Lasers | Free Space, MM Fiber, SM Fiber, PM Fiber | Narrow | | | |
| | Solo-640 | CW DPSS Lasers | 0.500, 0.750, 1.0 | Single-Mode Lasers | Free Space | Narrow | | | |