Integrated Optics Lasers
Integrated Optics (IO), established in 2012,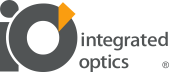 is an ISO certified manufacturer of the "World's Smallest" MatchBox CW DPSS laser and diode modules and Multi-Wavelength Combiner series.
The ultra-compact MatchBox series spans a wavelength range of 405nm – 1550nm, have MM/SM/SLM, fiber-coupled, and free-space options, and are perfect for portable, handheld OEM devices. At the core of their technology is a proprietary optics assembly process based on robotics and unique software solutions that have optimized throughput and increased quality and repeatability. This technology also ensures scalability of manufacturing, complete process control, fast adaptation to customer needs, and increased throughput to keep up with customer demand and implement a number of "in stock lasers." A wide range of compact power electronics, in-house CNC machining and strong competences in optics design allow IO to handle sophisticated engineering projects tailored to specific application requirements.
Designed for integrators and adored by scientists, the MatchBox laser modules are widely configurable and deliver high-end performance in a miniature package. The Matchbox is an all-in-one solution with integrated smart power electronics installed inside the laser enclosure.
The newly upgraded, second generation multi-wavelength combiners have a completely redesigned Break-out-Box, providing more functionality and durability when used in scientific setups. Integrated Optics has also revamped the control software, increasing functionality and ease of use, allowing control of each separate wavelength.
The variety of wavelengths and laser combiner options, ultra-compact and lightweight design, coupled with ease of use and minimal facility requirements, make the Matchbox series an ideal candidate for numerous OEM and portable/handheld applications.
| | | | | | | | |
| --- | --- | --- | --- | --- | --- | --- | --- |
| | 1030L-1XB | CW DPSS Lasers | 1030 | 0.300, 0.400, 0.500 | Single-Mode Lasers, Multimode | Free Space, MM Fiber, SM Fiber, PM Fiber, SMA Port | |
| | 1030L-2XB | CW DPSS Lasers | 1030 | 0.200, 0.280, 0.400 | Single-Mode Lasers, Multimode | Free Space, MM Fiber, SM Fiber, PM Fiber | Narrow |
| | 1064L-1XB | CW DPSS Lasers | 1064 | 0.300, 0.400, 0.500 | Single-Mode Lasers, Multimode | Free Space, MM Fiber, SM Fiber, PM Fiber, SMA Port | |
| | 1064L-2XB | CW DPSS Lasers | 1064 | 0.200, 0.280, 0.400 | Single-Mode Lasers, Multimode | Free Space, MM Fiber, SM Fiber, PM Fiber | Narrow |
| | 1123L-1XB | CW DPSS Lasers | 1123 | 0.100, 0.160, 0.200 | Single-Mode Lasers, Multimode | Free Space, MM Fiber, SM Fiber, PM Fiber | |
| | 1319L-1XB | CW DPSS Lasers | 1319 | 0.100, 0.160, 0.200 | Single-Mode Lasers, Multimode | Free Space, MM Fiber, SM Fiber, PM Fiber | |
| | 1550L-1XA | LD Module | 1550 | 0.080, 0.120 | Single-Mode Lasers | Free Space, SM Fiber, PM Fiber | |
| | 405L-1XA | LD Module | 405 | 0.100, 0.150, 0.180 | Single-Mode Lasers | Free Space, MM Fiber, SM Fiber, PM Fiber | |
| | 405L-2XA | LD Module | 405 | 0.015, 0.030, 0.040 | Single-Mode Lasers | Free Space, MM Fiber, SM Fiber, PM Fiber | Narrow |
| | 450L-1XA | LD Module | 450 | 0.035, 0.050, 0.060 | Single-Mode Lasers | Free Space, MM Fiber, SM Fiber, PM Fiber | |
| | 450L-3XA | LD Module | 450 | 0.400, 0.500 | Multimode | Free Space, MM Fiber | |
| | 488L-1XA | LD Module | 488 | 0.020, 0.030, 0.040 | Single-Mode Lasers | Free Space, MM Fiber, SM Fiber, PM Fiber | |
| | 488L-2XA | LD Module | 488 | 0.010, 0.015, 0.030 | Single-Mode Lasers | Free Space, MM Fiber, SM Fiber, PM Fiber | Narrow |
| | 505L-1XA | LD Module | 505 | 0.060 | Single-Mode Lasers | Free Space, MM Fiber, SM Fiber, PM Fiber | |
| | 515L-1XA | LD Module | 515 | 0.010, 0.020, 0.025 | Single-Mode Lasers | Free Space, MM Fiber, SM Fiber, PM Fiber | |
| | 520L-1XA | LD Module | 520 | 0.040, 0.070, 0.080 | Single-Mode Lasers | Free Space, MM Fiber, SM Fiber, PM Fiber | |
| | 520L-2XA | LD Module | 520 | 0.025, 0.035, 0.040 | Single-Mode Lasers | Free Space, MM Fiber, SM Fiber, PM Fiber | Narrow |
| | 532L-1XB | CW DPSS Lasers | 532 | 0.100, 0.150, 0.160, 0.200 | Single-Mode Lasers, Multimode | Free Space, MM Fiber, SM Fiber, PM Fiber, SMA Port | |
| | 532L-2XB | CW DPSS Lasers | 532 | 0.025, 0.040, 0.050 | Single-Mode Lasers, Multimode | Free Space, MM Fiber, SM Fiber, PM Fiber, SMA Port | Narrow |
| | 532L-3XB | CW DPSS Lasers | 532 | 0.400, 0.500 | Multimode | Free Space, MM Fiber, SMA Port | |
| | 532L-4XB | CW DPSS Lasers | 532 | 0.050, 0.080, 0.100 | Single-Mode Lasers, Multimode | Free Space, MM Fiber, SM Fiber, PM Fiber, SMA Port | Narrow |
| | 532L-6XB | CW DPSS Lasers | 532 | 0.050, 0.080, 0.100 | Single-Mode Lasers, Multimode | Free Space, MM Fiber, SM Fiber, PM Fiber, SMA Port | Narrow |
| | 633L-1XA | LD Module | 633 | 0.100 | Single-Mode Lasers | Free Space, MM Fiber, SM Fiber, PM Fiber | |
| | 633L-2XA | LD Module | 633 | 0.035, 0.040, 0.070 | Single-Mode Lasers | Free Space, MM Fiber, SM Fiber, PM Fiber | Narrow |
| | 638L-1XA | LD Module | 638 | 0.060, 0.080, 0.100, 0.120, 0.170, 0.500, 0.600 | Single-Mode Lasers | Free Space, MM Fiber, SM Fiber, PM Fiber | |
| | 638L-2XA | LD Module | 638 | 0.060, 0.080, 0.100 | Single-Mode Lasers | Free Space, MM Fiber, SM Fiber, PM Fiber | Narrow |
| | 638L-3XA | LD Module | 638 | 0.500, 0.600 | Multimode | Free Space, MM Fiber | |
| | 638L-4XA | LD Module | 638 | 0.300, 0.500 | Multimode | Free Space, MM Fiber | Narrow |
| | 660L-1XA | LD Module | 660 | 0.060, 0.080, 0.090, 0.110 | Single-Mode Lasers | Free Space, MM Fiber, SM Fiber, PM Fiber | |
| | 783L-2XA | LD Module | 783 | 0.070, 0.080, 0.100 | Single-Mode Lasers | Free Space, MM Fiber, SM Fiber, PM Fiber | Narrow |
| | 785L-1XA | LD Module | 785 | 0.120, 0.150, 0.170 | Single-Mode Lasers | Free Space, MM Fiber, SM Fiber, PM Fiber | |
| | 785L-2XA | LD Module | 785 | 0.080, 0.100, 0.130 | Single-Mode Lasers | Free Space, MM Fiber, SM Fiber, PM Fiber | Narrow |
| | 785L-3XA | LD Module | 785 | 1.5 | Multimode | Free Space, MM Fiber | |
| | 785L-4XA | LD Module | 785 | 0.120, 0.150, 0.500, 0.700 | Multimode | Free Space, MM Fiber | Narrow |
| | 808L-1XA | LD Module | 808 | 0.110 | Single-Mode Lasers | Free Space, MM Fiber, SM Fiber, PM Fiber | |
| | 808L-3XA | LD Module | 808 | 1.6, 3.0 | Multimode | Free Space, MM Fiber | |
| | 830L-1XA | LD Module | 830 | 0.070, 0.090, 0.130 | Single-Mode Lasers | Free Space, MM Fiber, SM Fiber, PM Fiber | |
| | 830L-2XA | LD Module | 830 | 0.050, 0.070, 0.080 | Single-Mode Lasers | Free Space, MM Fiber, SM Fiber, PM Fiber | Narrow |
| | 830L-3XA | LD Module | 808 | 1.0 | Multimode | MM Fiber | |
| | 830L-4XA | LD Module | 830 | 0.350 | Multimode | MM Fiber, SMA Port | Narrow |
| | 850L-1XA | LD Module | 850 | 0.070, 0.110, 0.130 | Single-Mode Lasers | Free Space, MM Fiber, SM Fiber, PM Fiber | |
| | 915L-1XA | LD Module | 915 | 0.080, 0.140, 0.170 | Single-Mode Lasers | Free Space, MM Fiber, SM Fiber, PM Fiber | |
| | 975L-1XA | LD Module | 975 | 0.100, 0.140, 0.170 | Single-Mode Lasers | Free Space, MM Fiber, SM Fiber, PM Fiber | |
| | AM-Bundle 1 | | | | | | |
| | AM-Bundle 2 | | | | | | |
| | AM-Bundle 3 | | | | | | |
| | AM-Bundle 4 | | | | | | |
| | AM-Bundle 5 | | | | | | |
| | MatchBox Combiner | Combiners | Multiple Wavelength Options | 0.050, 0.100 | Single-Mode Lasers, Multimode | Free Space, MM Fiber, SM Fiber, PM Fiber | |