Laser diodes and VCELS are semiconductor lasers,  the simplest form of Solid State Lasers.  Laser diodes are commonly referred to as edge emitting laser diodes because the laser light is emitted from the edge of the substrate. The light emitting region of the laser diode is commonly called the emitter.  The emitter size and the quantity of emitters determine output power and beam quality of a laser diode.
T
hese Fabry Perot Diode Lasers with a single emission region (Emitter) are typically called laser diode chips, while a linear array of emitters is called laser diode bars. 
Laser diode bars typically use multimode emitters, the number of emitters per substrate can vary from 5 emitters to 100 emitters.
VCSELs (Vertical Cavity Surface Emitting Laser) emit light perpendicular to the mounting surface as opposed to parallel like edge emitting laser diodes.  VCSELs offer a uniform spatial illumination in a circular illumination pattern with low speckle.  See our blog on VCSELs for more information.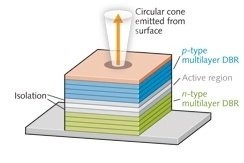 See our new  Lasers 101 page for in depth information on Lasers and Laser Diodes.
RPMC Lasers provides lasers and laser diodes at an affordable price while providing the best customer service throughout the specification, sales, and implementation process.  We believe we are the best option for ALL your DPSS and Laser Diode needs! 
RPMC Lasers by Phone: 636-272-7227 or Email: info@rpmclasers.com