SPARK LASERS, French startup expert in compact, ultrafast lasers raises EUR 1 million towards Venture Capital funds in A series.
SPARK Lasers Receives Funding! Bordeaux, September 27, 2017. The Bordeaux, France based start-up SPARK LASERS announces today it has achieved its A series for an amount of EUR 1 million. Recipient award of the i-LAB French innovation challenge sponsored by BPI (Public Investment Bank) in July 2017, the startup has dragged interest of two Paris based Venture Capital funds (Starquest and Gravitation) with assistance of the regional development agency ADI Nouvelle Aquitaine.
Spark Lasers
Founded in 2015 in Talence (Bordeaux outskirts, France) by Dr. Pascal Dupriez after 15 years working with leading laser and photonics companies. SPARK LASERS develops, manufactures and sells ultrafast laser sources in a novel and compact footprint. Smaller, real « plug and play », with a drastically reduced cost of ownership. The Company ultrafast laser sources are dedicated to industrial micromachining and life-science research such as biophotonics and neuroscience.
Located at the very heart of the pôle Alpha RLH – Bordeaux based photonics cluster – since its incorporation SPARK LASERS has been supported by BPI France and the conseil régional de Nouvelle Aquitaine (Regional Council of Nouvelle Aquitaine). Nowadays, the start-up laser sources are sold throughout the World representing 80% of the company's turnover. Sold in the following countries: China, South Korea, Japan, Singapore, the United States, Germany, The United Kingdom, Switzerland and Israel.
In order to boost its international development, SPARK LASERS launched its A series of venture capital funding last May 2017. Today, the start-up announces the closing of its A series for EUR 1 million towards two famous Paris based VC Funds, STARQUEST Capital and GRAVITATION, specialized in supporting the growth of young innovative start-ups.
"This capital raising series is going to allow us to hire R&D experts and reinforce our production line. The goal is to increase our production capabilities while investing in new high-potential. Industrial photonics applications with new ranges of even more innovative and compact femtosecond lasers while reaching unprecedented performances on the market." said Pascal DUPRIEZ, Founder and CEO of SPARK LASERS.
Starquest-Capital :
Created in 2008, Starquest-Capital is a Venture Capital fund which accompanies strategically and financially with entrepreneurs in break of vision with series amounting between EUR 200 K and EUR 1.5 M. With EUR 100 M under management, the investment team concentrates firstly on high value-added expanding technological segments, such as renewable energies, high-technology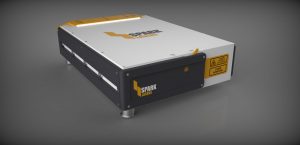 industry and services, and cyber-security.
Gravitation :
Gravitation is the holding owned by Charles Beigbeder. The holding invests in founding, co-founding or equity in companies with great potential of development, in leading industrial segments such as energies, mobility and high technologies.
Contact :
Pascal Dupriez, Président de Spark Lasers
Tél. : 06 29 31 78 58
Mail : Pascal.dupriez@spark.lasers.com
RPMC Lasers strives to provide lasers at an affordable price while providing top notch customer service. Therefore, we believe we are the best option for ALL your DPSS and Laser Diode needs!
See our new Lasers 101 page for in depth information on the attributes of Lasers
Contact RPMC Lasers by Phone: 636-272-7227 or Email: info@rpmclasers.com