We are proud to announce the newest SOL family device! The new SOL 20W green laser is the most compact on the market. Maintaining its original footprint (23 x 10 x 95cm), the SOL 532nm now doubles its average power providing over 20W and 1mJ per pulse, with excellent beam quality and just 24V/200W electrical consumption. This allows for effective air cooling of the all-in-one laser unit.
The flagship of the continuously evolving SOL fleet, it features built-in beam expander and aiming beam
and offers interesting options like water- or conductive cooling, selectable beam expansion ratio, and selectable beam polarization. The novel SOL 20 532nm will open the way to a new class of extremely compact high power green lasers emitting up to 35W at 532nm.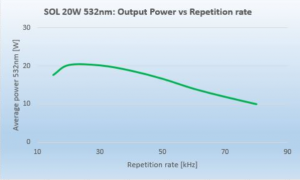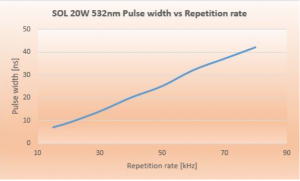 Contact RPMC Lasers for a quotation or technical support or see our new Lasers 101 page for in depth information on Solid State Lasers..
RPMC Lasers strives to provide DPSS lasers at an affordable price while also providing top-notch customer service.
Therefore, we believe we are the best option for ALL your DPSS and Laser Diode needs!
Contact RPMC Lasers by Phone: 636-272-7227 or Email: info@rpmclasers.com