These Single Frequency Laser Diodes feature Eblana's Discreet-Mode (DM) technology which allows for excellent SMSR and narrow linewidth (<2MHz),  making them a cost effective solution for Gas Sensing and scientific needs. Since laser-based gas sensing requires excellent tuning characteristics, Eblana's DM lasers are the ideal choice because they feature mode-hop-free tuning over a minimum of 2nm. See our new Lasers 101 page for in depth information on Laser Diodes.
These Single Frequency laser diodes are produced with a simple and low cost fabrication process and have many advantages over distributed feedback and distributed Bragg reflector lasers, such as very high side mode suppression ratio, stable operation over a large temperature range, narrow linewidth and low sensitivity to optical feedback.
All of Eblana's Single Mode lasers are of monolithic construction making them ideal for operation in environments prone to mechanical shock and vibration. Eblana has supplied lasers to a range of aerospace applications including the European Space Agency's next generation atomic clock development program.
Eblana's Single Frequency laser diodes are the preferred choice of the Optical Test and Measurement industry due to their extremely narrow line widths and affordability for a wide range of applications. Eblana's flagship EP1550-NLW product has been deployed in a host of test, measurement and imaging systems.
These Single Frequency laser diodes are available in wavelengths ranging from 689 nm – 2350 nm.
Available Wavelengths:
758-764nm
778-784nm
1260-1288nm
1378-1400nm
1490-1530nm
1540-1560nm
1560-1573nm
1640-1670nm
1735-1770nm
1845-1920nm
1950-2150nm
Wavelengths for Gas Sensing Laser Diodes:
Eblana's Single Mode Lasers are used extensively for high sensitivity detection of gases such as Carbon Dioxide (CO2), Methane (CH4), Ammonia (NH3) and Hydrogen Fluoride (HF). Our DM technology platform delivers unrivalled wavelength uniformity and stability which is critical for these applications.
Here are some of the most requested gases and the wavelengths needed.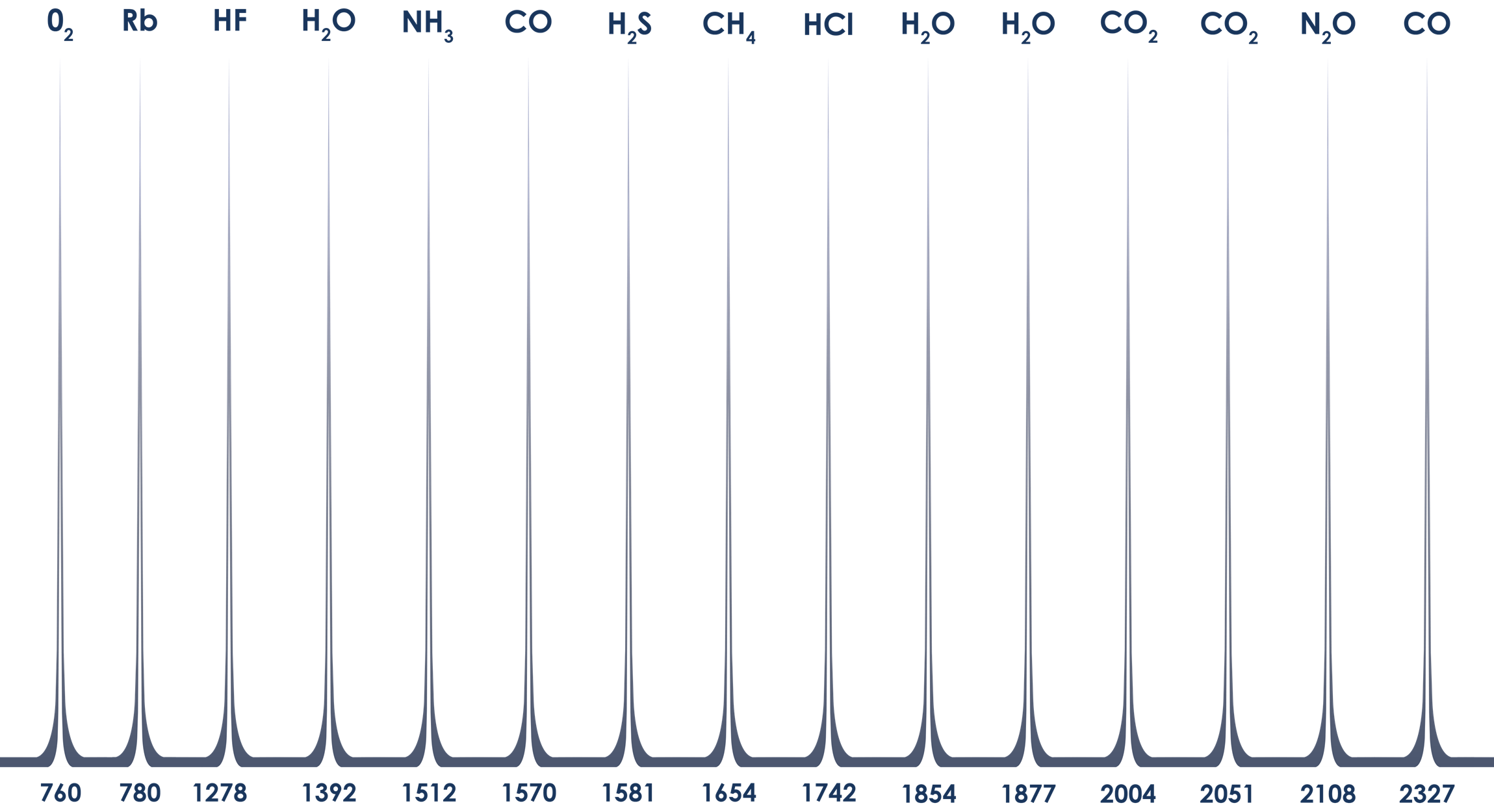 Package Options:
The preferred package depends on the application, operating environment, and integration needed.  We offer various packages suited to meet your needs.
---
14-pin butterfly module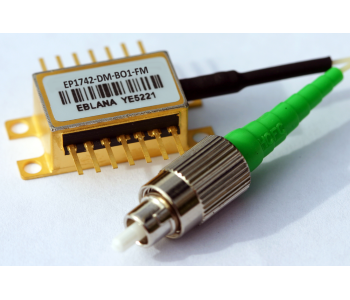 Eblana's 14-pin butterfly is designed with stability and ease of use in mind. Tested to Telcordia standards, it is the ideal package for thermal stability and fiber coupled integration.
Key features
– Temperature controlled
– PM/SMF coupled with FC/APC
– Built-in optical isolator
---
TO-39 with TEC
Eblana has worked with industrial partners in order to design a free space package specifically for the gas sensing industry. The TO-39 incorporates an internal TEC for accurate wavelength control.
Key features
– Temperature controlled
– Angled AR coated window
– Free-space design
Typically used for high volume communications applications, Eblana's TO-56 package is tested to Telcordia standard and is RoHS qualified. Available with flat window or with a ball lens.
Key features
– Free-space design
– Hermetically sealed
– Flat window or 1.5 mm ball lens
---
High speed 7-pin butterfly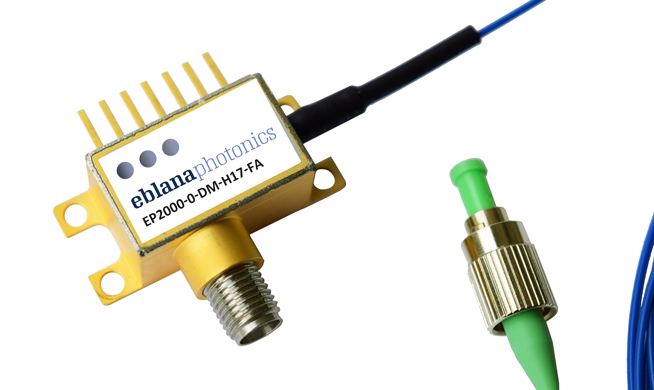 The high speed and pulsing capabilities of Eblana's DM and FP laser diodes can be fully exploited using the high speed 7-pin butterfly, which incorporates a K-connector for modulation up to 10 GHz.
Key features
– K-connector for high speed modulation
– PM/SMF coupled with FC/APC
– Built-in optical isolator
---
DX-1 Module
Eblana's proprietary DX-1 incorporates the butterfly module with an integrated current driver and TEC controller. Designed for ease of operation, it is the ideal platform for high stability gas detection or remote sensing.
Key features
– Integrated driver and TEC controller
– PM/SMF coupled with FC/APC
– Built-in optical isolator
– Powered by +5 V DC source
Eblana Photonics
, located in Dublin Ireland,  
specializes in the design and manufacture of advanced semiconductor Discrete-Mode Laser Diodes (DFB-like) between 689nm – 2350nm. These Single Frequency Laser Diodes are ideal for Gas Sensing and other scientific applications.  Eblana's DM lasers possess inherently narrow linewidth relative to traditional DFBs, in addition to superior electro-optical performance with respect to output power, threshold, SMSR and tuning characteristics. These devices are available as
OEM components
 (14-pin BF packages and TO-cans), as well as
modules
complete with drive electronics and TEC control.
Custom Laser Diodes
The Freedom to specify the characteristics needed for you application
Whether you require a minor modification to an existing Eblana product or wish to specify a custom laser product from the ground up, our team of laser physicists and engineers are on hand to engage with you from start to finish to ensure that you get the laser that completely satisfies the needs of your custom application.
Our technology platform gives you the freedom to specify your laser characteristics from the widest possible range of electro-optical parameters. With wavelengths spanning 689 nm to 2330 nm coupled with package options ranging from simple TO-Can to PM fiber pigtailed Butterfly, we can deliver a laser to completely meet your requirements in the shortest timeframe and at a cost to fit your budget.
If you would like to learn more about the Eblana lasers, please contact us.
See our new Lasers 101 page for more information about lasers.
RPMC Lasers strives to provide laser diodes at an affordable price while providing top notch customer service.
Therefore, we believe we are the best option for ALL your DPSS and Laser Diode needs!