Specifications
| | |
| --- | --- |
| Type | |
| Wavelength (nm) | |
| Output power (W) | |
| Mode | |
| Output | |
| Duty | |
| Package | |
Overview of LDX-4119-670: High Power 670nm CW Laser Diode Array:
Wavelength: 670nm
Output power: 10W
Operation mode: CW
Filling factor: 20% or 30%
Resonator length: 2.0mm
High-power diode laser bars for the most demanding applications. They are extremely reliable, efficient, and durable.
This high power laser diode bar is available on the standard CS package. Other package options are available upon request. Our semiconductor products are easily assembled using standard soldering methods. The material supports both soft solder (indium) and hard solder (gold/tin).
We Focus on the Following:
InGaAs-based semiconductors
Optical output power: 10 watts to 200 watts cw and 500 watts qcw
Standard wavelengths: 635 to 1900 nanometers (others available on request)
Fill factors: 10%, 20%, 30%, 50% (others available on request)
Resonator lengths: 0.6 mm, 1.0 mm, 1.5 mm, 2.0 mm (others available on request)
Optional: low AR coating (typically < 0.3%)
LDX-4119-670 Benefits:
Highest quality: We strictly monitor the production of our semiconductor products in clearly defined processes.
Powerful: High, reliable output power, and ideal beam characteristics.
Economical: Our semiconductors are very efficient and are characterized by a long service life.
Fields of Application:
Industry: direct material processing, heating or lighting, pump sources for fiber and solid-state lasers, printing technology.
Medicine: Esthetics, dermatology, and surgery.
Part Number Configuration: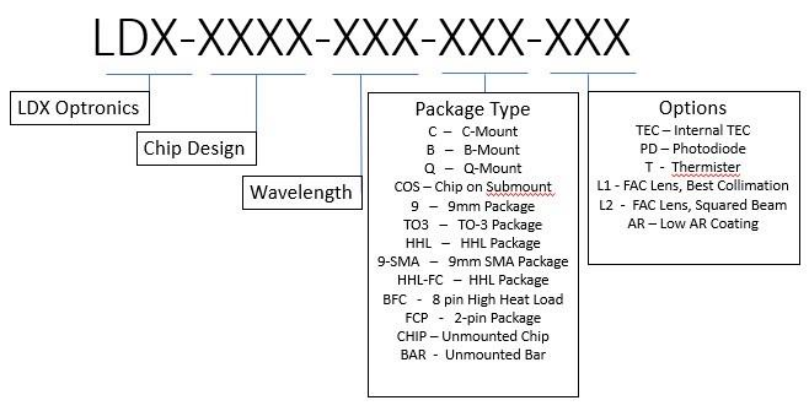 Downloads
Downloads: