Please provide the following information to download the White Paper.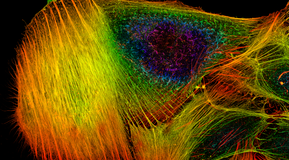 Multi-Wavelength Laser for Fluorescence Microscopy: Multi-color fluorescence microscopy is a widely used technique to generate multi-spectral images of cells and other small objects for identifying the spatial distribution of molecules of interest in complex heterogeneous samples. Firstly, in this article, we explore the history of fluorescence microscopy, with a heavy emphasis on the importance of utilizing multiple fluorophores (tags) in the same measurement.
Secondly, this article will go on to explain that to alleviate the challenges of integrating multiple lasers into a single microscope, RPMC Lasers offers the LaserBoxx LXCc Combiner from Oxxius. This combiner allows dichroic beam combination of up to seven different lasers and coupling into a single-mode fiber optic cable.  The LaserBoxx is configurable with any combination of the 28 different wavelength laser options that Oxxius offers between 375 nm and 1064nm, with output power up to 500 mW.  Therefore, the LaserBoxx allows you to excite the full range of available fluorophores, without having to beam combine and align all of the lasers individually.  Furthermore, the wide selection of wavelengths available match up well to some more common fluorophores of interest: TagBRF, mTFP1, Azami Green, TagYFP, mKO, mCherry, and mPlum.
If you have any questions, or would like any assistance in selecting a laser or beam combiner for Multi-Wavelength Laser Fluorescence Microscopy,
click the link below or talk to a knowledgeable laser Product Manager today by calling us at 636.272.7227 !