The DIADEM femtosecond laser produces pulse energies up to 30uJ with <500fs pulses and rep rates from single shot to 1MHz in a compact and robust format. Offering a low total cost of ownership, high precision and ease of integration, the DIADEM is ideally suited for industrial micro-processing applications where cold ablation effects are required.
See our new Lasers 101 page for in depth information on the attributes of Lasers.
The easy to use GUI allows for the fine tuning of parameters to meet the most challenging processes while the laser's fiber base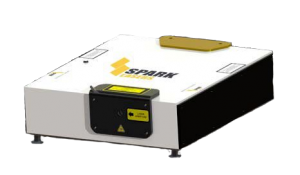 d design makes it well suited for year-round 24/7 operating environments. Its compact size, high performance and low capital investment make it an ideal source for your ultrafast laser needs.