The Bright Solutions Group consists of 4 business units: Bright Solutions, Bright Microlaser, Bright Systems, and Bright Aerospace.
---
Bright Solutions:
Bright Solutions develops and manufactures state-of-the-art nanosecond DPSS lasers and sub-ns DPSS lasers. Their diode pumped solid state (DPSS) laser portfolio includes efficient, compact, and reliable sources at 1064nm, 532nm, 355nm, 266nm, 15XXnm, and 3um.  These lasers are suitable for industrial, aerospace, medical, military and scientific applications.
Bright Solutions has strong expertise in industrial laser production and testing. Their proprietary laser designs for industrial applications, are an indisputable success and are marketed worldwide in the thousands of pieces.  Leveraging their experienced laser design and custom-oriented engineering, they develop DPSS Laser dedicated solutions tailored to customer needs.
Historically, Bright Solutions' products have been air-cooled short nanosecond lasers and more recently picosecond lasers down to 100 ps. Bright Solutions offers the 2nd, 3rd, and 4th harmonics of their lasers, as well as at times the 5th harmonic, and 1.5 um and 3.3 um versions of some of its lasers. Bright Solutions has in excess of 4,000 lasers in use in the field.
SOL
Features for SOL Lasers:
Up to 40W @ 1064nm
Up to 20W @ 532nm
300kW peak power
Compact Air-cooled Single Unit
Up to 200 kHz repetition rate
Electronic pulse energy modulation
Sealed and rugged
Monolithic design
24V dc
RS232 monitor port

Sol is the most compact Q-switched DPSS laser available on the market in the power range from 6W to 40W @ 1064nm. Sol versions @ 532nn are also available with the same footprint. These air-cooled DPSS lasers are offered in a rugged and lightweight single unit, designed to allow easy and reliable integration in micromachining and marking applications. The Sol single unit design is based on a permanently aligned monolithic optical resonator integrated with 24 Vdc powered driving electronics. Cooling of the unit is provided by low noise fans; water cooling and contact cooling versions are also available. other delicate cable connections are not necessary for system integration.
Compactness, insensitivity to environmental conditions and ease of handling guarantee cost ratio. The high peak power and the excellent beam quality of Sol lasers make them the ideal source for the most demanding industrial, medical and scientific applications.
The new electronic interface allows the user to integrate the laser according to the most recent safety standards for industrial machines (EN 13849) and to monitor the laser status through a RS232 port. A new version of the Control Box and a new proprietary Software Interface are available for simplified remote control and monitoring.
Applications
Material Processing
Marking
Scribing
Thin film removal
Micro-machining
Nonlinear optics
Medical and Aesthetic
Wedge
Features for Wedge Lasers:
Up to 4mJ pulse energy
Up to 4MW peak power
400ps to 3ns pulse width
Single shot to 100kHz
1064nm, 532nm, 355nm, 266nm, 1.5um, 3.3um
Monolithic design
Air cooling
Low heat waste
MOPA configurations
Based on a proprietary fast active Q-Switching technology, these compact sealed DPSS lasers are insensitive to vibrations and harsh environments and have been designed for OEM applications like micro-machining of hard and soft materials specialty marking, glass and crystals engraving, LIDAR, LIBS, Spectroscopy and medical diagnostics.
High output peak power, with relatively low energy and heat generation, allows efficient ablation and non-linear interaction with most materials.
The compact and lightweight 532nm green laser package represents a great benefit in LIDAR and other aerospace applications, while short pulses give extremely precise time-of-flight measurements, also for "eye-safe" applications. Second, Third and Fourth Harmonics (532, 355 and 266nm output) and wavelength conversion option (1.5 and 3.3um) widen the product applications range.
Wedge is also a flexible platform for realizing customized units where high power amplifiers are added to standard oscillators in order to fit the most demanding industrial and aerospace applications. Several Wedge based MOPA lasers are currently employed as "engine" in high-demanding field applications, both industrial and Mil-spec.
A wide range of customized solutions based on the diode pumped solid-state laser Wedge platform is available under request, e.g. meeting specific time/energy performances, vibe and shock requirements, extreme environmental conditions and compliance to Mil-specifications.
Applications:
Micromachining of glass
Specialty marking
Thin film removal
LIDAR and bathymetry
Non-linear spectroscopy
Harmonic and parametric generation
Visible to IR OPO pumping
TeraHertz generation
Onda
Features for Onda Lasers:
Up to 0.8mJ pulse energy
@266nm @355nm @532nm @1064nm
2 to 10ns pulsewidth
Single shot to 100kHz
MOPA configurations
Monolithic design
Air cooling
Low heat waste
Developed as a high-energy seeder for advanced MOPA systems, Onda is the new DPSS ns-laser platform aimed to high-end applications requiring both excellent beam quality and high peak power in order to process metals, glass, plastics, delicate and hard materials.
Onda is available at four different wavelengths: 266, 355, 532 and 1064nm.
The internal optical layout and the accurate temperature management allows relevant pulse energy performance without compromising the lifetime of the THG and FHG stages. All Onda models can work from single shot to 50 kHz or up to 100 kHz with a pulse width between 2 and 10 ns and share the same mechanical footprint and electronic interface. Compactness, insensitivity to environmental conditions and ease of handling allow superior
operation flexibility and performance / cost ratio. A new version of the digital Control Box and the new proprietary Software Interface are available for simplified remote control and monitoring.
Applications:
Specialty marking
Micromachining of glass
Electronic manufacturing
LIDAR and bathymetry
Thin film removal
Hole drilling
---
Bright Microlaser:
Bright Microlaser is focused on development and manufacturing of the most powerful DPSS Microchip Lasers available on the market.
The company can leverage on the thorough experience of Bright Solutions engineers and scientists on DPSS passively q-switched lasers and on the recently acquired technology and factory assets of Concepts Research Corporation (CRC), a leading US manufacturer of microchip lasers.
Our high energy monolithic microchip lasers find their ideal use in many industries for a variety of tasks including spectroscopy, MALDI, lidar, ranging, marking, small features micromachining, electronics manufacturing, and many specialty applications.
Bright Microlaser is continuously developing the microchip laser technology and products, introducing new packages, new driver functionalities, new wavelengths and other customer-requested enhancements.
Microchip Lasers:
Features for Microchip Lasers:
Down to 300 ps

1064 nm to 213 nm

1 Hz to 100 kHz

Up to 40 J

Up to 30 kW

M2 < 1.2 SLM
Our Microchip Lasers complete the current products range of the Bright Solutions Group with smaller, lower power and SLM laser units.  Our microchip lasers feature pulse durations from 350 ps to 3 ns, energy levels up to 100 uJ and repetition rates up to 100 kHz.  In addition to the usual 1064 nm wavelength and its harmonics (532, 355 and 266 nm), we also deliver units emitting at 946 and 473 nm. Microchip laser models emitting at 236 and 213 nm are under development.
Applications:
Oled
Micromachining
Biophotonics – Lidar, Telemetry
Laser manufacturing
Non-linear optics, Spectroscopy, Raman
Holography
---
Bright Systems:
Bright System's team of laser application experts is focused on the development of innovative laser processing tools and systems, especially in the field of micro and nano-processing of advanced materials.
The main fields of activity include
laser solutions for micro-corrections in electronics
(masks, displays, OLEDs, RF circuitry, precision trimming)
laser solutions for processing optical materials (glass and polymers)
laser processing of innovative materials
Bright System Laser Application Lab is also dedicated to providing services to our Customers including
feasibility studies
application-driven customization of our lasers
personalized beam shaping and modulation
integrated laser tools for specific processes and tasks
Micromake
The MicroMake is a compact, integrated laser micromachining system manufactured by Bright System, a Bright Solutions company.  The MicroMake Laser Micromachining System is a great fit for many high precision and high-resolution applications.
The system includes all the needed devices for direct laser micro-processing in a single monolithic element. Live microscope imaging of the sample is offered during all process phases for alignment and immediate quality check. Typical applications of this compact system include controlled ablation, micro drilling, precision cutting, selective removal and direct 3D microfabrication. See our new Lasers 101 page for in depth information on Solid State Lasers.
All these features suit perfectly a large variety of materials utilized in the fields of microelectronic circuits and display fabrication and correction, biomedical devices machining, optical substrates microprocessing.
Laser Micromachining System Features:
Ablation and cutting of programmable arbitrary shapes
Live imaging of the processed samples
Suitable for a vast range of materials
A 1mm standard processing area
Optional XYZ translation stage
Embedded illumination unit
532/266nm ns and ps lasers
down to a 2um spot size
Micromachining Applications:
3D direct microstructuring
Precision surface texturing
Track interruption on PCBs Micro-coding, Anti-counterfeiting
Thin film removal on hard substrates
Selective metal removal on ceramic substrates
Microcorrection on wafers, masks, and displays
Microdrilling on metal alloys and transparent dielectrics
---
Bright Aerospace:
Bright Aerospace is the Business Unit of the Bright Solutions Group focused on the development and manufacturing of Solid State Lasers dedicated to Aerospace applications.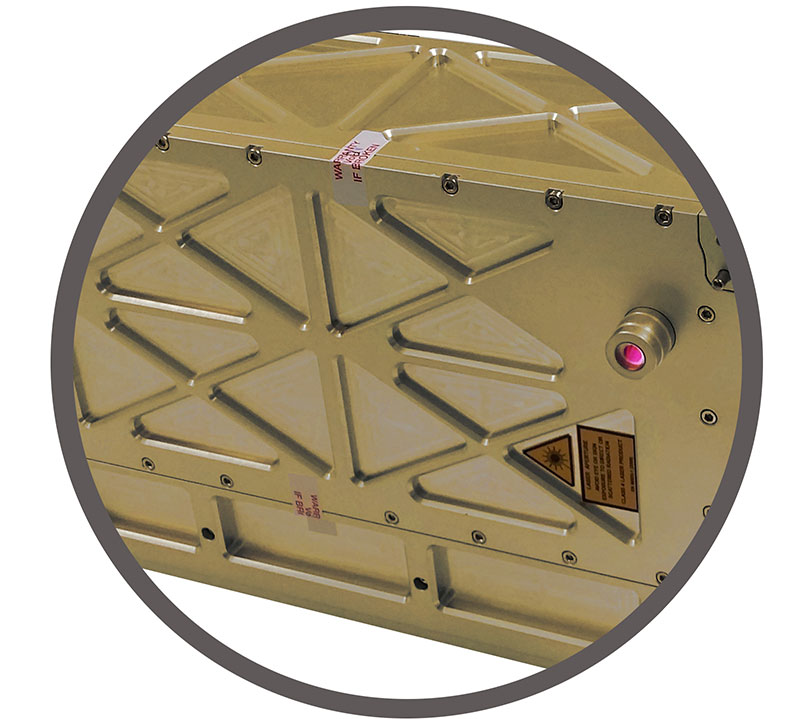 Leveraging on our expertise in manufacturing highly ruggedized laser units designed for flight, and on our experience in the development of lasers for satellite instruments, Bright Aerospace can offer all kinds of design, customization and manufacturing services to customers involved in the development of laser instruments for space missions.
Main fields of activity include:
High energy (~Joule-class) lasers at 1064, 1030, 532 and 355 nm for space-borne atmospheric LIDAR instruments
High power (~100 W class), ns and sub-ns, high repetition rate laser solutions designed for Aerospace
Multi-beam and multiple wavelength lasers for LIDAR and altimeters
Miniaturized high peak power pulsed lasers
---
Leveraging their 20 years of laser design experience and custom-oriented engineering, Bright Solutions Group develops DPSS laser solutions tailored to the customer.
For more information about Bright Solutions Group, please contact us.
See our new Lasers 101 page for more information on Lasers.
RPMC Lasers Inc. offers over 1500 different laser diodes and solid state lasers from technology leading manufacturers.
The company provides customers with the best laser at a fair price and with high-quality support after delivery.