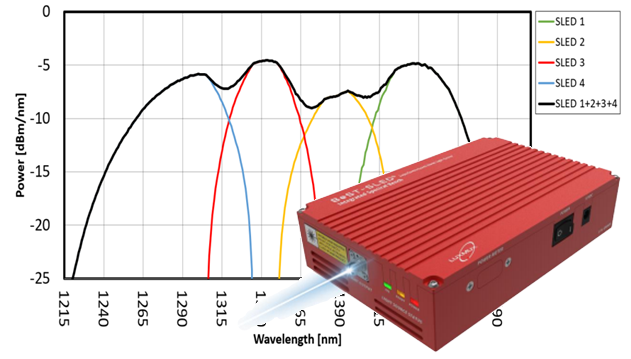 Multiple Platform Low DoP Light Source
The new Luxmux Integrated Spectral Bench (ISB) Low Degree of Polarization (DoP) builds upon the proven strengths of the ISB system while adding innovation where it matters most for our customers. Forward-looking compatible support for the installed communication protocols, combined with several new features, gives our customers the capabilities they need to achieve their goals. The Luxmux Low DoP platform will outshine the others with its size, selection modularity, reliability, and flexibility. We can't wait to see what you accomplish with the new Luxmux ISB source.
Customer-Focused Innovation:
The LUXMUX Optical Spectral Engine SLED (left) and  Multi-SLED Integrated Spectral Bench (right)
The Luxmux Low DoP Integrated Spectral Bench is a depolarized broadband optical source. The G1 (Single SLED) and G2 (Multi-SLED) series come in a range of power levels and spectral coverages. The ISB is designed as a compact and integrated light source unit. The ISB sources are extraordinarily robust and reliable, built for intensive use, and can replace multiple single SLED sources. DoP is an important property of light sources, as it directly relates to the accuracy of optical component characterization, the sensitivity of sensor systems, and the quality of optical signals in optical communication systems.
Our light sources are presented in an optical platform, optimized for cost-effective development and manufacturing of optical spectral combining. Our systems are designed to help manage an industry's test and measurement needs that require flexibility and dynamic performance. We aim to offer researchers, designers, and manufacturing engineers a broadband solution with the broadest singular spectrum range of > 400 nm for Low DoP characteristics of SLED photonic light sources.
Luxmux's low DoP solutions are relevant to applications that require a stable and accurate DoP as a reference light source for system monitoring and quality assurance. Low DoP light source measurements require different capabilities and limitations. Luxmux offers multiple spectrum configurations and operational capabilities to suit the requirements of various applications. Luxmux provides a wide variety of Superluminescent Light Emitting Diodes (SLED) for the Near Infrared Range (NIR) at different wavelengths ranging from 1265nm to 1725nm, with different output power and bandwidth values. It exhibits excellent wavelength stability, high power, low-intensity noise, low coherence, and significantly large bandwidth.
KEY CAPABILITIES:
The ISB (Integrated Spectral Bench) exhibits excellent wavelength stability, high power, low-intensity noise, low coherence, and significantly large bandwidth. The Luxmux Low DoP series of all-semiconductor optical sources has a wide selection of wavelengths that can be offered singularly or combined, covering the entire range of telecom spectral bands (O to U). The CW output standard model provides excellent stability in output power and spectrum and a driver circuit to provide overlapping spectral coverage from up to six individual light sources. This user-controlled chassis offers complete control of all light sources enclosed. The ISB systems come with USB, RS-232, and Ethernet communication ports for an easy, flexible interface with computers and other instruments. It is an ideal source for OCT, fiber sensors, fiber gyros, PM patch cord extinction ratio (ER) measurement, and general-purpose test and measurement.
HIGHLIGHTS:
Between one and six superluminescent diodes (SLEDs) in a single package
All SLEDs can be run from 0 – 100% of the maximum rating
Fiber-Coupled Output Power > 12mW
Bandwidth FWHM > 150nm, @10dB > 180nm
The best combination of power and spectrum width in multi-SLED modules
Each SLED comes with a built-in independent monitor photodiode
Optional: Integrated InGaAs Power Meter
Internally Optimized for maximum coupling efficiency with PM1550-XP Fiber
Light Output: FC/APC Connector (Optional FC/PC or SMA)
Customized ASE design and spectrum combination
Fiber pigtail or FC receptacle output
Improved reliability by integrated dual optical isolator
Individual SLED control, user-defined spectrum flexibility
Standard operating temperature: 0°C to 65°C.
Extended range -20°C to 70°C
Telcordia certification, RoHS Compliance
Intensity modulation is available upon request
FUNCTIONAL DESCRIPTION
G1 and G2 Series Options:
Low-Degree of Polarization (DoP): the ISB provides under 10 percent DoP across the entire 1265nm – 1725nm range. This minimizes polarization sensitivity of fiber sensors and reduces the effects of polarization-dependent loss
Free Space: This selection results in a direct laser beam for higher-power applications that do not require fiber optics.
Power Meter: an integrated InGaAs Power Meter can be added to ISB models upon customer request. The power meter adapters can come with FC/APC, FC/PC, or SMA connector.
The Low DoP option is available on numerous products. Contact us about any of these products for options and availability!
   See Our SLED Broadband Light Sources!   
Talk to a knowledgeable Product Manager today by Contacting Us here, or by calling us at 636.272.7227!
NOTE: Follow Luxmux on LinkedIn and see their most up-to-date posts and articles that they can share without being a 'Connection.' This way, the sharing is moving through in one direction, but you can keep up with the latest and greatest from Luxmux Technology, as opposed to the mutual following that a connection brings. See the added flexibility they can provide to being an optical light source provider. They constantly innovate across their broadband products to give you more capabilities.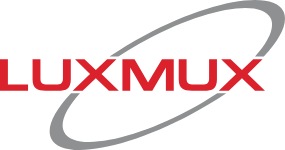 LUXMUX Technology Corporation is a Canadian-based photonics company that has redefined spectral boundaries by providing proprietary ultra-wide broadband solutions. They design and manufacture photonic products that enable industry-leading capabilities for those applications which require broad spectral coverage. Their unique designs power existing applications in Photonics and have facilitated the emergence of new applications as well.