LiDAR Lasers
LiDAR, which is an acronym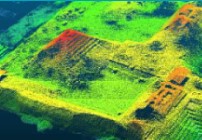 for light detection and ranging, is the optical analog to traditional radar (radio detection and ranging).  Because optical frequencies are much higher than their radio wave counterparts, LiDAR allows for much higher bandwidth signals and therefore much higher resolution detection.  Just as radar is a highly diverse field using a variety of radio wave sources, LiDAR lasers also come in a vast range as well.  The primary driver between which type of LiDAR laser you will need for your application is whether or not you are measuring moving targets or not.  For stationary targets, where distance is the only thing being measured, short-pulsed LiDAR lasers are used to measure the roundtrip time-of-flight of each pulse and therefore calculate the distance to the target.  But, if a target is moving and you need to measure its speed, single frequency LiDAR lasers are required in order to accurately measure the Doppler shift and calculate the object's speed. On this page, you will find a list of all of the LiDAR lasers we offer ranging from passively q-switched microchip lasers to single-frequency fiber lasers.
RPMC has years of experience supporting LiDAR applications, helping industry professionals select the right tool for the job.
Contact Us today to let one of our knowledgeable Product Managers assist you!
| | | | | | | | |
| --- | --- | --- | --- | --- | --- | --- | --- |
| | 1.5um Fiber Amplifiers | Fiber Amplifiers | 0.0001, 0.00025, 0.001, 0.0016, 0.500, 1.0, 2.0, 5.0, 10.0 | | CW Laser Amplifiers | | |
| | 1.5um NLW Pulsed Fiber Lasers | Pulsed Fiber Lasers | 2.0 | 100.0 | 50 Nanosecond Lasers | 20kHz to 500kHz | Narrow |
| | 1.5um Pulsed Fiber Lasers | Pulsed Fiber Lasers | 0.150, 1.0, 5.0 | 5.0, 25.0, 80.0 | 400 Picosecond Lasers, 50 Nanosecond Lasers | 5kHz, 1MHz, 2MHz | |
| | 1um Fiber Amplifiers | Fiber Amplifiers | 5.0, 10.0, 40.0 | | CW Laser Amplifiers | | |
| | 1um Pulsed Fiber Lasers | Pulsed Fiber Lasers | 5.0 | 150.0 | 400 Picosecond Lasers, 50 Nanosecond Lasers | 10kHz, 100kHz, 1MHz | |
| | 2um Fiber Amplifiers | Fiber Amplifiers | 10.0 | | CW Laser Amplifiers | | |
| | Aero-1064 | Pulsed DPSS Lasers | 1.5, 3.0, 6.0 | 50000.0, 100000.0, 200000.0 | 15 Nanosecond Lasers | 10Hz to 30Hz | |
| | Aero-355 | Pulsed DPSS Lasers | 6.0 | 10000.0, 30000.0 | 15 Nanosecond Lasers | Single shot to 200Hz | |
| | Aero-532 | Pulsed DPSS Lasers | 0.400, 6.0 | 100000.0, 200000.0 | 15 Nanosecond Lasers | Single shot to 200Hz | |
| | AIRTRAC-C | Pulsed DPSS Lasers | 5.0, 10.0, 20.0 | 500.0, 1000.0, 2000.0 | 3 Nanosecond Lasers | 10kHz to 1MHz | |
| | Quantas-Q-SHIFT-1163 | Pulsed DPSS Lasers | 0.500, 0.800, 1.0 | 5000.0, 10000.0, 20000.0, 30000.0, 40000.0, 50000.0 | 2ns to 5ns Lasers | 10Hz, 20Hz, 33Hz, 50Hz, 100Hz | |
| | Quantas-Q-SHIFT-1177 | Pulsed DPSS Lasers | 0.500, 0.800, 1.0 | 5000.0, 10000.0, 20000.0, 30000.0, 40000.0, 50000.0 | 2ns to 5ns Lasers | 10Hz, 20Hz, 33Hz, 50Hz, 100Hz | |
| | Quantas-Q-SHIFT-1300 | Pulsed DPSS Lasers | 0.300, 0.480, 0.600 | 3000.0, 6000.0, 12000.0, 18000.0, 24000.0, 30000.0 | 2ns to 5ns Lasers | 10Hz, 20Hz, 33Hz, 50Hz, 100Hz | |
| | Quantas-Q-SHIFT-1317 | Pulsed DPSS Lasers | 0.300, 0.480, 0.600 | 3000.0, 6000.0, 12000.0, 18000.0, 24000.0, 30000.0 | 2ns to 5ns Lasers | 10Hz, 20Hz, 33Hz, 50Hz, 100Hz | |
| | Quantas-Q-SHIFT-1551 | Pulsed DPSS Lasers | 0.400, 0.640, 0.800 | 4000.0, 8000.0, 16000.0, 24000.0, 32000.0, 40000.0 | 2ns to 5ns Lasers | 10Hz, 20Hz, 33Hz, 50Hz, 100Hz | |
| | Quantas-Q-SHIFT-1571 | Pulsed DPSS Lasers | 0.400, 0.640, 0.800 | 4000.0, 8000.0, 16000.0, 24000.0, 32000.0, 40000.0 | 2ns to 5ns Lasers | 10Hz, 20Hz, 33Hz, 50Hz, 100Hz | |
| | Quantas-Q-SHIFT-291 | Pulsed DPSS Lasers | 0.075, 0.120, 0.150 | 750.0, 1500.0, 3000.0, 4500.0, 6000.0, 7500.0 | 2ns to 5ns Lasers | 10Hz, 20Hz, 33Hz, 50Hz, 100Hz | |
| | Quantas-Q-SHIFT-294 | Pulsed DPSS Lasers | 0.075, 0.120, 0.150 | 750.0, 1500.0, 3000.0, 4500.0, 6000.0, 7500.0 | 2ns to 5ns Lasers | 10Hz, 20Hz, 33Hz, 50Hz, 100Hz | |
| | Quantas-Q-SHIFT-325 | Pulsed DPSS Lasers | 0.045, 0.072, 0.090 | 450.0, 900.0, 1800.0, 2700.0, 3600.0, 4500.0 | 2ns to 5ns Lasers | 10Hz, 20Hz, 33Hz, 50Hz, 100Hz | |
| | Quantas-Q-SHIFT-329 | Pulsed DPSS Lasers | 0.045, 0.072, 0.090 | 450.0, 900.0, 1800.0, 2700.0, 3600.0, 4500.0 | 2ns to 5ns Lasers | 10Hz, 20Hz, 33Hz, 50Hz, 100Hz | |
| | Quantas-Q-SHIFT-388 | Pulsed DPSS Lasers | 0.125, 0.200, 0.250 | 1250.0, 2500.0, 5000.0, 7500.0, 10000.0, 12500.0 | 2ns to 5ns Lasers | 10Hz, 20Hz, 33Hz, 50Hz, 100Hz | |
| | Quantas-Q-SHIFT-388 | Pulsed DPSS Lasers | 0.060, 0.096, 0.120 | 600.0, 1200.0, 2400.0, 3600.0, 4800.0, 6000.0 | 2ns to 5ns Lasers | 10Hz, 20Hz, 33Hz, 50Hz, 100Hz | |
| | Quantas-Q-SHIFT-392 | Pulsed DPSS Lasers | 0.125, 0.200, 0.250 | 1250.0, 2500.0, 5000.0, 7500.0, 10000.0, 12500.0 | 2ns to 5ns Lasers | 10Hz, 20Hz, 33Hz, 50Hz, 100Hz | |
| | Quantas-Q-SHIFT-393 | Pulsed DPSS Lasers | 0.060, 0.096, 0.120 | 600.0, 1200.0, 2400.0, 3600.0, 4800.0, 6000.0 | 2ns to 5ns Lasers | 10Hz, 20Hz, 33Hz, 50Hz, 100Hz | |
| | Quantas-Q-SHIFT-433 | Pulsed DPSS Lasers | 0.075, 0.120, 0.150 | 750.0, 1500.0, 3000.0, 4500.0, 6000.0, 7500.0 | 2ns to 5ns Lasers | 10Hz, 20Hz, 33Hz, 50Hz, 100Hz | |
| | Quantas-Q-SHIFT-439 | Pulsed DPSS Lasers | 0.075, 0.120, 0.150 | 750.0, 1500.0, 3000.0, 4500.0, 6000.0, 7500.0 | 2ns to 5ns Lasers | 10Hz, 20Hz, 33Hz, 50Hz, 100Hz | |
| | Quantas-Q-SHIFT-517 | Pulsed DPSS Lasers | 0.100, 0.160, 0.200 | 1000.0, 2000.0, 4000.0, 6000.0, 8000.0, 10000.0 | 2ns to 5ns Lasers | 10Hz, 20Hz, 33Hz, 50Hz, 100Hz | |
| | Quantas-Q-SHIFT-524 | Pulsed DPSS Lasers | 0.100, 0.160, 0.200 | 1000.0, 2000.0, 4000.0, 6000.0, 8000.0, 10000.0 | 2ns to 5ns Lasers | 10Hz, 20Hz, 33Hz, 50Hz, 100Hz | |
| | Quantas-Q-SHIFT-581.5 | Pulsed DPSS Lasers | 0.250, 0.400, 0.495, 0.500 | 2500.0, 5000.0, 10000.0, 15000.0, 20000.0, 25000.0 | 2ns to 5ns Lasers | 10Hz, 20Hz, 33Hz, 50Hz, 100Hz | |
| | Quantas-Q-SHIFT-588.5 | Pulsed DPSS Lasers | 0.250, 0.400, 0.495, 0.500 | 2500.0, 5000.0, 10000.0, 15000.0, 20000.0, 25000.0 | 2ns to 5ns Lasers | 10Hz, 20Hz, 33Hz, 50Hz, 100Hz | |
| | Quantas-Q-SHIFT-650 | Pulsed DPSS Lasers | 0.150, 0.240, 0.300 | 1500.0, 3000.0, 6000.0, 9000.0, 12000.0, 15000.0 | 2ns to 5ns Lasers | 10Hz, 20Hz, 33Hz, 50Hz, 100Hz | |
| | Quantas-Q-SHIFT-658.5 | Pulsed DPSS Lasers | 0.150, 0.240, 0.300 | 1500.0, 3000.0, 6000.0, 9000.0, 12000.0, 15000.0 | 2ns to 5ns Lasers | 10Hz, 20Hz, 33Hz, 50Hz, 100Hz | |
| | Quantas-Q-SHIFT-775.5 | Pulsed DPSS Lasers | 0.200, 0.320, 0.400 | 2000.0, 4000.0, 8000.0, 12000.0, 16000.0, 20000.0 | 2ns to 5ns Lasers | 10Hz, 20Hz, 33Hz, 50Hz, 100Hz | |
| | Quantas-Q-SHIFT-785.5 | Pulsed DPSS Lasers | 0.200, 0.320, 0.400 | 2000.0, 4000.0, 8000.0, 12000.0, 16000.0, 20000.0 | 2ns to 5ns Lasers | 10Hz, 20Hz, 33Hz, 50Hz, 100Hz | |
| | Quantas-Q-SHIFT-WXXXX | Pulsed DPSS Lasers | Varies | Varies | 2ns to 5ns Lasers | 100Hz | |
| | Quantas-Q2-1053 | Pulsed DPSS Lasers | 0.080, 0.100, 0.150, 0.200, 0.300, 0.350, 0.400, 0.500, 0.600, 0.800, 1.0, 1.3, 2.0 | 8000.0, 10000.0, 15000.0, 20000.0, 30000.0, 35000.0, 40000.0, 50000.0, 60000.0, 65000.0, 70000.0, 80000.0 | 5 Nanosecond Lasers, 6 Nanosecond Lasers, 7 Nanosecond Lasers, 8 Nanosecond Lasers | 10Hz, 20Hz, 33.3Hz, 50Hz | |
| | Quantas-Q2-1064 | Pulsed DPSS Lasers | 0.080, 0.100, 0.150, 0.200, 0.300, 0.350, 0.400, 0.500, 0.600, 0.700, 0.800, 1.0, 1.2, 1.3, 2.0 | 2500.0, 5000.0, 8000.0, 10000.0, 15000.0, 20000.0, 30000.0, 35000.0, 40000.0, 60000.0 | 5 Nanosecond Lasers, 6 Nanosecond Lasers, 7 Nanosecond Lasers, 8 Nanosecond Lasers, 10 Nanosecond Lasers | 10Hz, 20Hz, 33.3Hz, 50Hz, 100Hz, 200Hz | |
| | Quantas-Q2-527 | Pulsed DPSS Lasers | 0.350, 0.800, 1.0, 2.0 | 500.0, 5000.0, 15000.0, 25000.0, 30000.0, 35000.0, 40000.0 | 5 Nanosecond Lasers, 6 Nanosecond Lasers, 7 Nanosecond Lasers, 8 Nanosecond Lasers | 10Hz, 20Hz, 33.3Hz, 50Hz | |
| | Quantas-Q2-532 | Pulsed DPSS Lasers | 0.500, 0.750, 0.800, 1.0, 2.0 | 500.0, 5000.0, 25000.0, 30000.0, 35000.0, 40000.0 | 5 Nanosecond Lasers, 6 Nanosecond Lasers, 7 Nanosecond Lasers, 8 Nanosecond Lasers, 10 Nanosecond Lasers | 10Hz, 20Hz, 33.3Hz, 50Hz, 100Hz, 200Hz | |
| | Quantas-Q2HE-527 | Pulsed DPSS Lasers | 0.600, 1.0 | 20000.0, 50000.0, 60000.0 | 6 Nanosecond Lasers | 10Hz, 20Hz, 50Hz | |
| | Quantas-Q2HE-532 | Pulsed DPSS Lasers | 0.500, 0.800, 1.0, 1.75, 2.0 | 20000.0, 35000.0, 40000.0, 50000.0 | 6 Nanosecond Lasers | 10Hz, 20Hz, 50Hz, 100Hz | |
| | Quantas-Q2HE-XXX-XXXX | Pulsed DPSS Lasers | Varies | Varies | Varies | 100Hz | |
| | RPMC-905-xxxW-P-xS | Single Emitter | 10.0, 30.0, 60.0, 150.0 | | | | |
| | RPMC-905-xxxW-P | Single Emitter | 5.0, 10.0, 15.0, 25.0 | | | | |
| | SB1-1064 | Pulsed DPSS Lasers, Microchip Lasers | 0.008, 0.012, 0.040, 0.110, 0.150, 0.200, 0.225, 0.400 | 2.0, 15.0, 20.0, 30.0, 40.0, 60.0, 80.0 | 400 Picosecond Lasers, 1.3 Nanosecond Lasers | 100Hz, 200Hz, 1kHz, 5kHz, 10kHz, 15kHz, 55kHz, 100kHz | |
| | SB1-532 | Pulsed DPSS Lasers, Microchip Lasers | 0.004, 0.006, 0.010, 0.017, 0.020, 0.030, 0.040, 0.075, 0.100 | 0.300, 7.0, 10.0, 15.0, 20.0, 30.0, 40.0 | 400 Picosecond Lasers, 1.3 Nanosecond Lasers | 10Hz, 100Hz, 200Hz, 1kHz, 5kHz, 10kHz, 15kHz, 55kHz, 100kHz | |
| | Vento-1064 | Pulsed DPSS Lasers | 15.0, 40.0, 100.0 | 300.0, 800.0, 2000.0 | 450ps to 1.5ns Lasers | 40kHz to 200kHz | |
| | Vento-532 | Pulsed DPSS Lasers | 7.0, 15.0, 50.0 | 150.0, 400.0, 1000.0 | 400ps to 1.5ns Lasers | 40kHz to 200kHz | |